In the industry of global networking and unified communications, Cisco's legacy will always be its stable, reliable products. Most large enterprises worldwide have Cisco hardware and/or software in one form or another. Over the years, Cisco has continued to grow and innovate, and now, their powerful Webex suite of collaboration tools is one of the leading enterprise solutions for video and team communication.
If you choose Cisco products as your organization's collaboration endpoint, you'll want to ensure the best user experience possible. Performance issues can affect any collaboration platform, so it's vital that you have the right tools and performance data to monitor and troubleshoot video meeting quality, network performance, devices and services.
Cisco Webex - unifying the world
In 2018, Cisco announced the convergence of its Cisco Spark and Webex platforms into a re-vamped suite of services that has become the jewel in its UC and collaboration crown. The cloud-based UC ecosystem is made up of a suite of software applications designed to address every organization's meeting and collaboration needs.
Webex allows continuous, seamless teamwork collaboration from a desktop or mobile app, or via the web version. Capabilities include:
Video conferencing
Group messaging
File sharing
Whiteboarding
Personal meeting rooms
Guest access
The Webex platform
Cisco's Webex suite is a cohesive, unified communications cloud collaboration solution, on a single platform for managing collaboration and communications workloads. Webex communication tools include call, message and meeting tools together in one app to provide a quality experience for end users.
Webex Teams
Teams allows video meetings, messaging, file sharing and whiteboarding. It features a meeting room for in-office and remote teams to meet and collaborate. While Webex Teams is primarily a could-based service, it supports hybrid and on-premises services and devices. With a flexible and intuitive interface, the Webex cloud platform means developers can build custom apps that extend Teams capabilities into daily workflows.
Webex Meetings
Cisco Webex cloud based web and video conferencing service enables global and virtual teams to collaborate on mobile devices and standard video systems in real time. Its features include screen sharing, meeting recording and customizable layouts. Webex Meetings can also integrate with Google Calendar, Outlook and Office 365 as well as Microsoft OneDrive. Webex Meetings also supports large events like webinars and virtual training.
Webex Calling
Webex Calling is a cloud-based phone system that is optimized for mid-sized businesses. It has all the essential business calling capabilities you are likely to need, and alleviates the need to manage the expense and complexity of an on-premises phone system infrastructure. Webex Calling comes pre-packaged with standard cloud PBX functionality like call pickup, hunt groups, music on hold, call transfers and voicemail, all of which can be controlled from the Webex Control Hub.
Webex devices
Cisco is probably best known for its high quality networking devices, including presentation equipment, cameras, speakers and microphones, whiteboards etc., which can all be accessed from their associated virtual workspaces within the Webex app.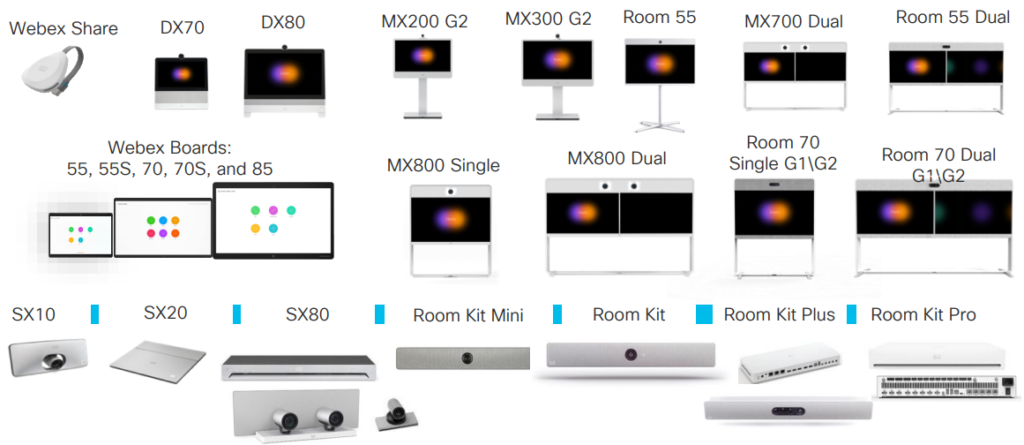 The importance of Webex monitoring
Deploying and maintaining a quality video conferencing solution like Cisco Webex is only possible by monitoring system health. Gathering and analyzing data gives you insights into performance quality, improves user experience and allows technology managers proactive, reactive and decisive controls.
Cisco Webex Monitoring Service
You can collect baseline data on your organization's network when using Webex services with the Cisco Webex Monitoring Service. Collected data can help you troubleshoot issues that can affect user experience, for example, identifying if performance issues are caused by a network problem. You can view this data from the Analytics tab on the Webex control hub.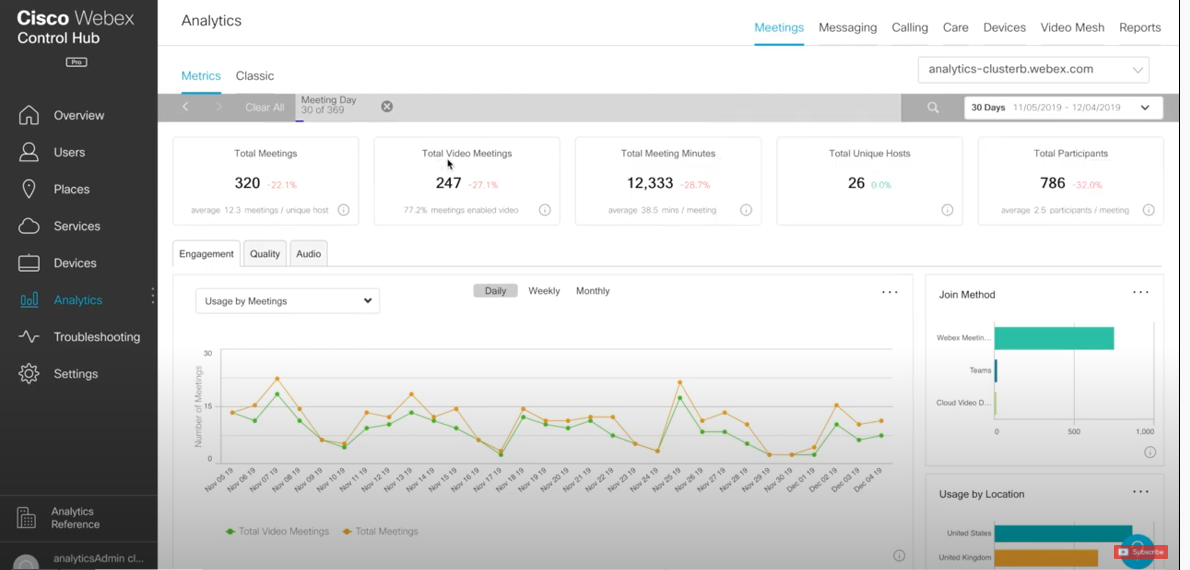 Cisco Webex Control Hub allows IT administrators to centrally view and manage calling, messaging, meetings, contact centers, team collaboration services and devices. Cisco Webex Control Hub users to view analytics of all Webex collaboration services. It also allows the configuration of security and compliance policies to keep data safe.
From the Webex control hub, you can also use the Webex Monitoring Service to monitor on-premises video devices within your organization for media quality metrics whenever they're used to join a Webex meeting.
Webex monitoring with third party tools
While Cisco's Webex monitoring service works well for Webex services, the reality is that you need deeper insights that can only come from third party monitoring and performance management tools.
These days, the scope and scale of video conferencing ecosystems is vast. From room systems to remote workers to mobile devices - spanning thousands of conference locations across dozens of offices in multiple time zones. It's critical that performance data is readily available so that even one bad conference experience can be rectified and restored as quickly as possible. Third party monitoring allows you to gain complete visibility, and control, not only across Cisco on-premises and cloud platforms, but throughout multiple video endpoints and third-party vendor technology. Here's some of what third party monitoring can provide, as opposed to specific Webex monitoring.
Monitoring of Live Meetings and Participants in real time
Third party tools can reveal detailed metrics on the quality of experience for every meeting and individual participant.
Proactive Performance Management
Third party tools provide real-time alert notifications, customizable dashboards, and ITSM integration to intercept performance issues before users report them. They also extend UC expertise to managing remote work. They also provide quality metrics on latency, jitter, and packet loss for every active meeting attendee.
Historical Quality Analytics
Historical data is important to identify and resolve issues that affect locations, departments, groups of users.
Remote Participant Details
Third party monitoring and management of wired/wifi connection, software clients, headsets, and peripherals helps troubleshoot experience for remote users.
Custom reporting
With third party tools you can integrate your geographic, departmental, or other custom data to get organizational usage insights.
Whether your network infrastructure is small or massive, consisting of mostly Cisco devices and applications or a mix of other vendors and platforms, it's vital to have monitoring tools in place to assess performance, and gather the data and analytical information that keeps your entire network functioning optimally.
Gathering performance information ensures that your IT team maintains full control of not only your Cisco devices, and network traffic, but also understanding of an organization's overall network health.
Working from home means network requirements are rapidly changing, and network traffic is increasing exponentially. Bandwidth usage is increasing, devices are no longer 'office issue' and devices including mobile phones, headsets etc. are spread over a wider network. Availability and performance issues are cropping up where they didn't exist before.
A third party network performance monitor that can encompass all these variables is the most valuable asset for an organization's UCC network.
---
Learn more about managing and optimizing your Cisco unified communications environment