Ensuring quality of service for collaboration tools can be a daunting task. Collaboration in today's workplace is nothing like it used to be. Video conferencing with communication tools like Cisco Webex Meetings has replaced traditional face-to-face meetings, allowing businesses to carry on in a new form of normal.
Cisco Webex Meetings is one of the world's most popular choices for enterprises in video and web conferencing. Webex Meeting Center lets users join meetings on any major mobile device or video system, so you can hold regular Webex meetings with anyone—regardless of location.
But like all collaboration tools, there are so many variables that can affect meetings, from poor quality video and audio, inability to join a meeting, or glitches with sharing content - to Webex desktop, webcam, or web browser issues.
In this blog, we'll discuss some of the most common issues like connection problems when using Webex, and how to quickly address them. However, for more in-depth and specific troubleshooting information for Webex Meetings you can visit the Cisco Webex help center. We'll also discuss the importance of third party monitoring tools to help turn your Webex collaboration experience from a user nightmare into a seamless and satisfying communication experience.
Quick fixes for Cisco Webex meetings problems
Here are some tips for resolving common technical issues that might occur when hosting a meeting using Webex Meetings.
Participants unable to log in
Check to make sure that the participant is using the correct password.
Ask the participant to open a new browser window and copy and paste the meeting URL from the invitation email into the browser address bar.
Webex session is slow to load
Ask the participant to log off and try logging back in again.
Ask the participant to close all applications except Webex Meetings.
Request that the participant clears their web browser cache and deletes temporary files and cookies.
If you are hanging at the Starting Cisco Webex Meetings screen using the Chrome or Firefox browser, you can click on the Join from your browser link: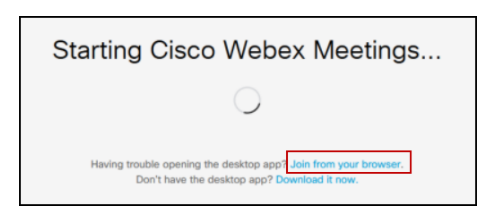 Source: Webex help
Participants cannot hear one another
Make sure that audio connections are not muted
Request that participants check their phone or VoIP connections and confirm that microphones or headsets are powered and switched on.
Try to reset a VoIP connection by clicking Mute then Unmute
Browser crashes
One of the reasons for this happens is a corrupted Java installation. To try to resolve the issue, verify you are running the latest version of Java, and update your system as necessary.
If you need help with installing Java, please follow the instructions on www.java.com.
Start or Join Issues
The following, or similar messages could mean that you don't have admin permissions to install the Webex software on your computer:
Webex hanging at 'One Moment Please'
Webex hanging at: Starting Webex
'Java is not working' error
Webex hanging at 'Meeting in Progress'
Hanging at 10%, 86%, or 99% while trying to start or join the meeting.
Try using the Cisco Webex Web App or Temporary File Solution (TFS) method to join or start your meeting. With these two options admin rights are not required. To always join using the Web App, click on the Join Meeting / Start Meeting drop-down menu and select: Always join from web app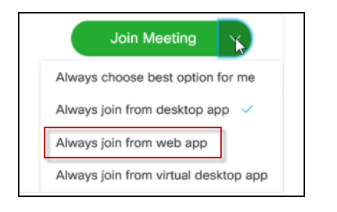 Source: Webex help
Webex caters to every area of unified communications, with a diverse suite of tools for every organization, from large enterprises to SMBs.
Cisco Webex Meetings allows up to 1,000 users (including 200 video devices)to host and attend video meetings, present information, share applications, and collaborate on projects. Webex Meetings can be used for collaborative sessions, internal and external meetings, product and project coordination, demos, sales presentations.
Webex Events allows you to stage large-scale online events and webinars for up to 3,000 participants. Webex Events can be used for moderated webinars, events and conferences, product launches, employee communications.
Webex Training allows you to Deliver highly interactive and effective online training and e-learning for up to 1,000 attendees. Webex Training can be used for employee, partner, and customer training product rollouts, certification and IT training and distance learning.
Monitoring tools for Cisco Webex
The Webex suite is comprehensive, but the more tools you use, the more troubleshooting you can expect. Cisco comes with its own network monitoring and troubleshooting tools, but like many built-in, or out-of-box troubleshooting tools it only addresses issues with its own product. Some networks consist of thousands of people and multiple-vendor devices, stretching across many physical and remote sites. This creates a vast array of challenges for IT departments. Using a third party tool like IR's Collaborate to monitor not just Cisco Webex Meetings, but your entire UC environment, can provide proactive actionable insights in real time, and status information to allow for easy IT troubleshooting.
---
Learn more about managing and optimizing your Cisco unified communications environment