Unified communications has come a long way. Today, organizations have limitless options as to how to build their UC stack. Video conferencing is a way of life, and tasks like file sharing and IP telephony has become easier. Cloud based communication tools are more sophisticated than ever, allowing greater user productivity and remote work for effective collaboration.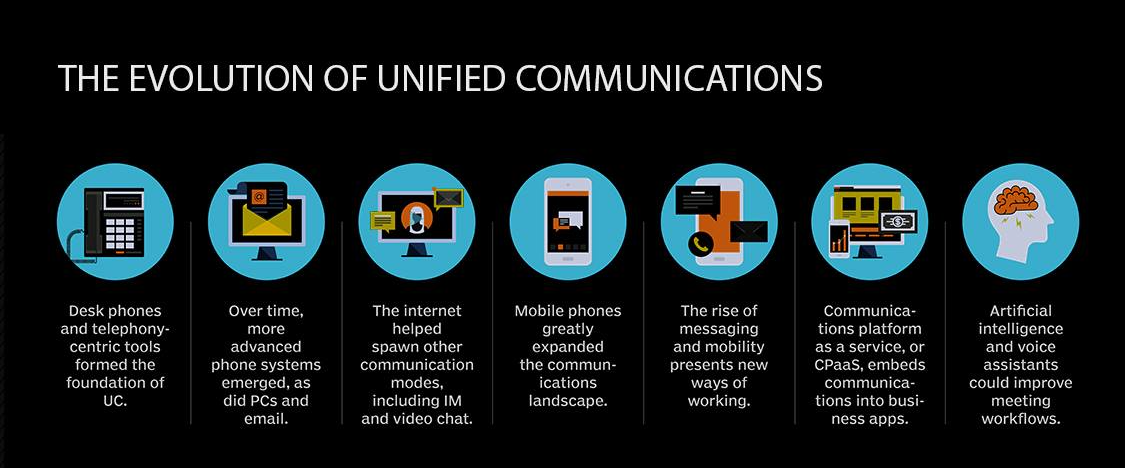 Image source: Precedence technologies
Communication and collaboration is no longer about just picking up a phone and making a call. Our communication experience has evolved into a process far richer but more complex. Today, we can't get by without a huge array of applications providing limitless functionality from mobile devices, and other business communications tools.
Video conferencing
Since the pandemic, video conferencing has become the backbone of business communications. Once a contextual and highly dynamic form of communication, every large and small business has discovered the many advantages of video conferencing .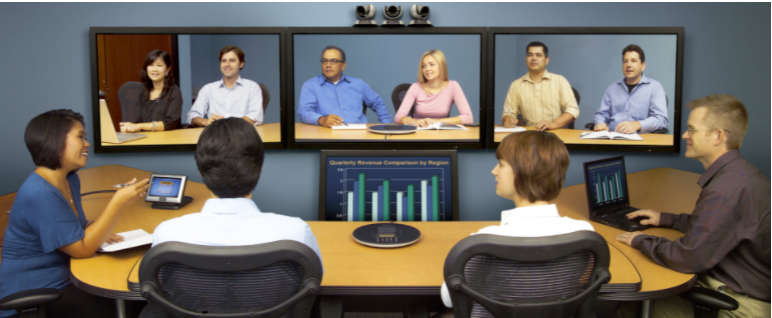 Instant messaging
Instant messaging is a common component of the UC experience. We're living in an agile world where people need access to information as quickly as possible. Instant messaging facilitates this by allowing people to communicate with each other in real-time, through IM software on the internet.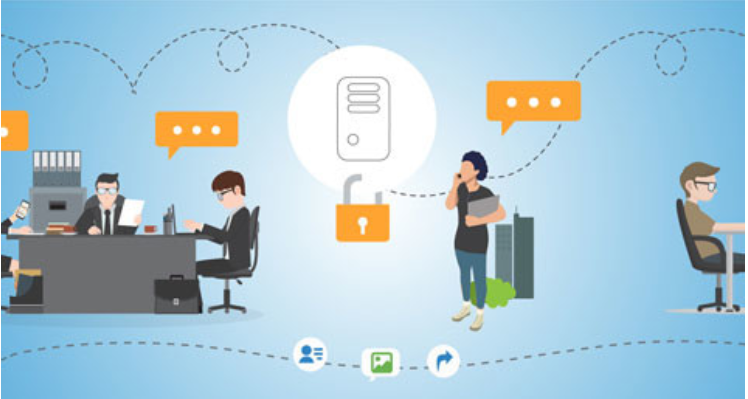 Screen sharing
Screen sharing applications are essential in video conferencing. Simply by sharing same screen content like a graph, chart or an image, meeting attendees are able to see what others are seeing very quickly. Screen sharing also allows organizations to engage with clients and customers.

Why optimizing your UC environment is vital
By optimizing your Unified Communications (UC) environment, you're enhancing your company's business communication, collaboration and productivity, and enabling every employee to have a better user experience.
Every organization has a different unified communications platform, and in this guide we'll aim to cover how to manage your unified communications solution whether it's on-premise, hybrid or a full cloud based service. Optimizing your UC applications also brings more to the table by:
Increasing customer satisfaction
Ensuring that remote workers are fully included team members
Helping reduce capital expenses
Guaranteeing seamless workplace collaboration
Keeping business communications functioning on every UC platform
Defining your UC requirements
We'll help you define and understand your unified communication and business needs for the most effective collaboration. We'll cover topics including:
Which unified communications platforms best suit your UC needs, from instant messaging, voice calls, video conferencing, screen sharing and file sharing - to working remotely using UCaaS solutions.
Setting unified communications goals
Reducing risk and maintaining business continuity when migrating to a cloud or hybrid path.
Which UCaaS solution is best for your needs
Benchmarking your communications technology performance so you can easily see the gaps, fill them in, and measure the impact.
Empowering your network team in today's hybrid working world.
We'll also take a look at market trends, share expert insights, and look to the future of UC.
Who will benefit from this guide?
Every frustrated Network Administrator, under-appreciated UC Ops Manager, and overworked CTO is looking for ways to simplify their unified communications operations. While this guide covers large enterprises, there are plenty of takeaways for small businesses too.
And with the widespread adoption of hybrid work, there's plenty to consider for service providers, and every business leader who wants to provide customers and team members with all the communication tools and applications they need to optimize UC collaboration.
Learn more about how IR Collaborate can help simplify UC collaboration complexity here
Download a PDF copy of the UC Optimization guide for Pros
Table of Contents
01 | Living in a collaborative work environment
Work is no longer a place that we go to, but something that we do. There's a growing need to enable workers to effectively collaborate with each other, with customers, and with partners, regardless of location. UC technology is rapidly evolving to reflect this shift.
Disrupt or be disrupted
In the past, the business world relied heavily on face-to-face meetings, which often required expensive travel. We favored voice calls over any other form of communication. Today, using the latest collaboration tools, and a cloud based UC service, we're able to bring together remote teams in real time at short notice.
Organizations are now able to gain access to expertise, bring stakeholders together, make decisions, and move business processes forward faster and more efficiently. They have all the tools they need to reduce costs and time, which effectively adds shareholder value.

The rise of connected work
Collaboration trends are leading to more agile organizations and work practices that promote the open flow of information. Workers don't have to spend unnecessary effort looking for people, expertise or content.
Users want to leverage these resources easily so that they can bring teams together, make decisions, and move projects forward. This often involves the new trend of self-forming teams that disperse after completing a task in a short amount of time. Since the onset of COVID, we've arrived at a landscape that's mobile, people-centric, contextual, collaborative, innovative and customer-driven.
Collaboration tools influence knowledge retention
If we want to bring teams together to reach their goals quickly, the work environment should enable the highest level of knowledge transfer and retention. Better collaboration tools directly lead to a higher level of execution. When we're given the ability to watch and listen to a video or web conference, knowledge transfer rates jump to 70% – from 20% for audio only (Human Productivity Lab).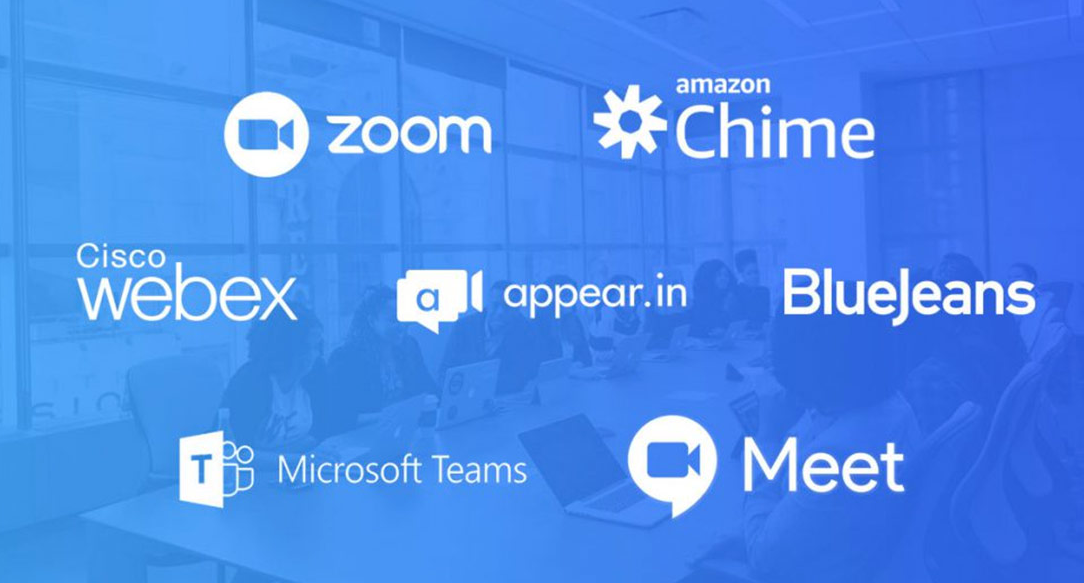 Teams can grow and develop
Team performance is necessary for growth. In the past, we gave employees the capability to grow their individual performance. Research confirms that investing in optimization for both individual and team performance, results in higher overall cost savings and revenue growth.
By allowing people to access the resources they need in real time, and encouraging end user adoption of these resources, organizations will have a significant competitive advantage.
Changing customer communication preferences
It isn't just the way we work that's changing, but also the way people buy in the marketplace. If your revenue stream depends on a target market comprised of Generation Y/Millennials, picking up the phone to make a call is their fourth choice in communication behind electronic messaging, social media, and smartphone apps.
As we look at enhancing our unified communications and collaboration architectures, a multichannel strategy is vital because the way our customers want to reach us is changing.
In the new business world, the way leaders make decisions has changed, as they can now come together in real time to make decisions that affect customers, events, or market penetration plans. Thanks to the ongoing development of advanced UC solutions and unified messaging, executive and technical talent can be leveraged anytime, anywhere.
Using the latest collaboration tools is critical to your employees, your company, and your customers. Integrating and managing them effectively – and optimizing your unified communications environment – is equally important.
02 | Why does your business need optimized UC?
The unified communications market has exploded since 2020, when COVID-19 forced the world to rethink how we work. People are communicating in new ways everyday: more channels, more devices, more flexibility. A phone system is longer enough.
A new generation of technology, based around unified communications as a service (UCaaS) has emerged, introducing more complexity to every UC infrastructure.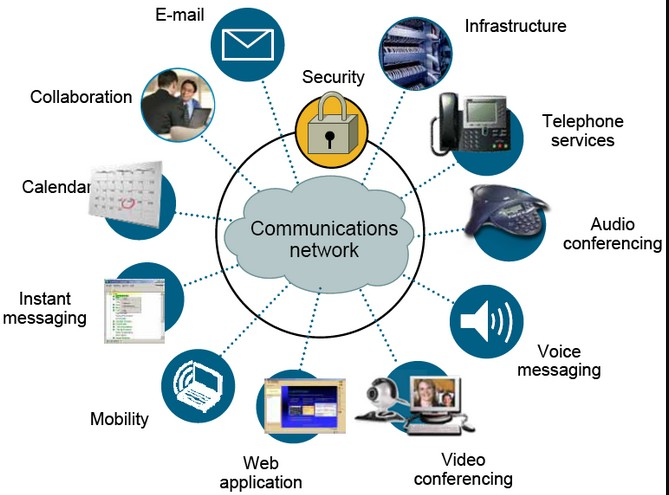 So what happens if the technology isn't reliable? What if digital services to customers are unreachable, a phone system stops working, or video conferences crash? A small outage can have a big impact. You need to react quickly and get to the root cause to find a solution. You need to ensure you have reliable and optimized unified communications.
Unified communications are the arteries and veins of your organization and its connection to the outside world. Internally, you can't function properly when problems exist. Externally, you're paralyzed when there's an outage. Unified communication systems keep the heart of an organization pumping.
Optimized UC keeps the communications pulse steady and channels unblocked. Ineffective communications and collaboration capabilities slow product development and decision making, putting your employees at a competitive disadvantage. The solution is not to just fix problems, but to optimize systems so that problems are less likely to occur in the first place.
03 | Transforming your organization's operations
To preserve organizational agility, time and energy is best spent on strategic objectives that relate directly to your organization.
What are operational efficiency goals?
An organization's initial UC goals for maximum operational efficiency should be to switch from reactive UC management to proactive performance management. That is, getting ahead of issues before they are noticed by users. The goal is to gain real insights through data and analytics, and not to solely depend on historical reports.
Operational goals could be:
Minimizing downtime
Achieving high user satisfaction scores
Achieving high rates of adoption of UC services
Saving operational costs through reduced operating expenses
Amalgamating disparate systems into one, where visibility is possible through a single pane of glass.
Having clear goals on what success looks like during and after introducing new systems, or migrating business communications to the cloud
When you can easily view your entire unified communications environment, and everything that goes on within, overall resolution time is dramatically decreased when a problem occurs.
Achieving your operational efficiency goals
Operational efficiency is the journey to operational maturity, where UC is a well-oiled machine and doesn't break down. The journey involves stages: survival, awareness, commitment, proactivity, service alignment, and business partnership. The aim is to always be reaching for the next stage.
Unified communications as a vehicle for digital transformation
Another goal associated with mature unified communications management is using UC as a vehicle for driving digital transformation. Digital transformation takes many forms, as we discuss later in this guide, but efficient UC services depend on foundational technologies, plus a dedicated unified communications support team. Some of the key ways to achieve digital transformation and optimize your unified communications environment include:
Vision:
Establishing a culture of change within your UC and workplace collaboration environment
Resources:
Streamlining the work it takes to achieve seamless end user adoption and customer satisfaction from your UCaaS solution.
Technology:
Connecting the disparate systems across your business operations into one manageable entity
Data:
Transforming the foundation of data that unites your business operations through analytics and insights
The changing role of IT teams in unified communications management
The typical IT job description has evolved from straight out technical support like patching servers, extinguishing outage fires and recovering passwords, to a more inclusive role in the entire unified communications environment.
With increasing complexity in UC networks due to remote and hybrid working, the reliance on video conferencing, increasing internet traffic, and multiple communication platforms, the management and troubleshooting focus becomes much more client-facing.
Performance management solutions are vital
With sophisticated performance management solutions that act like an 'all-seeing-eye', these software tools can provide visibility into every UC platform, guidance as well as technical details related to every communication platform.
IT teams no longer need to spend time switching from one tool to another to find where a video conferencing session dropped out for example.
They can determine if dropped calls are due to network latency, or other issues like jitter.
They can monitor, troubleshoot and resolve contact center issues including call routing, and keeping call flows efficient. They can now see every instant messaging application, who's using it and where they're located.
Read our comprehensive guide to effective call flows here
Tapping into the power of optimized UC management
You can optimize UC management across every UC platform by first aligning the right people, processes and technology.
People
Expert team (in-house): In-house resources are familiar with the day-to-day fluctuations and will notice irregularities faster than outsourced help.
Trusted technology solution partners: Channel partners are a valuable resource for providing expert advice on new technologies in the marketplace, helping in new rollouts, and recommending best practices.
Buy-in from the top: Ensure your UC champion is communicating the challenges and strategic vision of an optimal UC effectively to C-level executives.
Technology
Network reliability:
Your network will always be efficient if network capacity is correctly provisioned to meet required demands. If network demand increases, so too must your bandwidth.
Trusted vendors:
It is twice as hard to optimize your UC if you rely on building tailored solutions from scratch. A vendor that integrates with a variety of platforms and vendors will make your life easier when you want to tap into higher performance.
Monitoring and troubleshooting tools:
Most UC environments are made up of technology from multiple vendors, across call management platforms, networks and session border controllers (SBCs) – you need to gain end-to-end visibility of the entire ecosystem to monitor and troubleshoot UC effectively. The same rings true for troubleshooting.
Process
To optimize UC within your business, get comfortable with changing the process of "this is how we do it." Start your plan by writing down a list of things you wish you could do. For example, finding certain information in two clicks, reducing the time to produce weekly update reports, and so on. When you're happy with your wish list, prioritize the tasks in order of impact.
Testing
Minimize the potential for disruption and make sure new technology has the positive impact intended. End-to-end performance testing ensures a positive customer experience and end user satisfaction. Set up threshold alerts (if you haven't already) when standard levels of fluctuation are exceeded.
Better still, if you can, put in a failover procedure that automatically fixes the problems and prevents an outage from happening. Keep track of your alert settings; update them periodically and as changes occur.
04 | Optimizing your UC management and reducing risk
Every implementation of new technology comes with some level of risk. In addition, each existing technology in play can pose a threat if left unattended. UC is crucial for day-to-day operations and digital transformation initiatives naturally make their deployments high risk.
The price of failure is high. A poorly executed UC strategy can hinder an organization's very basic ability to function by impeding both internal and external communications and collaboration.
A successful deployment or optimization brings better ways to connect with coworkers, customers and partners – and enables an organization to conduct business faster and more effectively.
With so much on the line, you need to get your UC implementation right. Here are some of the biggest UC risks you face and how you can overcome them.
1. Choosing the wrong unified communications platform
The unified communications market is growing faster than anyone could have predicted even 5 years ago. Every UC vendor is different, so you should understand the various platforms and how they align with your business objectives.
Some solutions, like video conferencing for example, are all about the cloud, but still lack a robust feature set in comparison to on-premises UC tools. Some on-premises solutions may not provide the consumption flexibility that cloud and managed service providers offer.
Other solutions may have lots of great features, but are one-size-fits-all products that don't allow for easy customization. Make sure the solution you choose is well suited to where you are today – and where you plan to be tomorrow.
2. Failing to get executive buy-in
If the C-suite doesn't support the UC initiative from the top, you risk losing the support of the broader organization. If and when the deployment takes a wrong turn, it will require a team effort to get it back on track and this can only happen when leadership is fully invested in the project.
What's more, UC deployments are typically long-term initiatives that take place in increments, so you need the continuing confidence of your executive team.
3. Neglecting to pilot
Before fully deploying your new UC solution, you need to conduct a thorough, well-executed pilot. This pilot should involve the entire organization, because different parts of the business will be using different parts of the UC system for different purposes. The pilot should also test your network environment to ensure readiness and quality. Test for what your usage will look like now and in the future when you've added headcount.
4. Not having an available system
You've completed the pilot and now you're ready for production. At this point, many organizations encounter a critical problem: their existing infrastructure isn't prepared for the new demands, which results in an unreliable system that's not highly available and stable for users. Call quality will be suboptimal, phone calls won't be routed correctly, and customers won't be able to reach your sales and support staff.
If these issues do arise (and they probably will), you need visibility and insight to immediately figure out what's wrong and how to fix the problem. This, in turn, requires that you have the capacity to continuously monitor the health of your new technology infrastructure.
5.Data and analytics
You need to collect data to provide analytics in order to maintain a 24/7 holistic view of your network. You can gain immediate insight into issues that need to be addressed so you can fix them. An experience-management solution provides an end-to-end view of your networks, systems and users.
This helps you maximize the benefits of your UC deployment and deliver a positive user experience long after initial Implementation.
The cost of UC downtime
How much is UC downtime costing your business? UC downtime is when your unified communications channels – websites, phones, emails, video conferencing, instant chat, collaboration tools, etc. – are not up and running. When these channels are down, productivity gets hammered and worse yet, your customers might not be able to contact you.
It's not unusual then for operations teams to pride themselves on uptime levels of 99.9%, but what about the 0.1% of downtime? By focusing on uptime, the cost of downtime gets downplayed.
What's the value of the 0.1%? What if the 0.1% affected happen to be in the 20% most valuable customers – or the top 5%?
In a recent report, Nemertes Research outlined an example scenario: An organization has 10,000 employees and 4,500 of those are affected by downtime each year. At 99.9% uptime, that equates to 525.6 minutes. If the average knowledge worker salary is $70,000, then the annual cost of downtime per employee is $301. However, if you multiply the annual cost of downtime by 4,500 (the number of employees affected), the sum jumps to $1,352,894... per year.
Ask the Expert
Damien Margaritis
Damien Margaritis is the Practice Manager and Principal Consultant for Modern Workplace with Insync Technology, an award-winning Microsoft Gold Partner. He is also a MSFT Certified Master in UC.
Unified communications in real time
Q: How are your clients' performance objectives for UC different to other environments? How does that impact your client management strategy?
A: At the heart of any UC deployment are real time communication protocols. The key phrase here is "real time". Whilst it may be acceptable for non real time traffic to take an extra second or two to traverse a network, with real time traffic milliseconds can make the difference between a good experience and a bad one.
Tools used to manage a UC platform need to be able to identify real time traffic flow issues, overlaying data from multiple environments to give a true "single pane of glass" overview of what's really going on.
Q: How are IT/UC/Network/Ops teams getting it wrong in managing UC?
A: This is primarily an organizational question. Speed of adoption correlates with establishing specialist UC roles and teams. Assigning traditional specialist roles in telephony, VC etc. to a single manager is only a step towards this.
Meanwhile, the world of IT continues to change. Many more services are being consumed from cloud providers than ever before. Services are no longer being provided from within the corporate firewall.
Q: What is the risk of a client not having thorough UC Management in place?
A: Many things need to come together and work in harmony for a UC deployment to be successful. Real time UC traffic behaves differently from conventional network traffic, so can fall outside the scope of conventional data network management tools.
It's important that you have full end to end visibility of what's happening in your environment. If you don't have the right tools in place, you're not getting the full picture.
05 | Managing your UC migration strategy
If you're migrating to the cloud, and deploying Unified Communications as a Service (UCaaS) solutions, or considering a hybrid unified communications environment, it's vital to put stringent management strategies in place.
Find out more about how to master your unified communications cloud migration here
The cloud and its challenges
Many IT teams are still anxious about the consequences of migrating to the cloud and are uneasy about maintaining the quality of the user experience. This isn't surprising. Cloud migration is not without its hazards.
You need to consider your internal network performance, each UC platform, and the network connecting you to your cloud provider (i.e., the service provider network and the public internet, or a dedicated connection), which sit between you and your cloud vendor's UCaaS service.
Moving to the cloud highlights the need for proactive performance management. With many businesses choosing to adopt multi-vendor unified communication platforms, monitoring performance management and troubleshooting requires a third party solution.

Image source: TechTarget
Hybrid UC is the new normal
Many UC environments are a mix of vendors and solutions, and moving everything to the cloud becomes a daunting prospect. But is this even the right approach to take?
Transitioning to the cloud doesn't have to be a hard-line plan. Many enterprises embrace a hybrid approach, moving some systems or users while continuing to run others on premise.
It might be ideal for some users to move to the cloud right away. Others (like contact centers, for instance) may need to stay on premise. Some companies have long-term contracts with telecom providers for PSTN connectivity.
Hybrid solutions take advantage of on-premises infrastructure and successfully marry it with cloud services. A hybrid approach lets you move gradually to the cloud at a pace that best suits your organization, while maximizing your investment in existing on-premises infrastructure.
By moving one application at a time, you can effectively troubleshoot any issues that occur without losing your entire environment and impacting users.
A hybrid approach also gives organizations more features to use, as they can leverage the benefits of both on-premises and Unified Communications as a Service applications. Many cloud systems are still building out their services, while on-premises systems still offer more feature-rich services, especially for advanced users.
UC cloud migration – what not to do
Adopting Unified Communications as a Service is usually part of a larger digital transformation initiative, so it's critical to get this process right to see return on investment. Here are five key mistakes to avoid during your migration project.
Moving everything to the cloud purely on principle
This can be a huge mistake. By taking a "move everything to the cloud regardless" approach, you're failing to recognize the intricacies of individual applications. It might make more sense to keep some apps on-premises. Adapting a hybrid approach is a smart move.
Failing to assess or test your UC environment
Testing identifies the quality, availability and readiness of your UC environment, which is critical for a successful migration. It will help answer important questions like: "Do you have enough bandwidth at peak load?" and "Can we scale as the business demands?" Test for usage today and for the future.
Moving too fast
By taking a slow and steady approach, moving team by team, branch by branch, you can use the learnings from smaller moves to improve the process, identifying potential issues before they erupt. A gradual approach lets users get familiar with new systems without experiencing network disruptions, which will impact user adoption and ultimately ROI. Remember, slow and steady wins the race.
Failure to monitor ongoing performance and quality
It's not uncommon for organizations to run into issues even after extensive testing and a successful deployment. Ongoing proactive UC monitoring and troubleshooting should become part of day-to-day UC management to ensure cloud benefits are realized continuous
Assuming all applications are cloud enabled
All UC environments have connected apps. But can they all work in the cloud? Not all apps are cloud enabled and for those that are, generally, their app settings need to be updated when migrating to the cloud.
UC CLOUD MIGRATION: MISTAKES TO AVOID
The biggest mistakes businesses make when migrating their unified communications to the cloud.
To read more about UC and how it can work for your business, read more of our Pro guide series:
Download a PDF copy of the UC Optimization guide for Pros