Over the years, the world of banking has modified radically and has globally affected millions of individuals. During this age of development, instead of making payments by cash and checks, we've come to embrace faster electronic methods of transferring money. These days, it's relatively simple, fast and inexpensive to transfer money between bank accounts, states and even countries. Since the early 1970's, ACH payments have become one of the most popular and efficient methods of transferring money electronically.
More than 25 billion ACH transactions are processed each year by the Automated Clearing House (ACH) Network, an electronic network of banks and financial institutions supporting both ACH credit and debit payments in the U.S.
Tens of millions of Americans use the ACH network, and whether you know it as Direct Payments, Direct Deposit, or electronic payments, ACH handles everything from mortgages and recurring payments to credit card payments and more.
How much money goes through ACH payment processing?
The ACH payment volume is steadily increasing. In 2020, the automated clearing house network moved financial transactions worth more than $61.9 trillion, an increase of almost 11 percent from the previous year. These included government, consumer, and business-to-business transactions, as well as international payments.
How do ACH payments work?
An ACH payment is made via the ACH network, rather than going through the major card networks like Visa or Mastercard. An ACH payment is also referred to as ACH transfers or ACH transactions.
ACH is run by an organization called Nacha (National Automated Clearing House Association), and may also be referred to as the ACH network or ACH scheme.
There are two main categories of ACH payments:
ACH Direct Deposits
ACH Direct Payments
An ACH direct deposit delivers funds into a bank account as credit and is used for purposes such as payroll and tax refunds, employee expense reimbursement. A direct deposit covers all kinds of deposit payments from businesses or government to a consumer. This includes government benefits, tax and other refunds, and annuities and interest payments.
Advantages of direct deposit through ACH include things like convenience, less fees, no paper checks, and faster tax refunds
Direct payment via ACH withdrawal takes funds from accounts via either credit or debit and is used for purposes such as paying bills. ACH payments make the payment process easier for potential customers compared to writing a check, increasing chances of converting them to a sale.
And, in the case of recurring purchases, payments via ACH can be automatic - meaning the customer doesn't need to worry about receiving and paying a bill; it will be automatically paid from their bank account.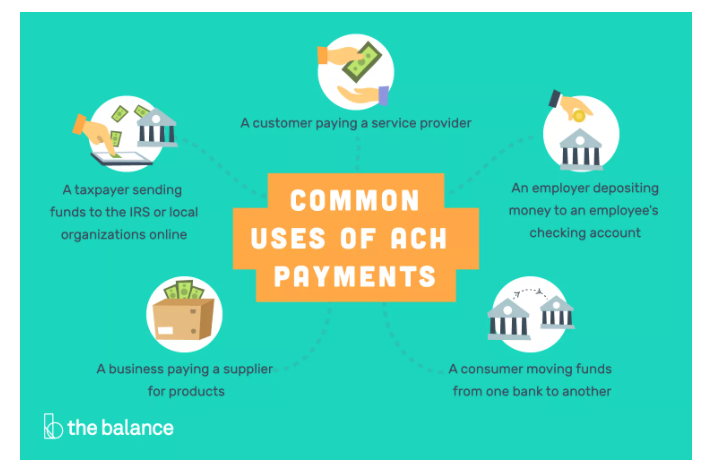 Image source: The Balance
What are ACH debit and ACH credit transactions?
ACH credit transfers (push payments)
An ACH credit involves ACH transfers where funds are pushed into a bank account. That is, the payer, like a customer, triggers the funds to be sent to the payee, like a merchant.
For example, when someone sets up a payments through their bank or credit union to pay bills from their nominated bank account, these payments would be processed as ACH credits.
ACH debit transfers (pull payments)
ACH debit transactions involve ACH transfers where funds are pulled from a bank account. That is, the payer, or customer gives the payee permission to take payment from their nominated bank account whenever it becomes due.
For example, when someone sets up a recurring monthly payment for a mortgage or utility bill, an ACH debit would be used and their bank account would be debited automatically.
Who uses the ACH network?
All sorts of organizations accept ACH payments, and the ACH network is widely used for all kinds of recurring payments, electronic transfers and bill payments, including:
Direct deposits of paychecks into a checking or savings account
Business payments to other businesses
Consumer online payments to credit-card companies and utilities
Consumer and business transfers between their bank accounts
Individual payments to other individuals using platforms such as PayPal and Zelle
Electronic tax refunds paid directly into a checking or savings account
How long does it take to process ACH payments?
Considering these are electronic payments, making ACH transfers seems like a long-winded process. Traditionally, a standard transfer would take three to four business days. Here are the factors as to why:
The amount of time it takes for a bank to send each ACH request, verify that there's enough money in the account, and wait for the receiving bank accepting ACH payments. Typically this process would take 48 hours, at minimum.
Many banks process ACH transfers in batches only a few times per day. Some even only process them once per day, so if you miss the cutoff for the batch that day, you'll have to wait another day for processing to take place.
More recently however, banks have come to allow same day ACH payments or next-day ACH transfers that take only one to two business days. So as long as the electronic payments request is submitted before the cutoff for the day, it's possible for the money to be received within 24 hours.
The 7-step process of making ACH payments
No matter what type of ACH payments are involved, a transfer is a process of 7 steps, which begins with the money in one account and ends with the money arriving in another account.
1. The ACH transaction is initiated
An ACH transfer begins when the originator (payer) begins the process by requesting the transaction. The originator can be a consumer, business, or a government agency. The transaction can be a deposit or a credit or debit payment.
2. The originating financial institution submits entry
Once a transaction is initiated, an entry is submitted by the bank or payment processor handling the first phase of the ACH transaction. The bank or payment processor is known as the Originating Depository Financial Institution (ODFI).
3. ODFI sends ACH entry batch
Financial institutions often send ACH entries in batches, typically 3 times a day during regular business hours. Batches are sent on a predetermined schedule to an ACH operator, an institution within the ACH network authorized to handle switching funds between the originating and receiving bank account. Federal Reserve banks and the EPN are national ACH operators.
4. ACH operator sorts entries
Once received, an ACH operator sorts the batch of entries into deposits and payments, and payments are then sorted into ACH credit and debit payments. This ensures that money is transferred in the right direction.
5. ACH operator sends entries
After sorting entries, the ACH operator sends them to their destined bank or financial institution, known as a Receiving Depository Financial Institution (RDFI).
6. RDFI verifies there are sufficient funds
If the ACH transaction involves moving funds out of an ODFI's account, the RDFI must first check to verify that sufficient funds are in the ODFI account to cover the transaction.
7. RFDI debits or credits originating institution
Finally, the receiving financial institution either credits or debits the receiving bank account, depending on the nature of the transaction.
How much do ACH payments cost?
While the total cost associated with accepting ACH payments varies, ACH fees are often much cheaper than the fees associated with accepting card payments.
One of the biggest cost-influencers of accepting ACH payments is the volume of transactions your business intends to process. Businesses with larger transaction volumes tend to pay less per transaction.
When accessing ACH indirectly through a Third Party Payment Processor (TPPP), a number of types of fees may be involved:

The difference between wire transfers and ACH payments
While both wire transfers (like SWIFT) and ACH payments allow for electronic payment of funds to bank accounts, the main difference is that wire transfers are used to facilitate international payments, whereas electronic ACH payment is only available domestically. Other distinctions between the two methods include:
ACH Transfer:
Speed - Takes typically 2-3 business days
Payment options - Bank transfer
Cost - Almost always free or minimal
Risk - More secure
Wire Transfer:
Speed - Instant or next day availability
Payment options - Bank transfer, credit and debit cards
Cost - Additional cost
Risk - Impossible to reverse
To find out more about wire transfer, read our in-depth guide to SWIFT transaction monitoring
The changing payments environment
Payments ecosystems can be extremely complex. In a changing world influenced by external drivers and shifting consumer behavior, expectations of omni-commerce is emerging at lightning speed. The demand for faster payments, better security, flexibility in payment methods is increasing.
Consumers are demanding a seamless, secure payment experience; an integrated "multi-channel" retail approach delivering consistent, personalized experiences culminating in secure, frictionless payments. With alternative payment channels having gone viral, today's consumers enjoying more purchasing options than ever.
With the influx of new and emerging technologies, how can businesses effectively manage booming transaction volumes, emerging technologies, regulatory challenges' and higher customer expectations, as well as the ever-increasing risk of fraud?
Read our blog on failed payments to learn how to manage and prevent failed payments.
Managing your payments environment with IR Transact
IR Transact simplifies the complexity of managing modern payments ecosystems. Bringing real-time visibility and payment monitoring to your entire environment, Transact uncovers unparalleled insights into transactions and trends to help you streamline the payments experience, turn data into intelligence, and assure the payments that keep you in business.
Transaction monitoring refers to the monitoring in real time of customer transactions, including historical as well as current information and interactions. This provides a complete picture of the activities from all your customers, including transfers, deposits, and withdrawals to automatically analyze this data.
Whether you're an acquirer, payments processor or merchant, it's crucial to be able to gain complete real-time visibility into your payments ecosystem. Poorly performing systems increase frustration throughout the entire payments chain. It can lead to long queues, the likelihood of customers abandoning purchases, and dissatisfaction from customers – severely impacting revenue. Transaction monitoring is vital to combat any service disruptions and potential lost revenue.
Find out more about some of the main challenges in managing the evolving complexities of a changing payments environment.