Technological change has accelerated at an astounding pace in the space of two years. For the payments industry, the rapid adoption of omnichannel payments is changing the way businesses interact with customers, and the way customers engage with businesses.
Find out more about what you can do to better manage your changing payments business to be prepared for the future.
Omnichannel payment processing is no longer a 'maybe some day' option. It's now a necessary business strategy.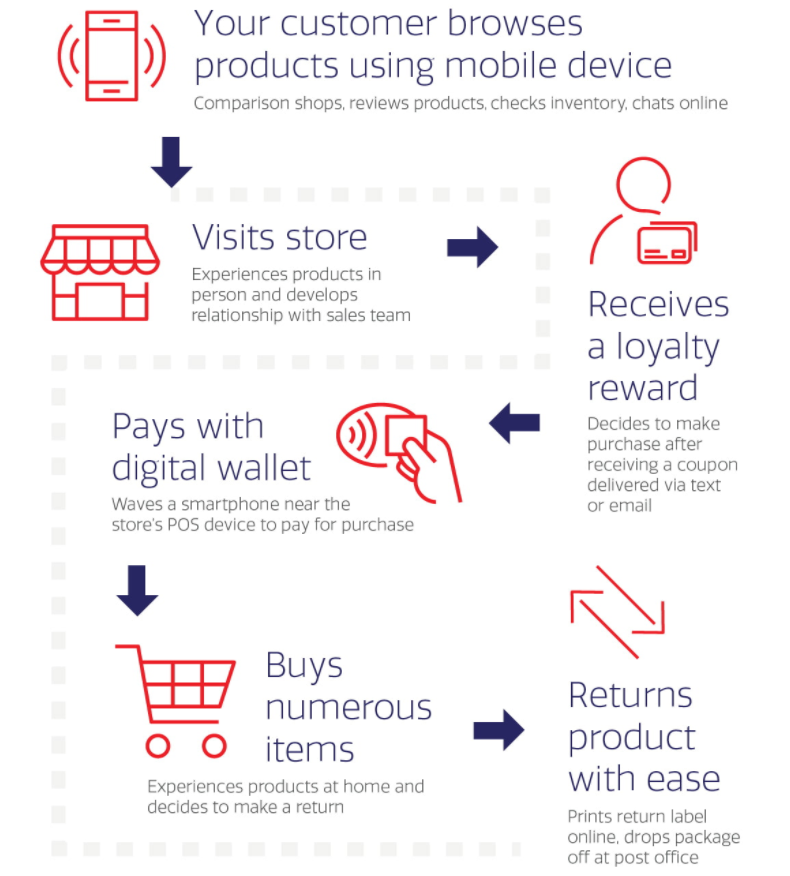 Image source: FIS Global
What is omnichannel payment processing?
In today's consumer-driven economy, shoppers are far more discerning and demanding when it comes to making purchases. They're looking for convenience and a bespoke shopping and payment experience, and as they increasingly use "on-demand" digital tools to shop, they now expect to be able to make a payment how they want and when they want.
Omnichannel payment processing refers to a business's ability to integrate multiple payment options into a single, consistent and seamless experience for the customer. Whether the customer is in a brick and mortar store, online, while out and about, via recurring invoice, or using other methods, it's more important than ever to accept payments in the method the customer prefers. This could include everything from credit cards to digital wallets, instant bank transfers, or Buy Now Pay Later (BNPL).
Omnichannel payments are a way to break down the silos between in-store, social media, mobile, email, web, phone, and live chat experiences you give your shoppers. A true omnichannel platform also allows real-time data synchronization and flexibility of banking in multiple ways. Consumers want to be able to start their on-boarding process with one channel, and if they choose, finish it with another – without the need to repeatedly provide the same information.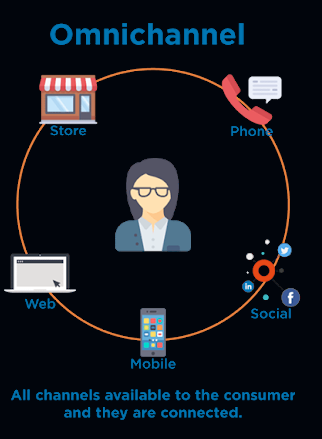 Image source: Bite sized knowledge
Retail giants like Macy's and Nordstrom are two examples of businesses who have embraced omnichannel payments. Based on their customers' past shopping patterns, they have managed to increase sales by offering new products, discounts and coupons in the store, online and in apps.
Omnichannel payment processing channels
Almost every week, there are new and innovative technological offerings providing faster, easier payment processing options. Customer satisfaction and improving sales are no longer mutually exclusive. Omnichannel payments provide businesses with a way to keep customers satisfied, as well as potentially increasing revenue. Some of the most popular payment channels include:
Smartphones
Smartphones have evolved to become one of the most common and popular ways make everyday purchases. With the advent of mobile wallet apps like Google Pay, Apple Pay and Samsung Pay, smartphones provide a convenient way to pay for goods and services with your smartphone, smartwatch or another compatible device. You can use a smartphone for:
Mobile payments in store and within apps
Social media shopping
Online orders on eCommerce sites
In person
While card not present options are becoming the preferred way to shop, some consumers still prefer to include physical stores as part of their shopping journey. Now that customers are coming out of their homes to shop in store, merchants and online vendors have to be prepared. Traditional businesses can't expect to achieve pre-COVID profit margins by limiting their offering to brick and mortar stores. However key online players could see a reduction in their sales as customers' time and attention are being competed for by brick and mortar stores. Physical payment methods include:
Point of sale (POS)
Kiosks
Salesperson with tablet/reader
Contactless payments and credit and debit cards
Desktop/laptop
With the COVID pandemic forcing shops to close, many retailers had to quickly move towards eCommerce and implementing an omnichannel payment strategy to safeguard the future of their business. With lockdowns imposed, consumers quickly became omnichannel shoppers and turned to their laptops, tablets and desktop computers to:
Make online orders at an eCommerce store
Pay bills
Carry out transactions and customer inquiries by email
B2B
The omnichannel imperative for B2B brands operating today means that in the same way that a B2C omnichannel works, manufacturers, distributors, and wholesalers need to optimize all their sales channels to reach, engage, and satisfy the B2B omnichannel customer.
However, this is a huge undertaking for manufacturers, wholesalers, and distributors, many of whom operate under outdated legacy systems and siloed organizational structures which make it incredibly difficult to develop an effective omnichannel offering with beneficial customer interactions. B2B omnichannel solutions include:
Recurring billing/subscription services
Software integrations
Over the phone
Why omnichannel payments are important to every business
Customer demands matter more than ever, and this is what's driving businesses to change their payment services, not only to include multiple payment methods, but multiple methods of interaction. It's this interaction and unified, personalized experience that's influencing customer loyalty, and making the difference between an abandoned shopping cart and a long-time repeat customer.
Personalization
According to a study by Accenture, a total of 63% of consumers expect personalized interactions and offers based on their past purchases.
An astounding 91% of customers will choose a brand who recognizes, remembers them, and provides relevant offers, subscription services, recommendations and a seamless omnichannel payments solution. They're also happy to share their data to enable a personalized experience.
One stop shopping
A BRP special report revealed that customers want access to a single cart to shop across channels and be able to reach their cart via phone, computer, or even in the store. Over 56% indicated that they were more likely to shop at a retailer that allowed them this payment experience, instead of a retailer that didn't offer this service.
Insights
The importance of real-time visibility and access to product and customer information across channels has grown significantly over the past few years as consumers' expectations continue to rise.
Today's retail model has had to break down the walls between internal channel silos and leverage a common single platform with payment methods through multiple channels, to deliver a holistic, real-time, personal and seamless experience.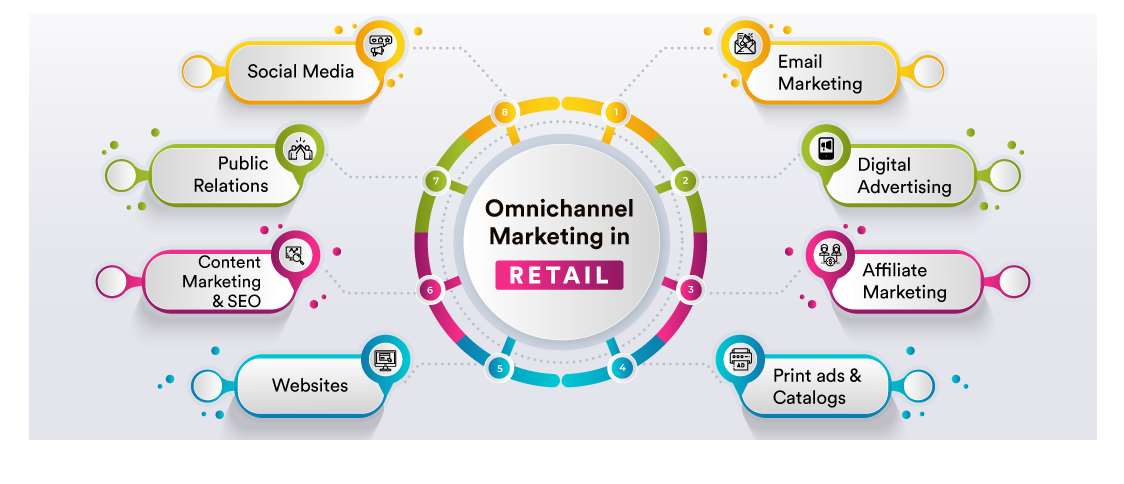 Image source: Software Suggest
Analytics are important
The collection and management of data is crucial to a successful omnichannel strategy because much of the consumer service-based initiatives are technical and tactical. Analytical capabilities should be universal in omnichannel implementations and related processes.
With IR Transact, every omnichannel payment processor can monitor, troubleshoot and see their entire omnichannel banking platform from a single vantage point. With detailed insights into the entire payments environment, have a better sales experience and the transaction process becomes even more streamlined.
Real time visibility into your payment solutions
With digital transaction volumes booming, constantly evolving payment technology to accommodate, and customers demanding a seamless payments experience, everyone in the payments space, from financial institutions and payment services providers to wholesalers and retailers have more complexity to contend with than ever before.
In a rapidly evolving payments environments, IR Transact can simplify the staggering complexity of implementing new technologies and improve performance to help provide a consistent experience to keep you in business and your customers satisfied.
For more on the omnichannel customer experience, read The Omnichannel Banking Handbook: Benefits, challenges and more here