With a shaky start to a new decade and plenty of challenges ahead, the last two years has seen financial ecosystems undergo a significant digital transformation.
Download a PDF copy of our Managing your Changing Payments Business guide!
With financial services evolving at lightning speed, and a consumer-driven surge in omnichannel digital banking and retailing, consumers have more choices in the way they bank and make financial transactions than ever before.
Financial institutions are closing the online/offline banking divide, and banking services are prioritizing the improvement of the customer experience. New digital capabilities are aimed at attracting new customers, and with a digital-first approach they can reduce operating costs at the same time.
With a mobile app for almost every retail transaction, online sales and an online marketing approach is now common strategy for financial institutions and retailers alike.
Wherever customer touchpoints occur, whether it's by online app, or in-person in a bank branch, personalized customer service is the key element of every retail banking strategy, across every channel.
A true omnichannel banking platform embraces mobile applications, internet, and social digital channels as well as traditional channels.
Financial institutions have no option but to keep up, and strategies are continuously developing to merge omnichannel banking with customer demands.
Table of Contents
What is true omnichannel banking?
Consumers increasingly expect their bank to provide omnichannel experiences. They want to perform the same banking operations whether it's online banking, by phone, via a call center, in a bank branch, or any other available channel. But additionally, they want these experiences seamlessly - when, where and on whatever devices they prefer.
Image source: Software Group
Meeting customer expectations
Omnichannel banking is more than meeting customer expectations; it's about taking customer experience to another level. Banks, financial and retail banking organizations can achieve this by using digital channels, and utilizing transaction data, to predict customer behavior. By analyzing traditional static customer profiles, and integrating these with more granular data, they have access to valuable insights that can increase their commercial campaign conversion rates.
In a series of surveys and analyses in 2021, it was revealed that banks fell short of meeting customer expectations.
Image source: Fintech News
Flexibility
A true omnichannel platform also allows real-time data synchronization, and consumers the flexibility of banking in multiple ways such as from a website, app, branch, and more. Omnichannel banking offers the same services for each channel, allowing consumers to be able to start their onboarding process with one channel, and if they choose, seamlessly finish it with another.
Increasing sales network capabilities
Omnichannel banking platforms provide a holistic view of the customer experience, showing the centralized journey of customer interactions across multiple touch points. This follows one of the key digital marketing techniques of 'create once - distribute anywhere'. The approach fits seamlessly with today's device-driven customer lifestyle and allows a data-driven increase in sales productivity, as well as customer-originated innovation.
Joining the digital dots
Digital transformation is well underway in many banks and financial organizations with the transition from traditional in-branch, single channel banking - to banking across digital channels. The use of digital technology, including remote platforms and banking apps, smartphones and mobile devices, and the proliferation of online shopping has brought about monumental changes across the banking sector.
But the challenge now for many banks, is the lack of cohesion between the channels. Interruptions and complications across the customer interaction cause frustration and could potentially see customers taking their business elsewhere.
Fintechs are using their technological advantage to provide intuitive, easy-to-use banking solutions that joins the dots. Customers (younger customers in particular) are already familiar and comfortable with this, and it's what they expect in this digital era. As a result, banks are realizing that they need to act quickly to transform their multichannel offerings into a truly omnichannel banking experience.
Omnichannel vs multichannel - what's the difference?
The terms omnichannel and multichannel are often used interchangeably, but the key difference is integration. Multichannel means that financial services and banks must provide services to its customers through a spectrum of channels such as in-branch, ATMs, call center, online banking and mobile – but they don't necessarily work together in a unified way. Simply put, each channel supplies different services and runs separately from the others.
While multichannel is bank-centric and focused on transactions, omnichannel is all about customer-centricity and focuses on interactions. Omnichannel provides customers with personalized service in a seamless, unified experience, where they can easily access information from any of the channels since the channels are interconnected.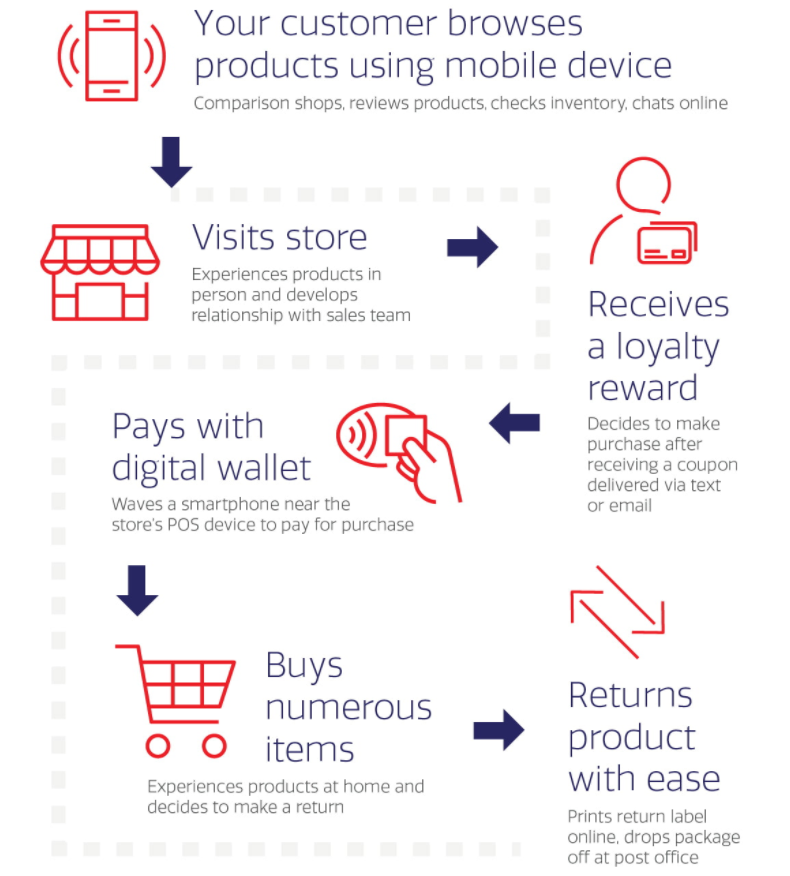 "An omnichannel strategy means customers can shop with smartphones, tablets, laptops and even in stores as if waited upon by a single salesman with an unfailing memory and uncanny intuition about their preferences," The Economist
With omnichannel, banks and retailers can achieve the ultimate goal of meeting their customers' specific needs and at the same time, anticipate their wants and likes.
A unified experience
Great digital interactions and seamless consistency are important to customers. For example, if they visit your Facebook or other social media page, it should be visually as easy to navigate as your website. Or, if they contact your customer support using via live chat, and need to progress to a phone call, they shouldn't have to repeat their information.
The adoption of omnichannel banking is also prompting banks, financial organizations and retailers to invest in digital training platforms. This enables them to offer ongoing customer support and marketing personalization, as well as motivating sales teams and increasing sales productivity.
Source: IBM Omnichannel banking: From transaction processing to optimized customer experience
Key benefits of omnichannel banking
As mentioned, omnichannel banking is all about integration, and it's this integration that allows banking services the best of all worlds. In retail banking, it means support for a choice of channels and the ability to switch from one to another without a disrupted, fragmented journey.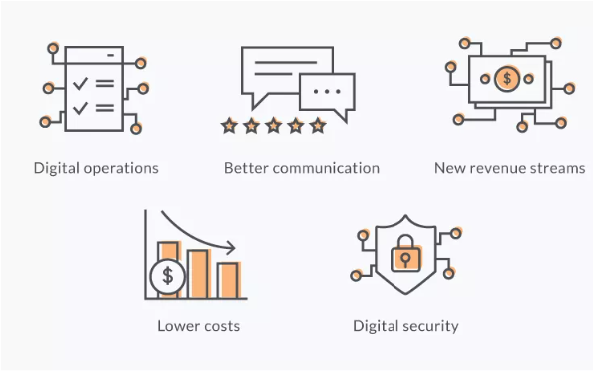 Image source: ITProportal
While omnichannel banking allows banks and retailers to offer consumers the convenience of digital channels and digital banking, it also means they must provide the vital trust aspect of human interaction. Other benefits of omnichannel banking include:
Fast problem resolution
One major advantage of omnichannel banking is that through digital interaction, issues can usually be resolved more efficiently and quickly than face-to-face in branch.
Less support costs
Digital applications like chatbots can often help solve simple and straightforward customer service inquiries, which frees up advisors to focus on more sensitive or complex issues.
A more personalized experience
For bank customers, the one-size-fits-all approach no longer works. A hybrid customer experience alternating between a digital service and person-to-person offers more flexibility and adapts to a customer's specific needs.
Customer experience and satisfaction increases
With a faster, more tailored experience, customer satisfaction grows, meaning improved customer loyalty. Many customers base their loyalty on their experience, and those who get exactly the help they want, are far more likely to stay on board.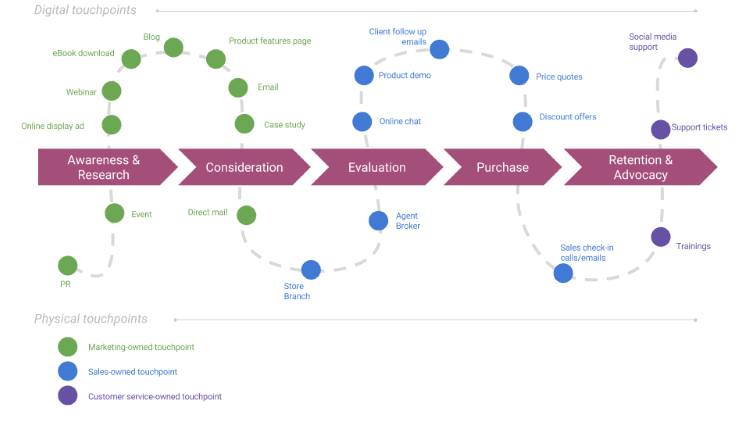 Image source: Revechat
Challenges of implementing omnichannel strategies
While omnichannel is the way of the future, many financial institutions have been somewhat slow on the uptake. For some, they'll have to implement an entirely new technical infrastructure with enhanced data capabilities to implement omnichannel management strategies.
The technical challenges of implementing an omnichannel strategy can be complex:
Lack of resources and investment required to make the strategy succeed

Lack of data mining techniques and analytical resources to interpret the data

Difficulty integrating data

Insufficient communication between marketing agencies and/or vendors

Lack of C-Suite buy-in to make omnichannel banking succeed

Siloed organizational structure

Insufficient performance management solutions in place
Balancing customer interaction
To realize the customer journey across different channels, including the possibility of switching between channels and real-time interaction, banks need to facilitate the exchange of data effectively between them.
This requires a high level of system integration and balance. For example, sales tools used in direct channels, like emails, text messages, online/mobile banking notifications almost always need to be followed up by human interaction.
Banks need to monitor and trace every interaction with a customer, meaning they'll need to process and manage exponentially more data. This data all needs to be stored and retrieved in real time, including respective historical data.
The availability of data and infrastructure provides a seamless offering and communication journey for customers, and this is the key element in omnichannel banking. However, implementing successful omnichannel banking strategies are not always straightforward, and banks can even risk alienating and losing customers. For example:
Relying too much on isolated touch-points
While communication strategies like video conferencing tools are commonplace today, they can reduce the opportunity for positive interactions. Some customers may be either unfamiliar with, or uncomfortable using such technology. An over-reliance on digital tools can result in frustrating experiences for customers unless banks prioritize a mix of tools to meet each customer's unique individual demands – such as live chat, co-browsing, messaging, video and face-to-face.
Automating all services
Customers still need to experience the human contact that builds trust. Banks need to integrate the physical and digital in a way that focuses on meaningful interaction.
According to a survey by Banking Hub, only 27% of banks in Europe have a unified record of all customer interactions via all channels, including key results of customer inquiries. Their study also revealed that only a minority of 24% of banks have the technology and data capabilities required to enable further omnichannel adoption.
Staying on top of omnichannel security
While omnichannel is the way of the future, the technology is also a double-edged sword. Criminal cyber activity is constantly evolving, and attacks on banks and customers means that staying ahead of fraudsters is a complex, full-time endeavor. Banks need to keep these issues in mind regarding security measures:
Address mobile weaknesses: As demand for digital services grows, banks are exploring how to keep their mobile channels secure, whether it's through biometric options like fingerprint, voice or facial verification, tokenization or additional passwords and PINs.

Address established channels: ATM skimming is still prevalent and becoming more difficult to detect, as fraudsters come up with more sophisticated devices. Card and cash trapping, as well as physical attacks on ATMs are also still problems that banks are struggling to overcome.

Forecasting future trends: As banks close one avenue of opportunity for criminals, others inevitably open. While predicting the future is not easy, using innovative technology including advanced analytics can help detect fraud and malicious activity through trends. Omnichannel frameworks build a holistic view of a customer journey to help spot future areas of vulnerability.
Engage with customers: Channel innovation remains a primary focus for banks. According to PwC, 61% of bank execs believe a customer-centric business model is crucial, and banks are making investments in driving this change. But to stay on top of security, they need to track consumer activity, monitor social media channels and develop dialogues to discuss potential changes.

Finding the right solution: Managing multiple channels is an incredibly complex undertaking, especially when many banking organizations still have disparate systems and siloed departments. A single security product that covers all the bases is therefore unlikely.
With the right suite of solutions, businesses can build a comprehensive defense against security threats. This will help strike a balance between developing robust security and ensuring that new processes don't hamper seamless customer transactions and interactions.
Key takeaways: Implementing omnichannel banking
There are three basic criteria banks need to implement to make the transition to true omnichannel distribution.
Advanced analytics and granular customer data for better targeting of customer needs and wants.

Marketing personalization across every channel, based on data-driven insights into customer activity and sales journey.

Motivated instigators equipped with the tools and understanding of processes to operate in an omnichannel environment.
2. Client-centric vs bank-centric. Historically, banks have focused mainly on managing clients' money reliably and processing their transactions accurately. In omnichannel, banks must discard the bank-centric view in favor of a client-centric approach, by shifting attention to the interactions with customers.
3. Anticipating wants and likes vs fulfilling needs. Banks must elevate from fulfilling needs to anticipating wants and likes and strive to exceed customers' expectations.
4. Service-oriented architecture (SOA) vs omnichannel. SOA is the standard way that banking components interact, allowing easy integration and greater reuse. Omnichannel, on the other hand, is built on Big Data, a technology that allows a vast amount of information to be managed and analyzed.
How IR Transact can help
In rapidly evolving payments environments, IR's Transact suite of solutions can simplify the staggering complexity of implementing new technologies and improve performance to keep your customers satisfied.
By deploying our advanced analytics and performance management solutions, you can monitor, troubleshoot and see your entire omnichannel banking infrastructure from a single vantage point. By enabling immediate response, and the ability to provide the right support, consumers have a better sales experience and the transaction process becomes even more streamlined.
With digital transaction volumes booming, new payment technologies to accommodate, and customers demanding a seamless payments experience, everyone in the payments space has more complexity to contend with than ever before.
In rapidly evolving payments environments, we simplify the complexity in your omnichannel strategy, allowing cost savings, channel efficiency, and assuring the transactions that keep you and your customers in business.
Download a PDF copy of our Managing your Changing Payments Business guide!