In our guide 'The Ultimate Guide to the Digital Workplace', we covered in detail the effect that digital transformation has had on the modern workplace globally.
Every organization who wants to get ahead knows that the digital workplace is the way of the future, and has already deployed, or is in the process of creating a digital workplace strategy.
It's no secret that hybrid working is the way of the future, and a successful hybrid workplace is built on a digital workplace structure that has a number of huge benefits for most organizations.
In this blog, we'll focus on creating a digital workplace toolbox - containing tips on how to implement an effective digital workplace strategy, while managing the challenges of a worldwide workplace culture change.
The many benefits of a digital workplace strategy
With ever-evolving new technologies, the way we work has undergone a massive shift, heralding the widespread implementation of digital workplace initiatives. Today's digital workplaces are focusing on the key concept that properly executed digital workplace strategies can:
Greatly improve business processes

Leverage knowledge

Increase productivity

Make business goals far more achievable.
Image: Reworked
But none of this can happen without employee satisfaction. A company's employees are at the core of their business success, and vital to the success of a digital workplace strategy. The way an organization enables employees to work efficiently within the digital workplace is crucial to employee productivity, employee retention, and a great employee experience.
Watch our webinar, 'Creating Great Experiences in the Hybrid Workplace'
Prioritizing employee engagement
Since the worldwide adoption of hybrid working, employee agility and engagement has become a HR buzzword. Research has shown that most organizations who prioritize the engagement of their employees have more measurable and tangible outcomes.
However, a massive 68% of employees globally are disengaged. Gallup categorizes workers as "engaged" based on their ratings of key workplace elements, including having an opportunity to do what they do best each day, having someone at work who encourages their development and believing their opinions are valuable within their work environment. Let's define employee engagement.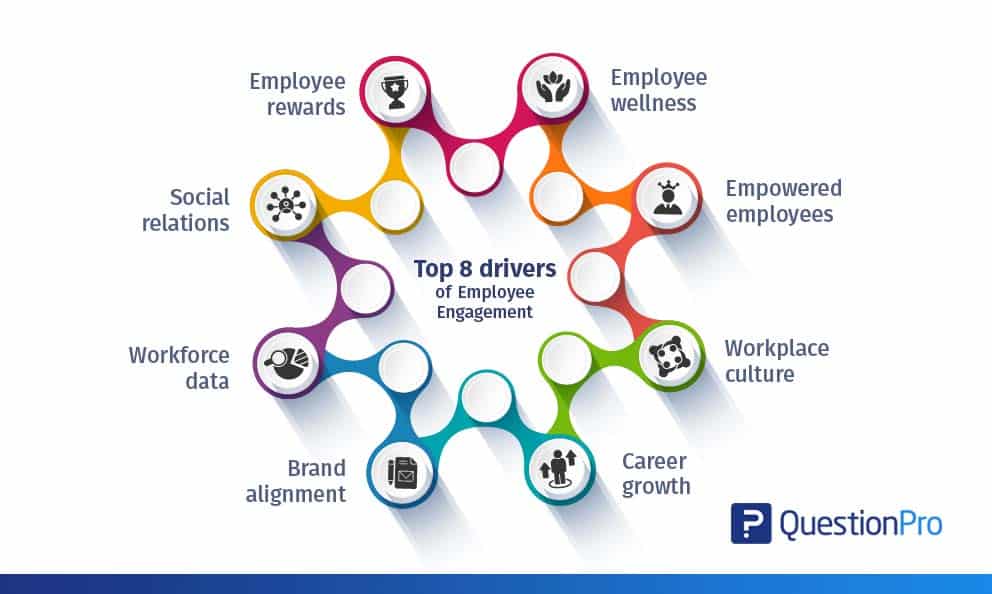 Image: QuestionPro
What makes an engaged employee?
According to a study from Utrecht University, engaged employees show more dedication, care about their job, enjoy it and do it well.
The digital workplace is also about creating an environment where employees are motivated to want to connect with their work and their teams. Flexibility, change and continuous improvement are at the heart of what it means to be an employee and an employer in a twenty-first century digital workplace. According to Deloitte, 64% of employees would opt for a lower paying job if they could have the flexibility of hybrid working.
How to enable employees: An employers' perspective
According to Gallup's State of the Global Workplace report, staff engagement decreased globally from 22% in 2019 to 20% in 2020. What's more, disengaged employees can cost US companies up to $550 billion per year.
With those figures in mind, HR teams and leaders can automatically have success written into their digital workplace strategy if they foster a digital workplace environment that brings about long term engagement. A key part of an employer's role and a solid strategy is to gain a commitment from employees so that their digital workplace aligns its values with employee empowerment. This focuses on far more than their salary.

Image: Qlearsite
Employers who prioritize engaging with their employees:
Act consistently and recruit teams in line with company values

Give employees a voice

Listen and act on employee feedback

Communicate openly and transparently

Offer opportunities for growth and development

Recognize the work and achievements of employees

Facilitate positive working relationships and talent attraction

Encourage a good work-life balance

Include employees in any future digital workplace strategy
Engagement in the workplace: An Employees' Perspective
For employees, engagement means they are genuinely interested and passionate about helping their company succeed. Because they feel valued and taken care of within their employee experience, they actively seek out ways in which they can be more innovative, creative, and collaborative.
Highly engaged employees are also more likely to jump on board with any workplace strategy changes without resisting, and are more likely to try out new processes and systems.
Engaged employees are:
Proud of their work, and work effectively

Loyal advocates of their workplace

Motivated to be more productive and creative

Open to sharing their ideas and feedback

Working towards common goals and enthusiastic about growth

Communicative

Supportive of colleagues and management

Proactive about problem solving

Resilient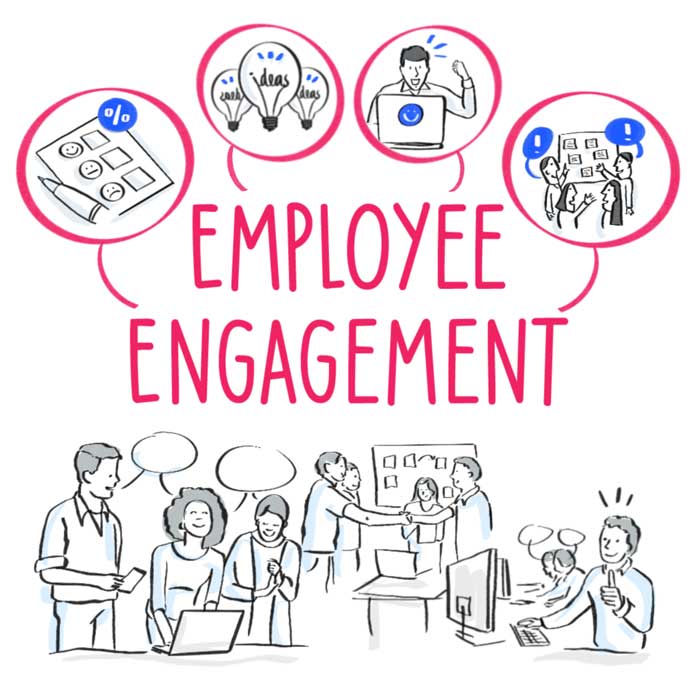 Image: Starfish Taylor
Empowerment through communication tools
Remote work, and hybrid working strategies are now a big part of the digital workplace initiative.
Communication is the cornerstone of an engaged workforce. Digital tools developed in an intelligent workplace provide an easy way for remote employees to communicate in real-time. In addition to increased engagement from employees, digital communication and knowledge sharing through technology enables all employees throughout a global organization to have a voice.
As businesses change, a robust digital workplace strategy and equipping employees with the right collaboration tools, and mobile access can help further enable a positive and empowered employee experience, allowing them to be more involved and share their expertise and ideas.
Image: Science of People
Challenges facing a digital workplace strategy
Within a digital workplace framework, the distinction between the professional and personal lives of employees is becoming more blurred, and communication, connection and collaboration have become a key element of an effective digital workplace strategy.
Solving customer problems effectively, contributing to evolving business objectives, and the ability to share knowledge across an organization often relies on employees branching out to develop productive business relationships beyond their department and location. This means they need to work closely with key stakeholders throughout business processes to create a great digital workspace strategy.
From email to virtual meeting tools, project planning to survey tools, HR applications to sales tools, it's easy for employees to feel overwhelmed by information and frustrated by their inability to find the information and colleagues they need to complete their work in an effective manner.
However, it's not always easy to bring about employee empowerment in a digital workplace for several reasons. Let's explore a few:
Manager Push Back
Some organizations are still stuck in legacy systems, with a Top Down, non-intuitive business model. Managers in these businesses push against the idea of employee autonomy, due to a lack of trust and confidence, both of which are unproductive feelings within a workplace.
To combat this, more preparation is needed to shift to an employee empowerment model, starting with two way communication, or adopting hybrid work practices by offering remote working, or flexible working opportunities, then putting tools in place to monitor employee engagement.
Lack of Proper Training
Comprehensive training and clear policies are a crucial part of an effective digital workplace strategy.
Employees should have access to the most up-to-date training and information if they are to thrive. All parties need to be clear about the boundaries of where employees work. In most businesses with empowered employees, they can move freely within their role and make informed decisions with the help of support and guidance from leaders.
Lack Of Effective Communication
A common challenge to employee empowerment is lack of communication. Sometimes, managers think that, because they have given workers the freedom to work autonomously, they don't have to communicate with them. But one of the intrinsic motivators for increasing employee engagement, and the key to success within a business, is clear and concise communication. Lack of communication leads to disconnection, low productivity, and inefficient work processes.
In fact, around 97% of workers believe that communication impacts tasks daily. What's more, over a quarter of employees cite poor communication as the reason for not being able to deliver work on time.
Image: Tonerbuzz
Organizational Silos
In a global environment with multiple teams and a dispersed workforce, organizational silos can negatively impact your business's success, especially in the absence of digital tools and technologies.
In many organizations, legacy infrastructures are common and departments hold information, leaving it inaccessible to the rest of the company without a place to share it. Customer service, sales and supply chains suffer as a result when they are unable to communicate and collaborate effectively.
A digital workplace strategy can enable employees to interact and share ideas that build a sense of community and trust, encourage innovation and employee creativity, and solve problems in real-time.
Complexity
One of the major digital workplace challenges is complexity. A digital workplace often has numerous software packages meant to assist workers with their job, but are not designed to work together.
Not only do your workers need to learn how to use their tools to do their job, but they also must navigate secure passwords and understand how the software interrelates.This can cause frustration and confusion as teams try to navigate through their online workflows.
In a truly integrated digital workplace strategy, each piece of new technology should empower employees. Solutions should be feature-rich, intuitive collaboration and social media tools for both internal communication and external, to allow workers to message, meet, voice and video call, share content, and communicate from any space
Practical steps for creating a digital workplace platform
Encouraging employees to make the best use of newer communication tools can mean a change in long established patterns of behavior, and campaigning to get buy in from employees. But change doesn't need to be as difficult as it sounds. With proper employee/employer engagement, the following steps can increase employee creativity, make for a more motivational work environment, and create workspaces where employees learn and thrive.
Image: Heartbeat
Clear collaboration between key business stakeholders and senior teams
To maximize ROI when developing a digital workplace strategy, and to meet business goals, it's the relationships with key business stakeholders and senior teams that need to take center stage.
One way of doing this is to consult them when designing the new platform, making sure it meets their needs. This could include discussing the look and feel of your digital workplace, the organization of key content, governance, what online portal will work best, compliance issues and the integration of existing and new tools.
Recruit and provide ongoing support to employee advocates
A great way to develop a digital workplace strategy is to create and nurture a network of enthusiastic employee advocates to act as local champions and experts. These employees can actively promote digital adoption, within the physical office and the remote digital workplace to their team members, remote workers and colleagues to get used to their new platform.
Working closely with an internal communications team, these 'change champions' typically encourage people to use their new tools, resolve any challenges and act as local role models.
Leaders must lead the way
Part of a digital workplace strategy is the hands-on involvement of business leaders. The digital workplace makes it easier for leaders to authentically connect with people within the modern intranet and the whole digital workspace.
With features like blogs, instant messaging, comments, ways to show recognition and the ability to 'like' articles, leaders are able to immediately collaborate and listen to employees, whatever their role within an organization.
Measure success and take action to improve
Defining quantifiable goals for your digital workplace and determining exactly what you want to accomplish is one of the most important steps in your digital workplace strategy.
For example, if your business needs to improve the customer experience, your metrics should reflect how effective your digital workplace is in helping customer-facing employees to quickly find the information they need. If it's clear that they need help, or new technologies, it's up to leaders to provide tools that can empower them to achieve goals.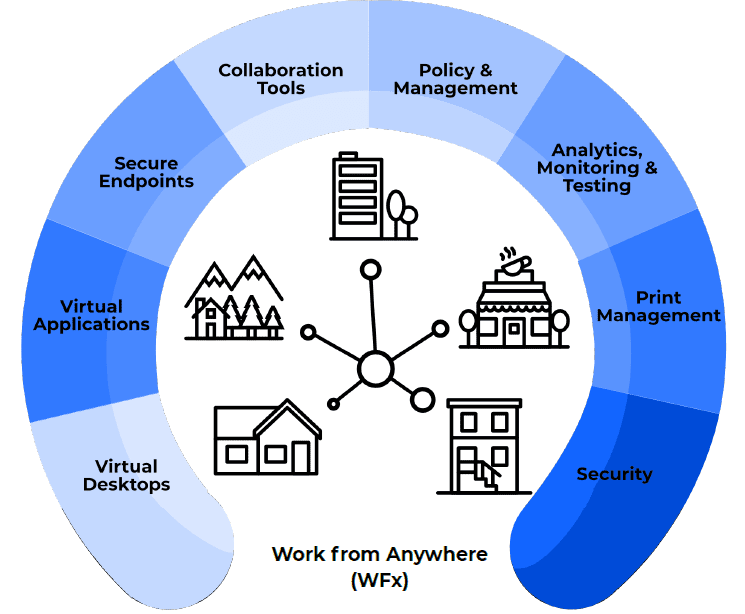 Monitoring to ensure the success of your digital workplace strategies
Any organization undergoing digital transformation will encounter problems in many shapes and sizes, from poor performance and incompatibility of devices, to inconsistent network connection quality, sub-par audio and video, security risks and much more.
In the digital workplace, data and analytics are crucial to understanding end-user performance and which teams are impacted. Being able to see every level of your hybrid working ecosystem provides layers of intelligence and insights that create team cohesion, cost management, innovation, and growth.
Today's digital workplace could consist of dozens or even hundreds of different applications, devices, networks and locations. You need to see what's going on everywhere, through a single pane of glass. And you need to be able to monitor performance and respond to problems in real time.
IR Collaborate performance management solutions give you the insights you need to monitor, troubleshoot and manage your entire digital workplace, ensuring that your digital transformation is successful and profitable.