Creating a successful Hybrid Workplace Model
Hybrid working is being hailed as the future of work. The office space as we know it still exists, but with a global pandemic propelling the adoption of a whole new workplace culture, the hybrid work environment will be the way we do things in the future.
The 'classic' workplace was one of predictable routine. Your commute to and from the office could eat up large chunks of your day. You'd sit at your desk, carry out your assigned tasks, perhaps go to a conference room for a few face-to-face meetings, and head home at the end of the day to stop, rewind, and repeat.
That classic working model is somewhat difficult to imagine in today's world, where business and technology have joined together to create a force to be reckoned with.
Today, your physical office could just as easily be a coffee shop, library or your living room instead of a static cubicle or desk. The workplace has undergone a wide range of iterations as technology has evolved, and today, we navigate a newer, more flexible and potentially more productive way to work. It's clear that we've made a significant leap forward into the modern hybrid workplace.
The well executed hybrid workplace
A hybrid workplace model combines in-office and remote work to offer flexibility and support to employees. In a hybrid workplace, workers typically enjoy more autonomy and a better work-life balance – which means they tend to be more creative and engaged. Employers benefit by building a more productive, healthy, stable workforce, reducing the likelihood of staff turnover, which can potentially cost them dearly. 
For a hybrid model to work, it depends on a great deal of planning, commitment from leadership, ongoing employee communication, and buy-in from IT teams. Without these elements, hybrid workplace models will face issues that can impact an organization's success. We'll talk about those issues later in this blog.
The role of the office space
The purpose of the office has changed. It's no longer 'the place where we go to work'. Instead it has become one of a number of places for workers to go, for in-person collaboration, brainstorming, conferencing, socializing and learning, as they meet their working objectives.
In a Gensler workplace survey, it was revealed that in the United States, 52% of employees prefer a mix of working from home and attending the office, saying it has a positive impact on their ability to be creative, solve problems and build relationships.
A well executed hybrid workplace model is a combination of staff who work remotely, as well as staff who work in person on-site. The key is enabling employees to have the flexibility to choose where and when they work. Time spent in physical headquarters could be allocated by days of the week, or by teams, or on an as-needed basis.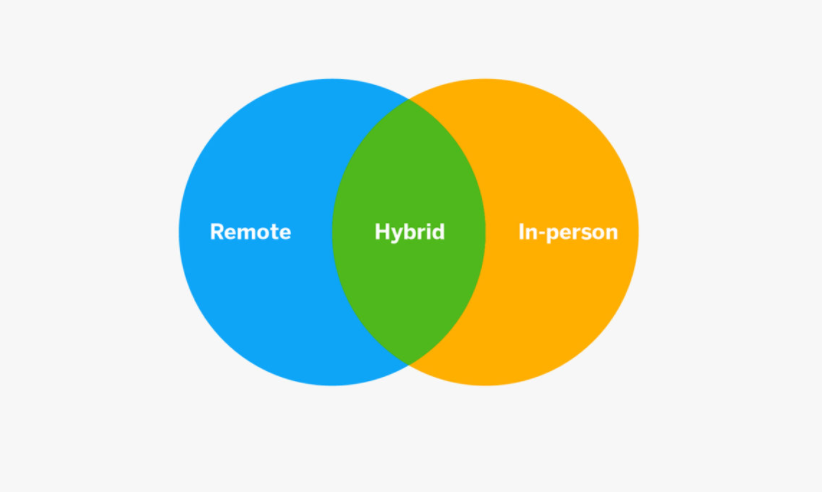 Image source: SAP Insights
According to Gartner, "where and when work gets done will be determined by what makes the most sense to drive the highest levels of productivity and engagement."
Benefits of a well executed hybrid workplace model
The basis of a successful hybrid workplace is a people-first approach to employee experience. It means equality and inclusivity for remote workers as well as in-office employees. It takes advantage of evolving HR technologies to achieve flexibility, agility, and productivity.  But the benefits of a hybrid workplace model extend right across an organization, encompassing both employers and employees.
Increased employee productivity
The hybrid model allows a number of possible factors to contribute to boosts in productivity.
Increased autonomy and the flexibility to choose work hours and location;

Fewer interruptions at home than in the office

Repurposing the time spent commuting to something more valuable

The opportunity to come into the office at times when in-person collaboration is best.
According to Gartner, "at typical organizations where employees work a standard 40 hours per week in the office, only 36% of employees were high performers. When organizations shift from this environment to one of radical flexibility where employees have choice over where, when, and how much they work, 55% of employees were high performers."
Better employee experience and work-life balance
An integrated focus on a better work-life balance helps create an efficient hybrid workplace. Greater flexibility and autonomy increases job satisfaction and happiness, which improves performance at work as well as overall employee well-being.
Reduced overhead costs
Organizations can re-visit their real estate strategies and take the opportunities afforded by a remote employees and a distributed workforce to reduce office space or move to smaller locations. This can significantly lower overheads. With employees working from different locations, they're also in a position to significantly increase their employee headcount without incurring any additional space-related costs.
Bigger Talent Pool
Those working in a hybrid environment tend to be happier, and more engaged, which leads to more workplace satisfaction, and less turnover which also reduces costs. As well as better employee retention rates, the ability to attract top talent is a huge drawcard for organizations that adopt hybrid working. It provides larger range of locations from which they're able to hire. Under an office-based model, for example, an organization based in New York would have been forced to hire from New York and its surrounding areas. Under a hybrid workplace model, the same organization will be able to cast its net much further, perhaps to the whole of the US, thereby significantly increasing the number of candidates from which to select its employees.
Improved Visibility of C-level staff
Most conference facilities in-office have a limited capacity, which restricts the number of attendees. Often, this means that information tends to cascade down the organizational hierarchy, passing through different management layers until it filters down to employees on the ground floor. Today's communication tools and virtual meeting rooms, on the other hand, come with no space constraints whatsoever, creating an opportunity for senior leaders to interact with every individual in the organization.
The four basic hybrid workplace modes
Gartner has identified four basic work modes that teams should intentionally leverage as they strive to create an effectively executed hybrid workplace model.
Most organizations think about hybrid work only in terms of location, or where teams are located or distributed. But Gartner research shows that organizations should also consider the hybrid workplace in terms of how they spend their time (whether teams are working asynchronously or synchronously).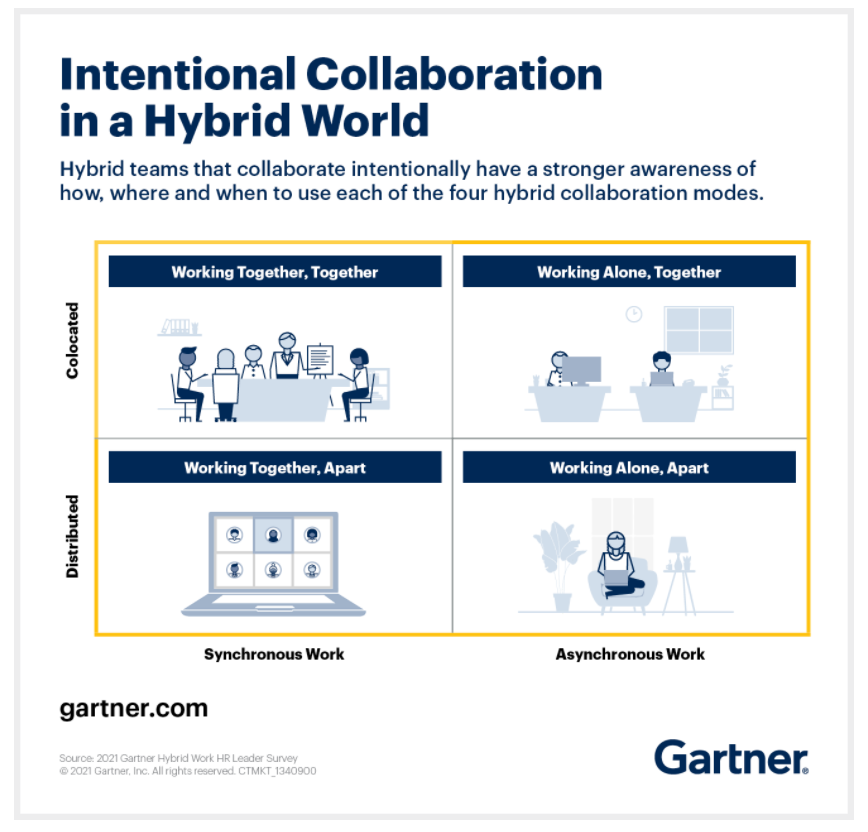 Here are the four work modes within the hybrid model that organizations should invest in equally, to create a hybrid work model that works:
Co-located
Working together, together: When teams are co-located, they contribute to meetings in a shared space.
Working together, apart: When teams are distributed, but they participate in virtual meetings.
Working alone, together: When teams are in shared spaces, but not collaborating, or working at the same time.
Working alone, apart: When teams are distributed, and individual workers are conducting deep focus work.
Challenges within today's hybrid workplace
The hybrid workplace is here to stay, but it doesn't come without its drawbacks, and it's important to understand some of the challenges that businesses have already started to face.
The potential for inequality
Remote working is a boon for some, but not everyone has the luxury of a home office or a peaceful space to work. Many workers find that working from home interferes with their personal lives, as they may have to work in cramped conditions in shared houses or noisy studio flats with no desk space.
Fear of exclusion
In-person interactions in a common collaboration space tend to produce stronger bonds with teams and colleagues than virtual communications. Those who feel neglected may assume they're missing out on these opportunities, affecting perceptions of promotion and company culture.
Subcultures can form
When teams are physically separated from each other, there's often an absence of employee feedback, and a greater risk of disconnection. Poorly managed teams can weaken employee engagement, spurring unhealthy competition and mistrust.
Lack of communication
Hybrid workplaces rely on digital-first communication, and this can make it harder to be creative and share ideas with colleagues and carry out collaborative tasks. the opportunity for creativity, innovative and ad-hoc moments can be diminished.
Employees who feel included in more detailed communication are nearly five times more likely to report increased productivity. Communicating about the future can drive performance outcomes today, so leaders should consider increasing the frequency of their employee updates,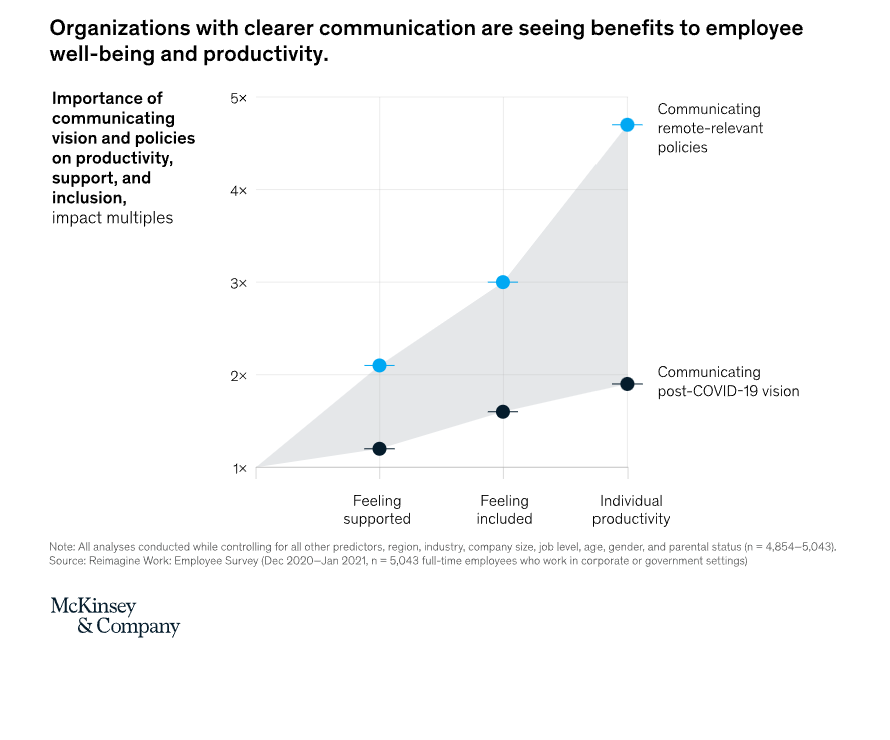 Image source: McKinsey
Cultural and social impact
Being in a physical space draws people together and connects employees. Hybrid working can cause a divide between remote colleagues and in-office staff, with reduced face time between teams which can impact culture, mentorship and connections to business values.
Increased security risks
As organizations move towards hybrid models, security will continue to be a risk and a concern. With remote employees using their own home networks, and potentially their own devices, HR and IT departments will need to focus on end-user education and security.
Different Types of Hybrid Workplace Models
In an effective hybrid workplace, there are many different kinds of working models, which can support an individual organization's health and safety policies, while also providing a flexible working environment.

Image source: HiBob
The at-will model
This is the most flexible model, which enables employees to choose the most suitable work arrangement for any given day. It's particularly useful for those who want to come into the office when they need to meet colleagues or clients, or require a quiet place to work for the day.
The split-week model
This splits the week between working from home two to three days a week and office based work two to three days a week. This can work well for different departments; for example, the marketing team comes into the office on Mondays and Wednesdays, while customer support comes into the office on Tuesdays and Thursdays. This hybrid model enables managers to stay in touch with their teams and allows for regular face-to-face group meetings.
Shift work
Employees alternate between working from home and working morning or evening shifts on site. This is a more difficult model to work with because many people don't like shift work and find it hard to get in very early in the morning or to work late at night.
Week-by-week
This model sees employees alternating between working from home and working onsite on a weekly basis. This alternative is used to allow large teams to use the office environment together at the same time and meet up for reviews, deadlines, and updates.
Financial and legal issues of hybrid working
Implementing a hybrid workplace brings with it many challenges in terms of culture, engagement, management and accountability. Here are some of the fundamental legal issues associated with hybrid working models.
Distinguish between hybrid (fixed) and hybrid (flexible) i.e. are you offering complete flexibility as to when an employee works at home, or are you offering a fixed home/office pattern?

Establish the details:

Will there be any days or times of compulsory office attendance?

Is the working at home element compulsory or voluntary?

Will working hours be the same on home and office days?

Does attendance at a client meeting or event override the right to work at home?

Do employees get additional working at home time if they come to the office on a scheduled homeworking day?

Do they have to "make up" office days if they miss one for any reason?

Are travel expenses reimbursable for coming to the office on additional days?

Do dress codes apply when working from home e.g. for client meetings or events?

Will a permanent move to hybrid working mean a change in duties for some employees because of the work they do?

Do your current employment contracts allow you to make the necessary changes? If not, what options do you have for varying them?

Cover off health and safety thoroughly i.e. workplace COVID assessments and rules, and homeworking assessments.
Training and Development in the hybrid workplace
A hybrid workforce means teams may be split into remote and in-office contingents. It can be challenging to provide both groups with consistent and meaningful training.
In addition, HR will need to turn a greater focus on supporting the tools and technology that will keep a hybrid workplace running. They'll have to create a cohesive culture, decide how to handle onboarding, and ensure employees are up to speed on the expectations of the new workplace.
This all means developing new policies. It also means a big focus on learning and development tailored to meet the needs of a hybrid workplace and of each employee.
Collaboration tools need to work
In a hybrid work model, data and analytics are crucial to understanding end-user performance and which user-communities are impacted. Being able to see every level of your hybrid working ecosystem provides layers of intelligence and insights that create team cohesion, cost management, innovation, and growth.
Find out how IR's Collaborate suite of performance management solutions can give you the insights you need to monitor, troubleshoot and manage your entire hybrid workplace UC infrastructure from a single pane of glass.