Voice Over Internet Protocol - or VoIP - is a technological breakthrough in unified communications and collaboration. The ability to make phone calls via a VoIP network instead of a regular landline using outdated traditional telephony services has changed business communications forever.
Image source: PlumVoice
But with the complexity of today's workplace communication systems, and the potential for sub-par network performance when using a broadband phone service, Voice Over IP monitoring is now a burgeoning industry.
While VoIP calls have become an essential component of enterprise communications, call quality across your VoIP service is important, so organizations are seeing the need to invest heavily in robust VoIP monitoring software.
Want to know more about voice monitoring and VoIP quality control?
Our proactive approach to network monitoring and troubleshooting
At IR, we provide an all-encompassing VoIP monitoring tool that helps ensure your VoIP call quality is crystal clear, reliable and free of issues.
We believe that the most effective VoIP monitoring solution should have the ability to track VoIP issues in real time, and easily access key success metrics, including user adoption, device utilization, and service health.
High up-time and fast problem resolution has never been more important. As today's workforce becomes more remote, technological advances keep on moving the boundaries of what's possible with VoIP services.
A VoIP network quality manager can keep track of missing managed internet access (MIA) packets that can cause poor VoIP performance, frequent call drops and poor performance generally throughout your VoIP service.
The best VoIP monitoring software
The increasing demand for a seamless communications experience means that not only does VoIP performance needs to be on point, but your VoIP monitoring tools need to be flexible, adaptable and have a diverse functionality.
IR Collaborate is a suite of UC solutions that use advanced technology to bring a proactive approach to network monitoring and troubleshooting. Our solutions monitor key metrics including voice quality, jitter, latency and packet loss, but they also provide complete visibility into your entire communications environment in real time.
Simplify collaboration complexity and boost VoIP performance
To meet the rapidly diversifying and evolving needs of the hybrid workplace, organizations are leveraging multiple communication and collaboration platforms. This amplifies the need for enterprise grade solutions that can monitor performance and experience across an entire network of multiple vendors.
"IR and Cisco have worked together for many years to help workplaces thrive and deliver fantastic collaboration and communication experiences. We're delighted to be expanding our relationship by providing broader support for Cisco solutions and simplifying the UC complexity many organizations are grappling with in the new working world." IR CEO, John Ruthven
VoIP monitoring tools are as vital as comprehensive car insurance for your unified communications network infrastructure.
For those organizations whose call center is the core of their business, poor call quality, dropped calls, or the lack of instant alerts could have a massive impact on revenue and customer retention.
The best VoIP monitoring tools can make the time consuming, resource-draining task of manually tracking VoIP performance streamlined and efficient.
VoIP monitoring in the cloud
Organizations are moving to the cloud in increasing numbers, adding another level of complexity to monitoring network infrastructures.
Monitoring ISP (WAN performance) is vital, but you also need to have a deep understanding of your network's traffic, the performance of business critical apps and services, who's using your network most, how much they're using, and what they're using it for. IR Collaborate can show you all this data through an intuitive interface.
Image source: Network king
Vital metrics with complete visibility
IR's VoIP monitor can ensure that any problems with VoIP calls are found fast to avoid any disruption to operations and to fulfil service level agreements (SLAs).
But it does much more than just monitor VoIP performance. There are a number of key Quality of Service (QoS) or performance metrics for VoIP services, including:
Jitter

Latency

Packet loss

Mean Opinion Score (MOS)

Round-trip Time (RTT)
Network Jitter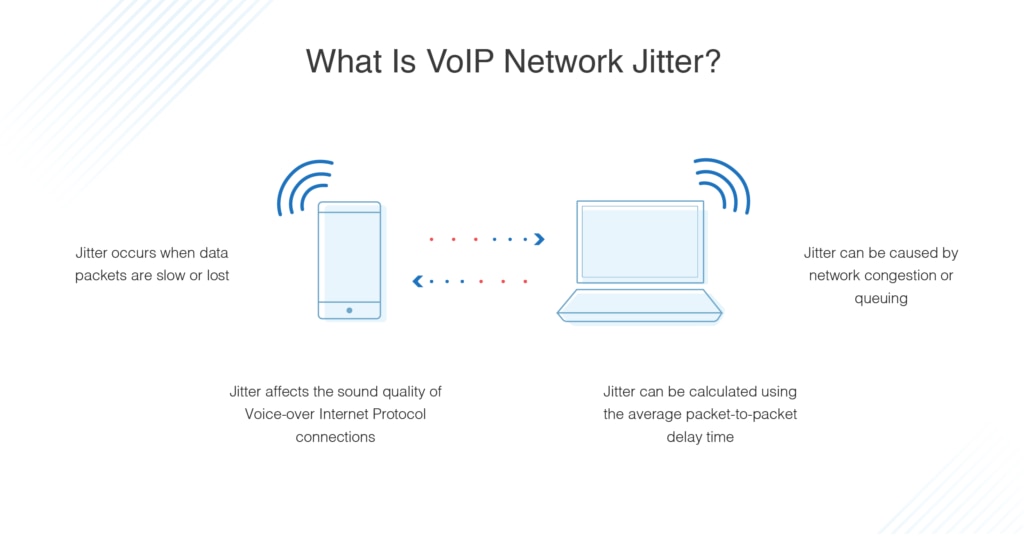 Image source: DNSstuff
Mean Opinion Score (MOS)
Image source: Cyara
Round Trip Time (RTT)
IR's VoIP monitoring software addresses all of these, and creates alerts in the case of poor network performance. Our monitoring solutions also help detect the root cause of VoIP issues and troubleshoot them with real-time proactive monitoring. IR Collaborate's interactive, customized dashboards provide real time visibility, and analytics for on-premises and cloud-based collaboration systems from a single pane of glass.
Check out our comprehensive guides for more about support, monitoring, understanding and fixing latency, jitter and packet loss
The main benefits of a third party VoIP monitoring tool
Monitoring VoIP network performance can be complex, particularly if your communications network consists of multiple vendors and devices. You may have Cisco, Microsoft, Avaya or a combination of several other vendor products.
These vendors do supply their own network monitoring tools, for example, Cisco IP SLA sensor, Avaya Communication manager, and PRTG network monitor. But when you need a VoIP monitor to track and oversee all VoIP traffic and verify your entire network's quality of service, you need IR Collaborate's user-friendly, customizable and intuitive user interface.
Why IR Collaborate for monitoring VoIP calls?
Large enterprise organizations can't afford to manage VoIP issues in a reactive way. Issues such as jitter, packet loss and latency can all impact call quality across all of your network devices. Proactive solutions like IR Collaborate proactively monitor your VoIP metrics and can diagnose, test and identify issues in real time across your entire UC infrastructure.
IR Collaborate provides full visibility into what could impact VoIP traffic and QoS, like whether backups are using up your bandwidth, or a router is misconfigured.
We can also conduct stress testing by generating large loads into the system in a controlled fashion so you can confirm that the system is 100% connected to the telephone network and all SIP channels are available. This is all visible from a single dashboard.
Want to know more about VoIP testing?
Check out our comprehensive guide
IR Collaborate is an all-encompassing solution that can improve VoIP performance, monitor network traffic, track user experience across a variety of mobile devices and proactively troubleshoot critical UCC issues in real time.