In a digitalized world, an IT help desk is no longer just a call center for basic IT problem resolution. Today's help desk team has become a fundamental part of modern IT service management (ITSM) business practices.
Under an ITSM business model, an IT service desk becomes a single point of contact for internal and external users to request services or help to resolve issues. An IT ticketing system serves that purpose.
IT ticketing software captures and records the technical issues, user requests, and IT tasks that crop up daily in a document called a ticket. Each ticket stores the information needed to complete IT work.
As organizations grow and evolve, so does the need for more streamlined, efficient, effective IT support. With the expanding use of technology, and shifting consumer demand, a customer service team needs a ticketing system that can not only manage customer demand, but ensure customer satisfaction and fulfill Service Level Agreements (SLAs).
In this guide, we'll cover the processes and ticket handling best practices to properly equip support agents to deliver a great customer service experience, and avoid unnecessary escalations.
What is ticket management?
A ticket management system uses innovative software to create, organize, prioritize, and resolve customer support tickets.
Once an issue is reported to a help desk, it is automatically assigned a unique ticket and support agents are notified. Agents can then either manually pick tickets or automate the entire ticket assignment process.
The ticket management software shows agents all information relevant to an issue, including the customer's name, contact history, the nature of the problem, file attachments, and other details.
Ticket status allows agents to assess what stage a ticket is at, for example whether it has already been opened, whether it has been handled, or whether it is waiting for a solution.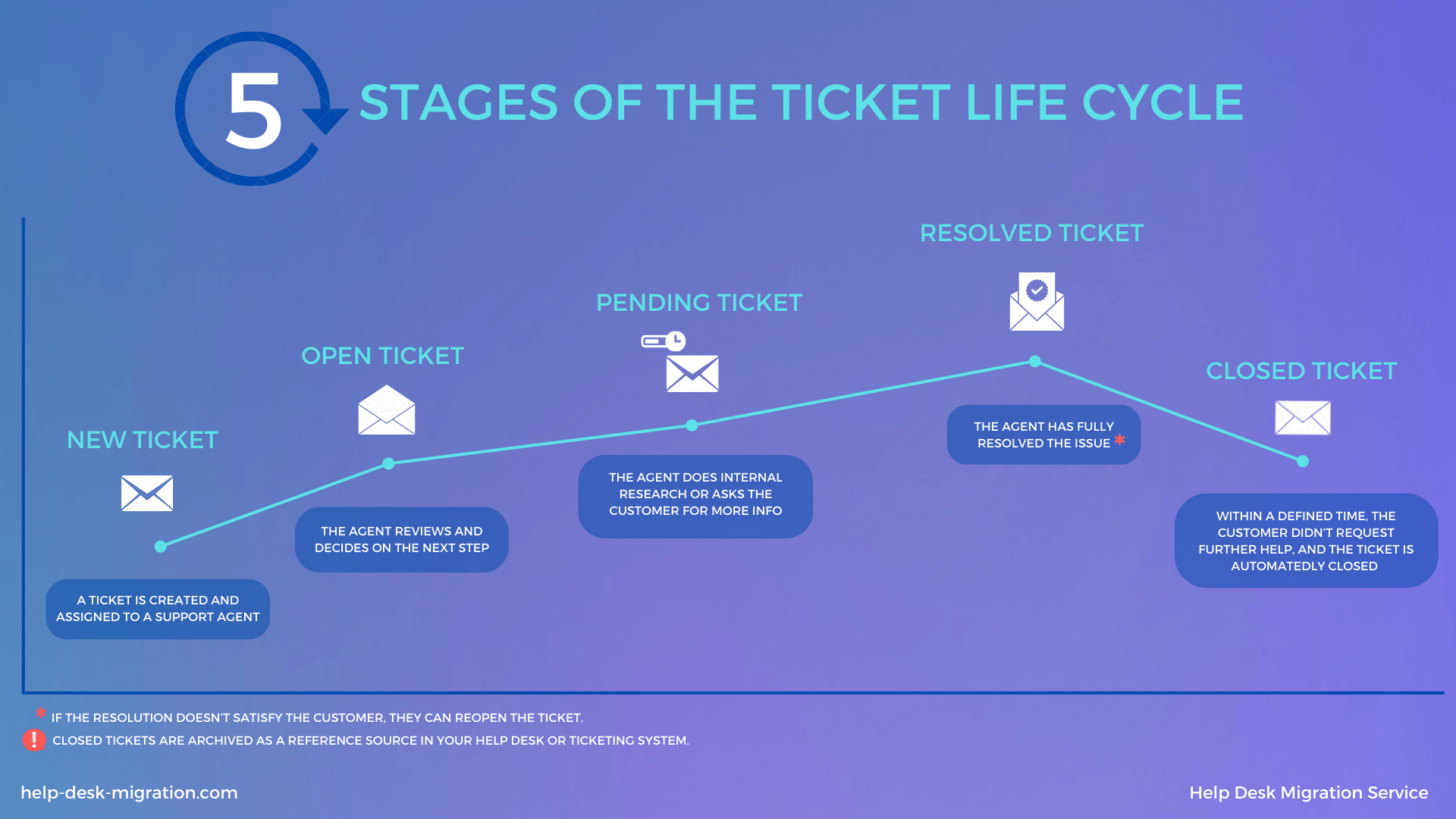 Image source: Help Desk Migration
What sort of problems does a ticket solve?
A good ticketing system should improve service, both internally and externally. For customers, it should be a way to guarantee problem resolution, but it should also provide a good working environment for the technical team within an organization.
Internally, a service request could include things like a password reset, or help with software or hardware. Externally, a support team representative in your customer service department will deal with support requests by providing information, answering questions, responding to complaints or dealing with refunds for products or services.
Additionally, a ticketing system will provide user support to achieve the end goal for any organization - client satisfaction.
To deliver a level of support that can resolve support tickets fast, support staff need to be able to capture and track technical issues, user requests, and IT tasks to ensure timely issue resolution.
Why do organizations need a ticketing system?
Client, employee and customer problems and questions are unavoidable within any industry. A help desk may be faced with complex issues, or simple ones, but speedy, efficient problem resolution should always be a high priority. For this reason, every organizations need an efficient way to handle issues and requests.
As a company expands, it stands to reason that a growing customer base means more support issues, phone calls, and request emails. Without a help desk ticketing system, and robust help desk software, your service desk has no way of ensuring that every issue is captured, recorded, tracked, and resolved.
Service Level Agreements are important
Ticket management systems are also important so that organizations and service providers can avoid service level agreement (SLA) breaches and unmet key performance indicators (KPIs).
These issues will ultimately impact customer experience and could have a vastly negative effect on a company's reputation. The support team may struggle with unnecessary service requests that lead to excess costs and potentially derail the support process.
The right ticketing software enables support staff to prioritize tickets, scale operations, handle ticket volume, allow customer feedback, and even enable self service, which benefits end users and the organization as a whole.
Ticket handling best practices
Managing a ticketing system is often an involved process of juggling customer requests, establishing strategic priorities and assessing the capabilities of of a customer support team.
An efficient ticketing system should allow a service desk to be highly organized. It should improve the ticket creation process by allowing tracking and monitoring, ticket prioritization and categorization, and the ability to collect and analyze data for increased efficiency and productivity.
Every organization will have their own set of best practices to achieve customer satisfaction, and each service request will have its own unique support process. We've isolated what we think are some of the key considerations, best practices and ticketing system tips for a support team.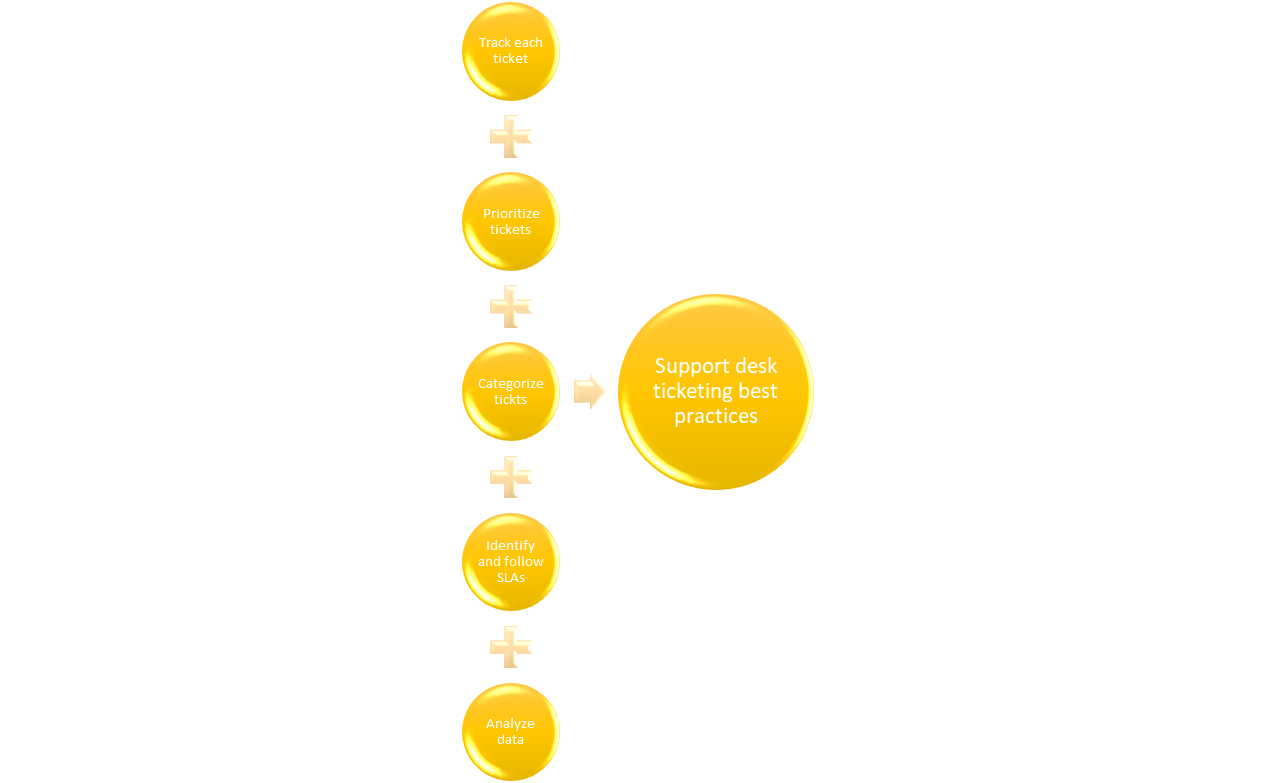 Tracking tickets
Your help desk software should include all the features required to accurately track each ticket and show ticket statuses as they move through the resolution process.
Your support team should have the ability to observe the status of tickets at all times to prevent repeated tasks and to capture common solutions in a knowledge base to save time and share knowledge with teams.
Additionally, by integrating a knowledge base and ticketing system, service desk staff can share the resource with customers and provide an online self service portal. This can help reduce ticket volume in the future, and expedite ticket resolution time.
Prioritizing tickets
The ticket handling prioritization process is an important part of ticketing system best practices. There should be a clear set of rules for assigning, prioritizing and categorizing tickets. A standard method for assessing ticket priority ensures that service and support agents align priorities with the needs of the organization. A prioritization system could be as follows:
Current

Working

On Hold

Resolved
Categorizing tickets
Ticket categorization is another important best practices strategy, and part of keeping track of the ticket handling process, by describing the nature of the issue or request. Each agent or technician has specific technical expertise in resolving issues based, for example on the service, product, function or process. So categories could look like this:
Hardware

Software

Network

Security

Account
Ticket categories help to group tickets by impact, urgency, the methods used to resolve the issues, and the appropriate assigned service desk agent. This helps to reduce ticket response time and allows support staff to be more productive.
Following SLAs
An SLA can be defined as defined as "an agreement between the service provider and the user quantifying the minimum acceptable level of service to the user."
Within a service desk environment agent training is important to help agents understand acceptable SLAs, define the services that will be delivered, and measure responsiveness and performance.
The longer it takes to resolve and clear support tickets, the more it drives up business costs, and lowers customer satisfaction. SLAs can be grouped into three basic categories:
Customer based - An agreement by a vendor to deliver a pre-determined level of service. For example an SLA between an eCommerce store and a manufacturer.

Service-based - An agreement that determines the services that will be offered to customers. For example ensuring an eCommerce store will be available for support between certain times of the day.

Multi-level - An agreement that outlines expectations if there is more than one service provider and one end-user.
For more information on SLAs, take a look at out webinar
"Optimizing SLA Management for High-Value Payments"
Analyze data and reports
Every ticket system needs to have the ability to track and analyze customer data. Without the tools to do so, service desk agents, support teams, sales reps and management won't have the necessary information they need to deliver top-level service.
But analyzing the data harvested from your tickets does more than improve brand perception and customer experience. Data analysis provides valuable information that will pave the way for better business decisions. Data provide statistics that help to uncover inconsistencies, identify specific recurring problems and provide crucial insights that can optimize ticket handling and resolution time.
Ticket automation capabilities
Using AI, help desk ticket automation tools handle customer queries and resolve emails, phone calls, tickets, and other support chats. The more queries and requests the system handles, the more intelligent it becomes, allowing the help desk to improve customer and employee experience.
Ticket automation is an extremely helpful way to support teams in reducing labor and resolving tickets more quickly and efficiently.
Ticket automation can help resolve service requests by sending automated responses to users, implementing triggers to move tickets to a different tier based on certain keywords. It can also enable the correct team member, agent or technician to respond to specific and relevant issues and requests.
Image source: Help Lama
Along with the basic best practices we've already covered, there are other help desk solutions that can significantly reduce the number of new tickets, and use the collected data from past tickets to create templates and canned responses.
Take a look at our comprehensive guide
Support Ticket Response Examples To Improve Customer Satisfaction
Enabling self service
Enabling a customer self service portal is an efficient way to resolve customer issues without waiting for a support agent or any other team member.
Most customers prefer to be able to solve their own problems in a convenient way, without tickets, or needing to have lengthy interactions with a help desk or support reps. By implementing self service, you can elevate customer's satisfaction levels, and potentially reduce your support costs dramatically.
According to Statista, 88% of people in the US expect a self-service customer portal.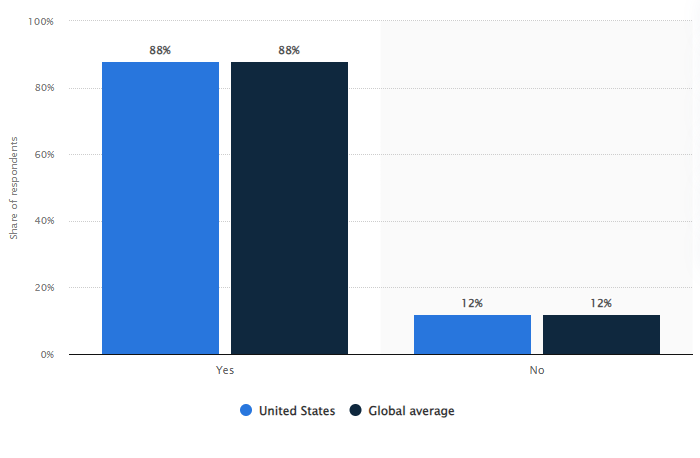 Image source: Statista
The importance of capturing ticket history
As more tickets keep coming in, teams may notice the same issues coming up repeatedly. Part of your best practices strategies involves enabling your team to easily access a database of previous problems. This helps reduce the amount of time they spend on repeat issues and improves the ticket creation process.
It empowers a team to make better decisions on how to tackle a challenge they may have handled previously. Capturing previous IT ticket history also helps teams to determine common issues that may need prioritization.
Image source: SAP
How IR can help manage your service desks
Contact centers and service desks deploy a complex mix of technologies to address different channels of communications, so high uptime and fast problem resolution have never been more vital.
Third-party performance management tools are essential to help you get the most out of your service desk software systems.
End-to-end visibility
With IR Collaborate you can get vital end-to-end visibility of your entire contact center environment from a single pane of glass. This means you can collect data and analytics, but most importantly to turn those cross channel analytics into actionable insights, to improve productivity, and business outcomes.
A better experience for customers
Not only does Collaborate analytics software gather important contact center data, but it can provide you with the data you need to create templates for canned responses that can ultimately improve a customer's experience and satisfaction.
Read more about how to improve customer experience with call center analytics here