Contact centers (sometimes referred to as call centers) sit at the core of many successful businesses. Today's contact center technology is powerful and complex, utilizing a broad range of evolving technologies for the web, Interactive Voice Response (IVR) and other channels that must work in concordance to deliver a seamless omnichannel customer journey.
Interaction channels are changing fast, and this is expected to continue, with more interactions occurring on virtual channels, such as video chat and voice applications, and fewer in person.
Enhance your customer experience and prevent issues by testing your entire technology ecosystem. Download our guide today.
The COVID-19 pandemic has dramatically altered how consumers buy, and how businesses are expected to accommodate and respond to customer needs. While retailers have long competed on Customer Experience (CX), today's consumers have grown accustomed to new ways of interacting with brands. With a pronounced pivot towards digital sales and remote workforces, employees are now required to service customers in more complex, holistic ways than ever.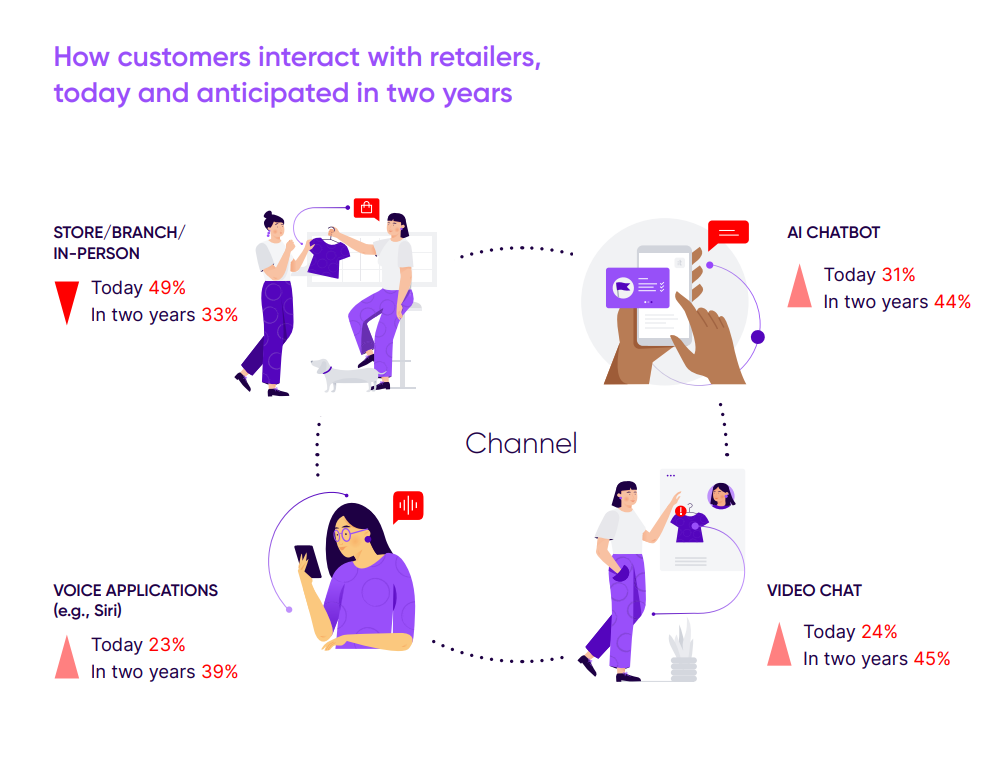 Image source: Talkdesk research report
The growing contact center market
The Contact Center Market size was valued at USD $18.14 Billion in 2018 and is projected to reach USD $53.65 Billion by 2026, growing at a CAGR of 14.5% from 2019 to 2026.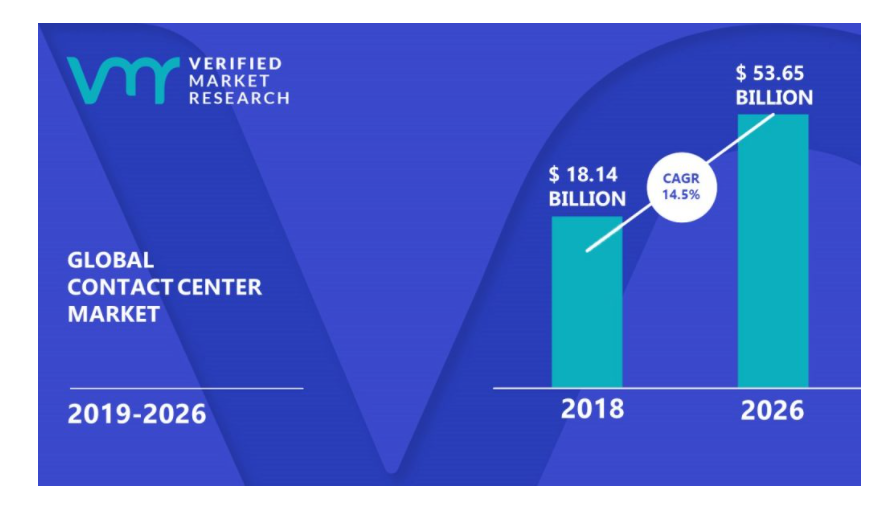 Image source: Verified market research
In today's business world, the expectation of on-demand customer service is higher than ever. Companies need to meet or exceed customer expectations – with very little tolerance for sub-par service – otherwise they risk failure in a competitive market.
The need to deliver dynamic customer service that can enable companies to give crucial insights into the customer experience, is ultimately driving the growth of the contact center analytics market. Here are some of the key drivers:
An increase in multichannel communication
The adoption of social media by customers
Remote working
Technological advancements in areas of Artificial Intelligence (AI) and Machine Learning (MLK)
The adoption of advanced analytics
The growth of customer expectations
Increasing pliancy between digital and in-store experiences has created a scenario where businesses are now expected to meet customers' needs quickly and accurately, whether this is in -person, online, or a mix of both. Since the COVID-19 pandemic, cross channel analytics have seen customers grow accustomed to new and innovative ways of shopping and their expectations in terms of customer service have only increased.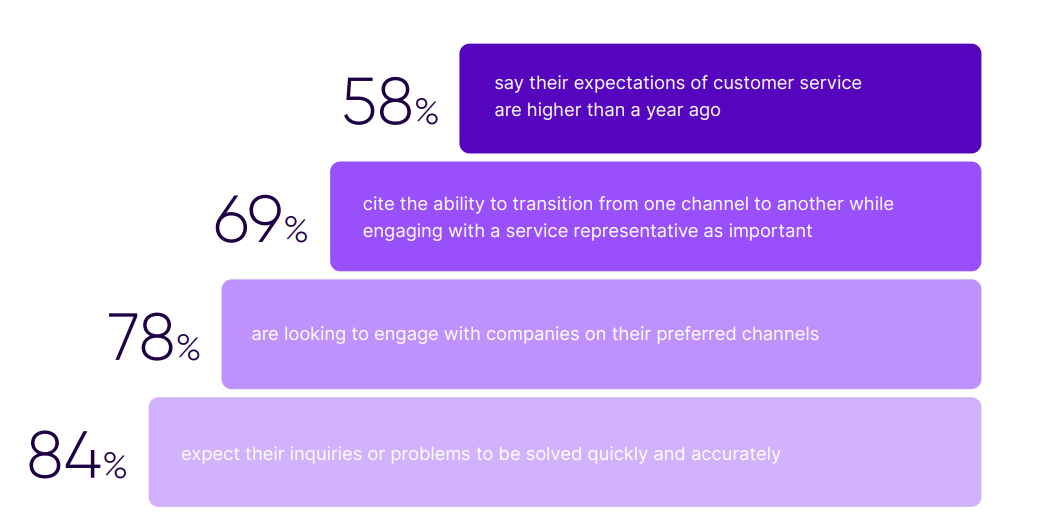 Image source: Talkdesk research report
What are contact center analytics for?
The key purpose of call center analytics is to collect, measure and analyze customer data within a contact center to reveal valuable insights with performance metrics, and turning these into actionable insights. This includes call data and agent performance, as well as Customer Satisfaction (CSAT), handle time, and service-level agreement (SLA) performance.
Customer analytics examines multiple customer-related data sources to identify customer trends, as well as interaction opportunities, to serve as a source for modeling. Analytics can be historical or predictive, and data sources include customer feedback, behavior data, demographics, and purchase data.
Customer satisfaction
High customer satisfaction is the ultimate goal for any business, but this isn't always easy to measure through a contact center. While many organizations default to gathering customer satisfaction feedback through surveys, these have their limitations. Not everyone responds, and it can be difficult to get the complete picture.
A contact center service console should enable call center agents to connect with customers across multiple channels, including phone, email, text, chat, messenger apps, or social media. From a single platform, agents can respond in the same channel and resolve any customer issues right there.
Collecting information across all customer service inquiries can help determine where and why things may be going wrong and prevent problems before they start. For example, if many customers reach out about order-processing time, you can collaborate with operations and maintenance to make improvements.
Customer retention
Customer retention rate is the percentage of existing customers who remain customers after a given period. Your customer retention rate can help you better understand what keeps customers with your company, and can also signal opportunities to improve customer service. Once you understand how well or poorly your company retains customers, you can work to improve your customer retention rate.
Analytics can help calculate customer retention rate from the first interaction. A customer may "like" your Facebook page or subscribe to your email list. The three key customer retention data points are:
Customers at the start of a given period
Customers at the end of that period
New customers acquired during that period
Customer effort score
A customer effort score is a quantifiable measurement of the amount of work a customer puts in to get information they need or to reach a resolution on an issue. Harvard Business Review introduced the idea of customer effort back in 2010 as something that is directly tied to customer loyalty.
Service professionals are now prioritizing this Key Performance Indicator (KPI) with the same importance as tried-and-true metrics like customer satisfaction, revenue, and customer retention, according to the latest findings from the Salesforce State of Service report.
Contact center analytics, in particular, cross channel analytics, examines multiple customer-related data sources to identify customer trends, as well as interaction opportunities, to serve as a source for modeling. Customer analytics can be historical or predictive. Data sources include voice of the customer, behavior data, demographics, and purchase data.
How contact center analytics is changing customer experience
Contact center analytics has fundamentally changed the role of contact centers from a basic service offering to a strategic differentiator, that can make dramatic improvements in customer experience and financial performance.
Companies who apply analytics can reduce average customer handle time by up to 40%. Additionally, analytics can help increase self-service containment rates by 5 to 20%, cut employee costs by up to $5 million, and boost the conversion rate on service-to-sales calls by nearly 50%- with the added bonus of improving customer experience and employee engagement.
While analytics is only one of a broader set of improvements, including operational changes such as coaching and process simplification, it is a powerful tool for companies to implement.
5 types of Big Data call center analytics
Big Data (or advanced analytics) is the way of the future in call center operations.
Gartner defines Big Data as "High-volume, high-velocity and high-variety information assets that demand cost-effective, innovative forms of information processing for enhanced insight and decision making."
Businesses can develop capabilities around analyzing transactional data and insights, surveys and financial records. But those who analyze unstructured social media data, voice data and big data from website or app behaviors, can create a complete customer profile for personalized customer interaction.
Thanks to big data analytics, businesses can better personalize conversations around customer experience, allowing them to build customer loyalty, boost customer engagement, and maximize conversions.
Contact center analytics also helps enterprises big and small, measure performance and see how a call center agent can improve performance. Let's look at 5 types of call contact center analytics.
1. Call Center Speech Analytics
Call recording is the primary data source for speech analytics. The data harvested from speech analytics and interactions with customers focuses on identifying some of the common problems customers are experiencing through the tone and intonation of the customer's voice. In this way, emotions are recognized and tagged automatically by the software.
Though this area of analytics for call centers is relatively new, speech analytics is experiencing a huge uptake as users are finding success with its implementation. By studying speech analytics, businesses can see shortcomings in current scripts and update them with more effective ones. They can also develop new systems to improve customer experience and achieve desired results.
2. Call Center Desktop Analytics
Call center desktop analytics are extremely useful in utilizing real-time call monitoring to record inefficiencies, improve security, and provide valuable feedback opportunities for agent performance. Desktop analytics can measure the efficiency of contact center agents as well as the systems, by monitoring customer interactions in real time.
Call center desktop analytics can improve the optimization of both customer and agent experience. Repetitive, simple tasks can be monitored and assigned to automation, freeing up the employees' time for more important, cognitive tasks.
3. Predictive Analytics
Data and analytics tools are becoming standard practice in call centers. However, many organizations are not taking full advantage of the technology. In fact, according to a report by McKinsey, only 37 percent of organizations feel that they are using advanced analytics to create value.
Predictive analytics provides a vital tool for contact centers to track and file customer satisfaction, wait time, call volume, and service level. Using predictive analytics can help customer care departments solve current problems with historical data, turning it into actionable insights..
For example, predictive analytics can help with forecasting for staffing, allowing managers to decide how many employees are needed on certain holidays based on call volume. It can also track and record how a new product rollout affects call volume and demand. With predictive analytics, businesses can better plan for the future by looking at past results and the intervention measures used to solve issues.
4. Self Service Analytics
While some customers, particularly from older demographics, are at first resistant to self-service, they quickly realize its benefits. Many tech-savvy businesses are optimizing specific tasks with self-service analytics. An example of a self service option is instead of a customer calling to update their address or to check the status of an order, they can do so online.
Self-service analytics can reduce the chance for human error as well as the volume of incoming calls received by a contact center. Using self service channels translates to a drop in overhead costs, more engaged contact call center agents, and satisfied customers. Self-service analytics, including the use of chatbots, requires little human interference once it's set up within an organization's technological infrastructure.
5. Text Analytics
Text analytics mainly involves focusing on written communication, including web chats, emails, documents, and social media comments. In the past few years, the use of social media has exploded, causing text analysis of social media comments to be exceptionally informative. With so many brands online, social media has become one of the primary forms of communication.
Call center text analytics tools monitor and assign specific values to words and phrases. Data mining functions can then identify patterns and relationships in the sets of data. This data can make conclusions about the messages being sent by an organization and its customers, pointing out any issues from the customer's mindset.
Measuring call center agent performance
A call center agents performance can be the most significant driver for customer relationship management, and a satisfying customer journey, but it can also be the biggest deterrent. So it's vital to utilize contact center analytics to monitor agent performance in real-time.
Data driven advanced performance analytics software takes many of the variables out of creating the best customer/agent relationship experience. By using a combination of the above types of analytics, businesses can determine which languages and behaviors are helping contact center agents reach their target goals and key performance indicators (KPIs).
This in turn helps businesses reduce Average Handle Time (AHT), increase First Contact Resolution and reduce costs of operating call centers. First Call Resolution (FCR) is an important factor for any company, in retaining customer loyalty and measuring agent productivity.
Quantifying customer loyalty
Repeat purchases say a lot about customer experience and satisfaction. An item purchased repeatedly means they are likely happy with the product. This leads to a higher customer lifetime value and the likelihood they will recommend the brand to their network and contacts.
Analytics software can track repeat frequency, customer lifetime value, and average cost per order. These are all metrics that indicate customer satisfaction, and help to make decisions about your business. For example, if a specific product is sold in larger numbers to repeat customers rather than to new ones, you may see a higher level of satisfaction long-term with that product over one that is popular only with new customers. Based on these insights, you might rethink your product strategy.
The cloud and contact center analytics
Many businesses are still grappling with legacy on-premise software that offers little or no scalability, AI functionality or remote working capability that most of today's organizations need. Partially or fully moving to the cloud is therefore becoming a priority.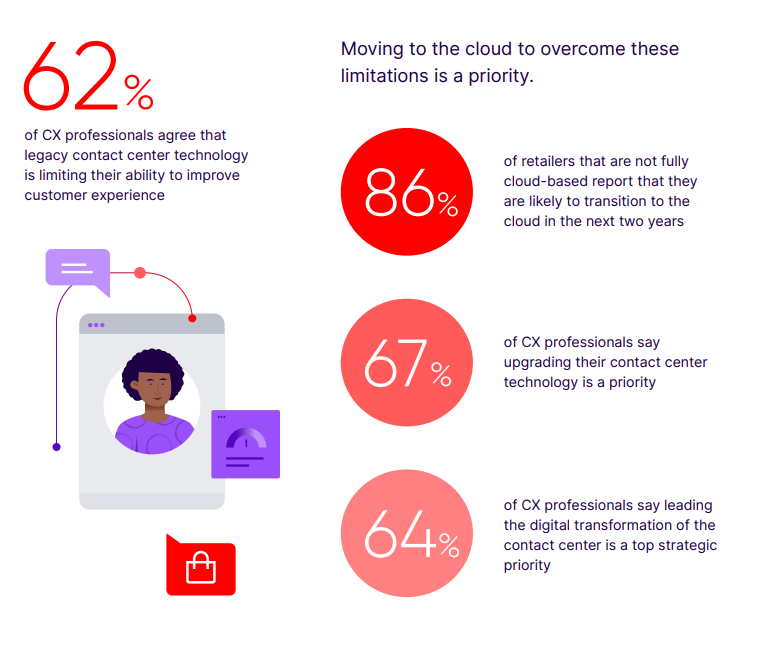 Image source: Talkdesk research report
As businesses adopt cloud contact centers with AI capabilities, they position themselves to take advantage of an unprecedented depth of customer intelligence through contact center analytics. This has the potential to enable organizations to properly analyze data and significantly improve on customer experience in today's environment.
Delivering better customer intelligence
With rich repositories of insights on what customers want and don't want, as well as reams of product and services feedback, businesses can now unlock data from contact centers and make it available to the wider organization to better improve their customer experience strategy.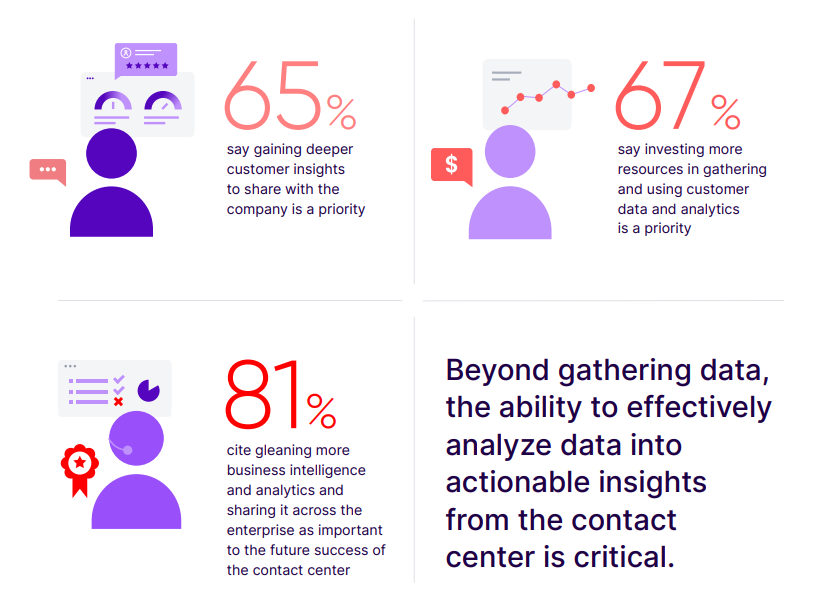 Image source: Talkdesk research report
The right tools for contact center analytics
As we've discussed, today's contact center utilizes a mixture of technologies to address different channels of communications. This means call center agents are often faced with a complex environment. High uptime and fast problem resolution have never been more vital.
This can only be achieved with third-party performance management tools. With IR's Collaborate suite of solutions you can get vital end-to-end visibility of your entire contact center environment from a single pane of glass. This enables organizations to easily channel analytics, but most importantly to turn those cross channel analytics into actionable insights, to improve call center productivity, and business outcomes.
Monitoring, troubleshooting and resolving contact center issues in real time
Performance management tools need to be able to see across all domains in order to have full visibility.
Today, a call center might utilize from 5-25 different pieces of technology. To have a monitoring tool for each application is adding unnecessary and unmanageable complexity to the call center infrastructure. IR Collaborate captures data and provides visibility across all vendors,, applications and hardware devices.
The ideal analytics solution should begin with everything on one dashboard which you can click through wherever you need, until you hit the root of the problem.
Independent research firm Nemertes Research found that organizations using third party solutions for monitoring and troubleshooting their contact center operations enjoy a host of benefits in comparison to those who don't, including halving UCC operational costs.
Not only does analytics software like Collaborate gather important contact center data, but with it will proactively monitor contact center systems in real time, helping to prevent potentially disastrous downtime.