In today's consumer driven economy, a positive customer experience is a must. How customers react when they first encounter your brand, and how their subsequent experiences are handled is crucial to continued customer engagement.
To their detriment, many companies ignore the importance of customer service.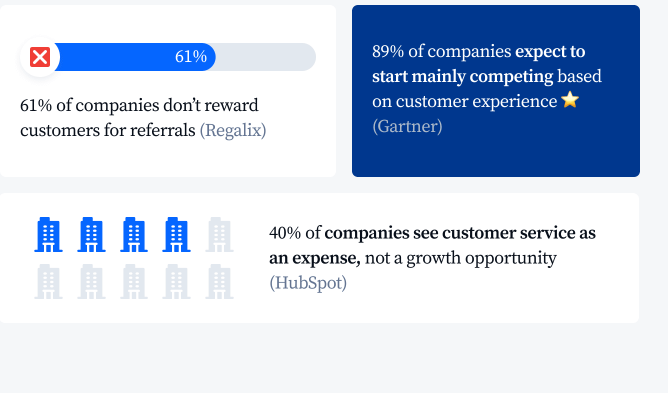 Image source: Tidio
More and more brands in every industry are competing for public attention, so a positive experience throughout every stage of customer interactions is vital if a business is to stand out.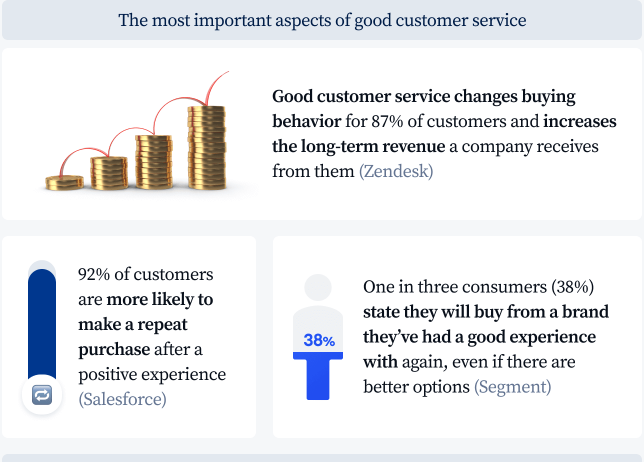 Image source: Tidio
To this end, customer service teams are responsible for enabling a business to resolve problems and queries quickly and efficiently through the use of a support ticket.
A good support ticketing system allows support agents to fulfill customer requests, field customer queries and increase customer satisfaction. And it's not just about resolving a support ticket - it's about helping people.
In this blog, we'll talk about the importance of the responsibilities of customer service agents, and provide some examples of support ticket canned response templates that will help avoid negative feedback and ultimately create a great customer experience.
What exactly is a support ticket?
Support tickets simply describe the interaction between customers and customer service representatives. A support request is a basic but important element of any customer experience-related job, and enables a business's support team to resolve a customer's issue.
Support tickets can take many forms. Social media, messaging or live chat, email, or a dedicated customer support portal on a business's website.
Today's help desk software can be a huge asset to a business, by having the ability to handle a high volume of tickets, organizing incoming tickets, using automation to direct queries to the appropriate place and saving valuable time for a tech support team.
Omnichannel ticketing systems can handle customer queries from any channel, allowing visibility into customer conversations across the organizations, from one comprehensive dashboard.
What is a canned response?
One of the primary reasons for dissatisfied or angry customers is not receiving an instant response. Real time response is a key aspect of a company's customer service mechanism.
Canned responses are a useful technique that can reduce response times and direct customer inquiries exactly where they need to be before a client's patience decreases.
Canned responses are pre-programmed, or auto-generated messages and answers for frequently asked questions related to a company's sales, marketing, billing or any further questions they may have.
Canned responses are designed to engage customers more efficiently to deliver a faster and more consistent desired response. Proper use of a canned response allows customer support agents to provide accurate information relating to a customer's query.
Additionally, canned messages can help to improve the whole support process for support teams, and increase productivity.
Do canned responses for support tickets work?
Canned responses for support tickets do save valuable time, increase customer support team productivity, and streamline customer interactions if used properly.
Creating canned responses:
1. Build a portfolio
The most effective canned responses are the ones that can facilitate a larger number of customers, rather than one individual at a time.
This means having a clear, concise knowledge of what your customers need, and creating a canned response portfolio that you can update regularly as products and services change, and customer needs evolve.
To create canned responses for a support ticket, you'll need to base your messages on customer feedback. You can do this through customer service surveys, or by isolating frequently asked questions about your product or service from email, chat, and phone logs.
You can take the feedback a customer submits and make a directory from which you can easily create appropriate replies.
You'll need the following basic information:
What product or service do your customers most commonly ask for/about?

What are the most common support requests in relation to?

Which knowledge-base articles do your customers visit the most?
2. Personalize your canned response
Bland and robotic-sounding responses, like "Hello customer. I am very sorry to hear you are facing this issue," or "Allow me a moment to pull up your account", can immediately suggest to a customer that they are not talking to a real person.
Authenticity should be paramount, and canned responses should not 'sound canned'.
The first rule of an effective canned message is that it should be fashioned to fit the customer's situation and needs.
From the initial greeting, the support ticket should should personalize the interaction, because if the customer thinks it's a canned message, then it's not working.
Instead of "Hello customer, I would be happy to help you today", consider adding the customer name, and acknowledging the reason for their inquiry, "Good morning/afternoon [Jane]. I'll certainly be able to help you with your refund inquiry today".
In summary, if you put yourself in the position of your customer, you'll have a better idea of what they would want to hear, and the tone in which they want their information delivered.
3. Identify when a personal response, not a canned response is needed
Sometimes even the most thoroughly researched topics and well prepared canned responses just don't fit, and there are unique situations where further assistance through a truly personal response is needed.
This is where a help desk support agent needs to be prepared to deviate from a prepared script. But they need the tools, flexibility and resources through customer service and support training to effectively resolve these types of conflicts.
It may initially take a little longer to resolve the customer issue, but rest assured that customers will appreciate receiving the correct information the first time.
The benefits of canned responses
As we've mentioned, customers demand fast, efficient resolution to their problems. But as a business grows, this presents a problem for customer service teams, who are having to constantly adapt to this growth to improve quality of service.
Customer service software is essential to make a team more reactive and efficient when having to respond to hundreds or even thousands of inquiries every day. Here are some of the benefits of implementing canned responses as part of a robust customer service strategy.
Increased efficiency
Instant help desk responses to a customer's request benefits both your team and the customer. It makes customers feel important, and motivates them to be more loyal to, and more patient with your brand. But it also benefits customer service agents, who may have to respond to thousands of people across the globe. Canned responses help reduce their likelihood of burnout, while making them more efficient.
Managing and minimizing human error
Canned messages are designed to be used over and over, so their success will have been documented. This means there is far less chance of sending error-filled messages with typos and irrelevant information, and it allows the messages to be used by multiple team members to reinforce brand messaging.
Saving time and streamlining workflows
Responding to 100 similar messages individually would take a huge amount of time and resources. However, sending one general response to all 100 customer inquiries would save hours of time that can be utilized by support agents for more meaningful tasks.
Scalability
As well as allowing a business to grow by continually updating their canned messages portfolio, the best support desk software can be adapted on an international scale. The ability to use multilingual customer service tools can set a company aside from its competitors.
Support ticket examples of canned responses for customer support
Many people think that canned messages will feel robotic and unoriginal, but if you put in the initial time and effort to create canned message templates, you can not only promote a better customer experience, but lighten the workload for your customer support agents.
The key is to customize your messages with something specific to each customer's inquiry or issue. Just the substitution or insertion of a word here and there can personalize your message, and help to alleviate any stress or frustration a customer may be feeling.
Here are some canned response examples.
Confirm that you have received their ticket
By inserting the customer name (as well as your own name) and acknowledging the type of request they have, and their ticket id, you are immediately seen to be addressing their concerns.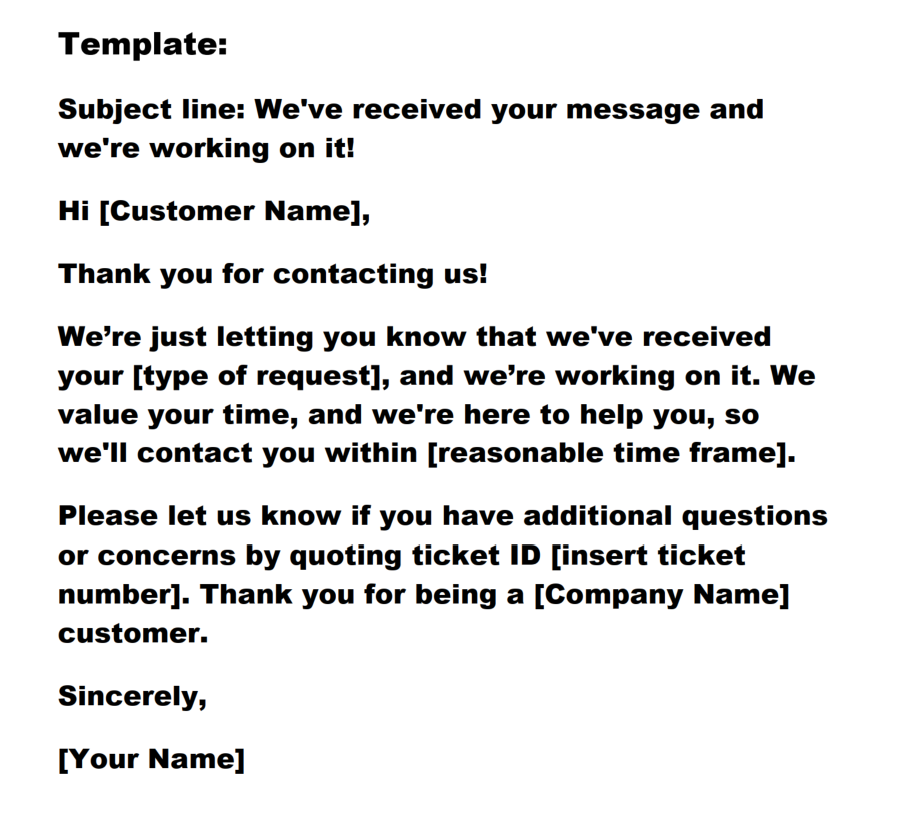 Updating support ticket status
If a support case is likely to take longer than anticipated, it's important to send the customer a reminder that you haven't forgotten them, and that their inquiry is important.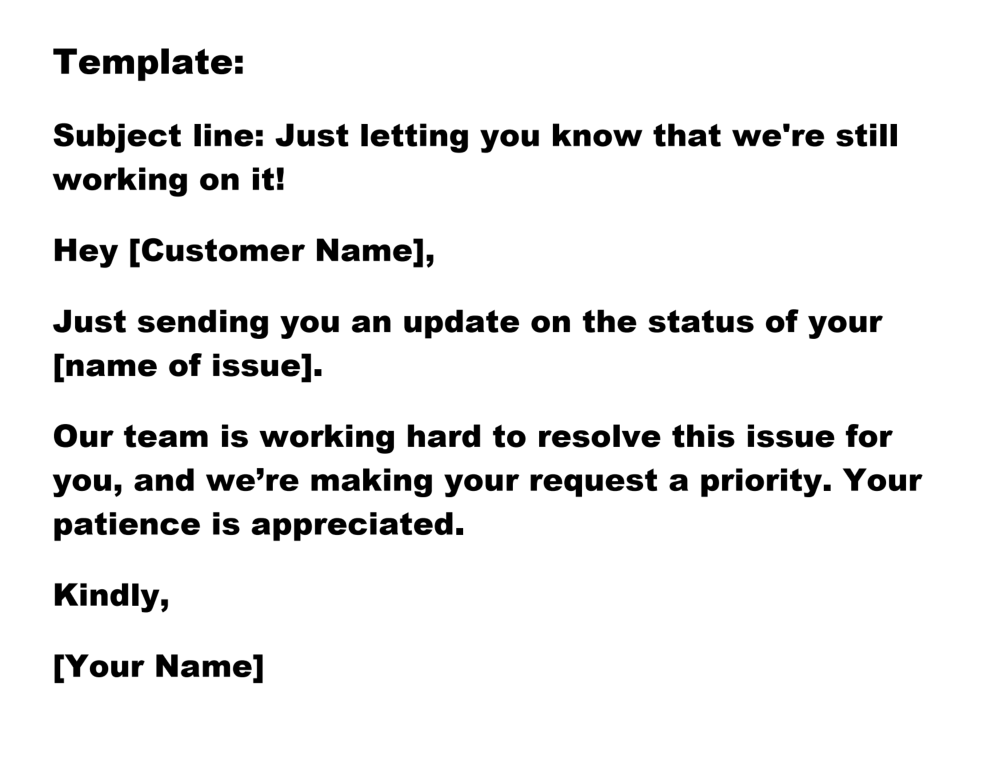 Following up on ticket resolution
Even with all the communications during a support ticket, often a customer won't let you know whether or not their problem has been fixed. A closing canned response should give a recap of the request, inclue their ticket id, add a thank you note, and ask if they would like more assistance. Sending this message can encourage them to either re-open their ticket or send a new one. It also serves as a written record for future reference or in similar cases, that your customer issue was fixed.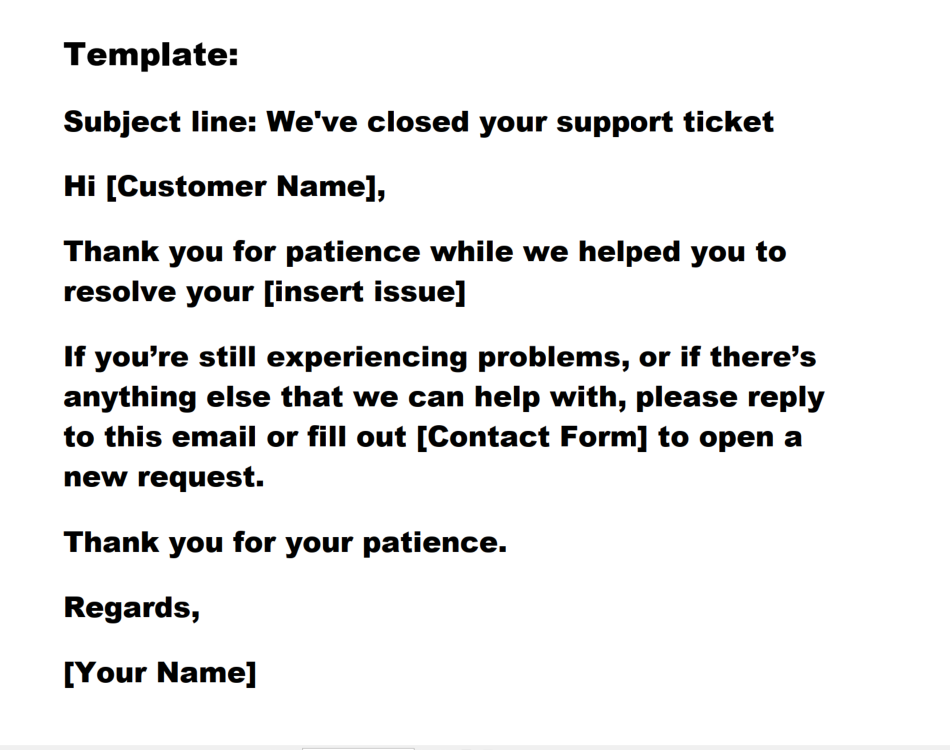 Asking for more information
improving your canned response portfolio depends on as much information as you can gather. Often a customer hasn't described the issue completely, or omitted a model number, operating system or other information.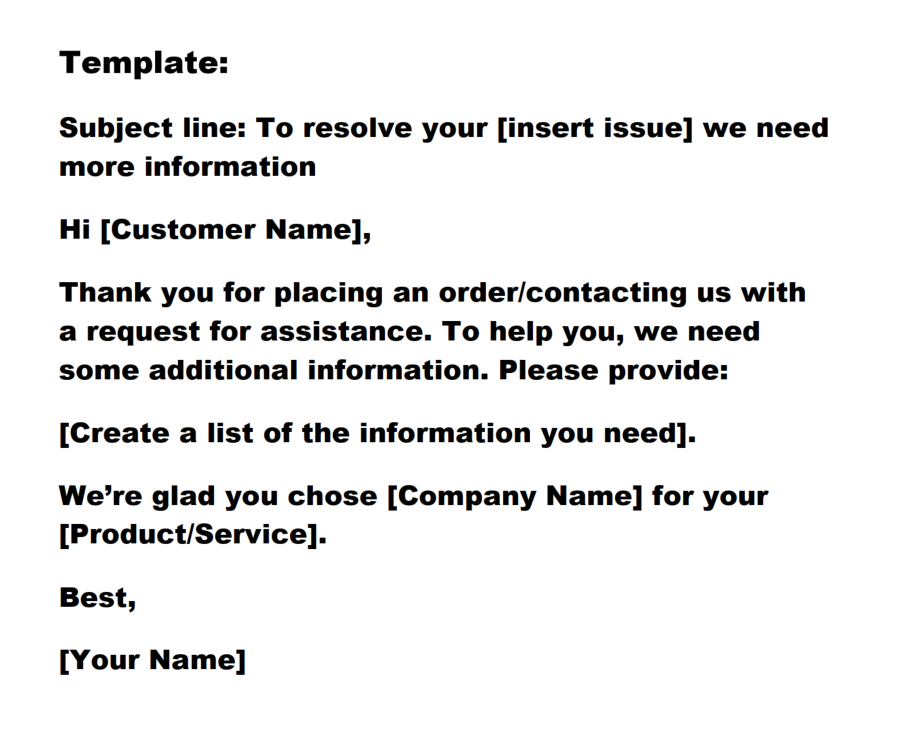 Accountability and apology
When mistakes happen to you and your company, the best thing you can do is acknowledge it and do everything you can to make it right.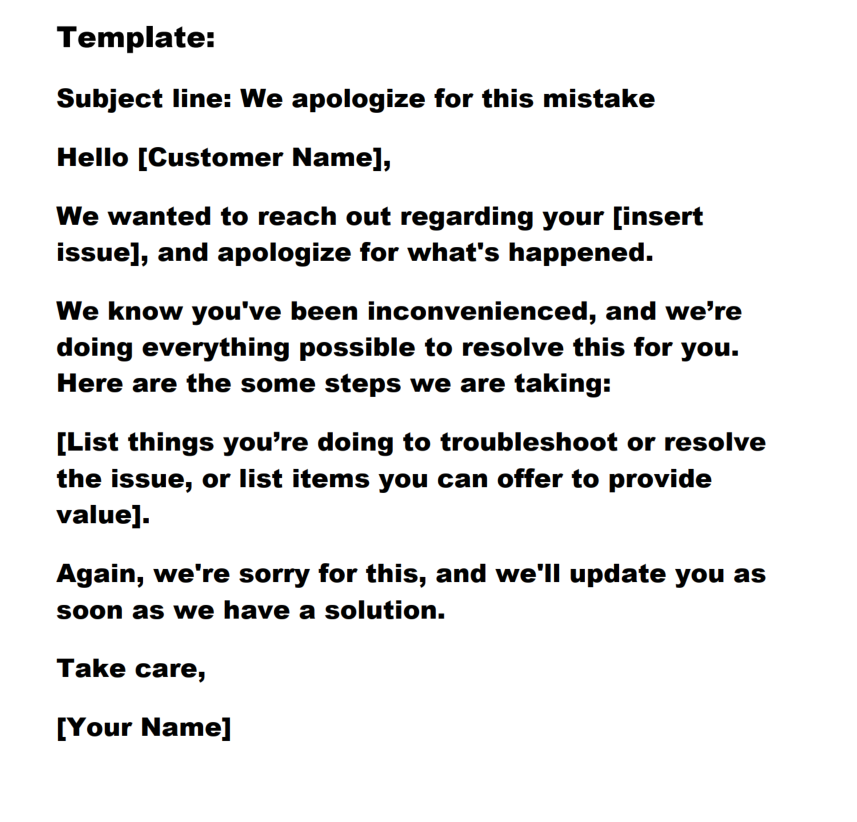 Following up on both positive and negative feedback
Good canned response templates are essential when dealing with feedback from customers, especially if it's negative. Rule of thumb is, it's important to thank the customers who take time to provide their valuable feedback.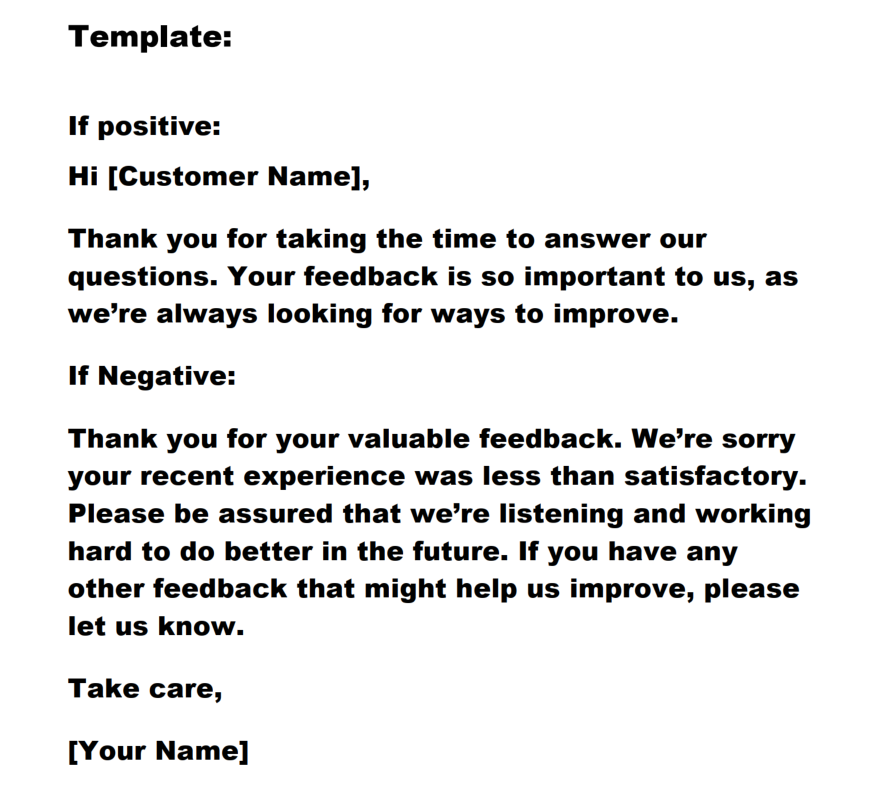 Handling refund requests
Whether your company provides refunds or not, there will usually be a request for one. You need to make the customer feel as though they are not being brushed off, and often a refund request can be fixed in another way.
Summary and best practices
Canned responses can be valuable for customers and support teams. The key is to create them thoughtfully so that they do five things:
Provide fast, accurate, helpful information

Offer an easy way for the customer to continue the conversation if the information provided doesn't solve their problem.

Contain personalized messages

Be created with a conversational tone

Give a promise of response time
The right tools for contact center analytics
Today's contact centers deploy a mixture of technologies to address different channels of communications. This means support desk agents are often faced with a complex environment.
High uptime and fast problem resolution have never been more vital. If you're using help desk software, you need third-party performance management tools.
With IR's Collaborate suite of solutions you can get vital end-to-end visibility of your entire contact center environment from a single pane of glass. This enables organizations to easily channel analytics, but most importantly to turn those cross channel analytics into actionable insights, to improve productivity, and business outcomes.
Monitoring, troubleshooting and resolving contact center issues in real time
Performance management tools need to be able to see across all domains in order to have full visibility.
Today, a call center might utilize from 5-25 different pieces of technology. To have a monitoring tool for each application is adding unnecessary and unmanageable complexity to the call center infrastructure. IR Collaborate captures data and provides visibility across all vendors, applications and hardware devices.
Not only does Collaborate analytics software gather important contact center data, but it can provide you with the data you need to create templates for canned responses that can ultimately improve customer experience and satisfaction.
Read more about how to improve customer experience with call center analytics here