In July 2021, Skype For Business Online (SFBO), a business communication platform that played an important role in collaboration was officially retired, and many of its customers and users transitioned to Microsoft Teams.
When it was announced that users would eventually need to migrate, Microsoft Teams became one of the most popular communication and collaboration platforms globally.
Destination Microsoft Teams
Microsoft Teams centers on collaboration, offering businesses a unified platform for group work. The Teams app assimilates the sharing capabilities, collaboration tools and integrations that can help organizations reach their business goals efficiently, and seamlessly.
Successful Teams migrations
Those organizations who have had a smooth and successful Teams migration will have already carried out best practices, and:
Given users guidance on available Microsoft Teams clients and device compatibility.

Identified and leveraged internal influencers to encourage the adoption of Microsoft Teams.

Decided on governance (naming conventions; or who can create teams).

Considered any relevant limitations and specifications like the maximum number of members in a team.

Used the Teams Migration tool to migrate their data from one Team to another, and to connect source and existing Teams with new Teams and destination Teams.
Microsoft Teams plus points
As part of the Office 365 suite, Microsoft Teams is a integrated, flexible collaboration platform that has been embraced by millions worldwide due to its ease of use and adaptability.
Integrating with the entire Microsoft 365 suite and other third party programs, Microsoft Teams combines audio and video calling with a wide variety of features essential for the 'new world' of remote working.

Tasks like file sharing, teams chat, application integration and group messaging are easily available, and all at your fingertips, creating the ultimate in workplace communication and collaboration.

Microsoft Teams allows a huge breadth and scale of collaboration tools, and the ability to carry out work projects and processes for a seamless working environment no matter where in the world your team or clients and external users are located.

Microsoft Teams also integrates with the company's Microsoft 365 subscription Office productivity suite, featuring extensions that can combine with non-Microsoft products.

Threaded messages and conversations make it easy to understand what each employee is referencing, and employees can co-author and collaborate on Word, Excel, PowerPoint, and OneNote documents without ever leaving the app
Security, privacy and information protection
When it comes to security and privacy, Microsoft Teams offers excellent access control, information management, and security.
Advanced Threat Protection (ATP) is part of any organization's security strategy, but you should also be cognizant of what exactly it is supporting. The following figure shows the ingestion flow of Teams data to both Exchange and SharePoint for Teams Files and Messages.
Organizations also have to be wary of how their conversations and files being protected to remain compliant, but they must also make sure all of their meetings and conversations are compliant as well. With Teams, meeting recordings and summaries are stored in the Exchange mailboxes of each attendee. The following figure indicates the ingestion flow of Teams Meetings and calling data to Exchange.
What is a Microsoft 365 Tenant?
Your Microsoft 365 tenant is the set of services assigned to your organization. It's usually associated with one or more of your public DNS domain names and acts as a central and isolated holding point for different subscriptions and licenses that you assign to user accounts.
When you create an Office 365 tenant, you assign it to a specific geographical location. It can also have multiple geographical locations and can be moved within the same tenant, to a new tenant, or from one location to another.
Image: IT partner
A cloud tenant move will allow identities to remain in the source tenant, but all users in the affected domain and all workloads are subsequently moved to a new cloud tenant.
Migrating Teams to a different destination tenant has become a critical step in the migration process to ensure successful mergers, acquisitions and divestitures. It's important because of the vast amount of valuable business data that is contained within Microsoft Teams.
Setting up your Office 365 Tenant
After ensuring that your networking is optimized for access to Office 365 for both on-premises and remote workers, the next step is planning for and then configuring your Office 365 tenant for DNS domain names, common services, permissions, and for the identity infrastructure that supports secure user sign-in.
Migrating Microsoft Teams from one Tenant to another
The past year has seen a significant increase in cloud to cloud, or tenant migrations. With more and more large organizations embracing cloud migration, IT admins are now more likely than ever to encounter a tenant to tenant migration in the context of a business merger or acquisition. However, between Microsoft 365 tenants can present some challenges. Merging tenants or workspaces of any kind is tricky. Even if both companies use Microsoft Teams, for example, there's a lot of background work required.
Image: MIO
To consolidate Office 365 infrastructure and services, such as Exchange Online, Microsoft Teams, OneDrive for Business and SharePoint Online, organizations need well thought-out, meticulously planned solutions.
There are plenty of Office 365 tenant to tenant migration tools that offer support for the secure consolidation and migration of all your Office 365 tenants. Some leading software providers will facilitate the transfer of SharePoint content, retrieve Office 365 Groups, and avoid data duplication.
Image: Perficient
There are free tools available but using a free migration tool can severely limit what you can do within your Teams environment, which affects your planning and impacts revenue. IT professionals, should avoid rushing into any free Microsoft Teams migration solution without knowing the product's features and whether it aligns with the scope of your project.
Obviously when you migrate Microsoft Teams successfully, your entire data from originating Teams to destination Teams will have been migrated within an agreed time frame, and without data loss or user downtime.
How successful has your Microsoft Teams Migration been?
Organizations would already be aware that everything scales a lot more quickly once you migrate to the the cloud, so to avoid duplicating groups and teams, and to keep organizational data secure during a Microsoft Teams migration, you need to de-clutter.
There are some basic things you should have done during the migration process, that should continue to be done on a regular basis.
Image: Unifysquare
Archive unnecessary content in Teams
While Teams is relatively easy to use, many users haven't been adequately trained and don't know the different ways to create a new Microsoft 365 group or team once they migrate. This often results in accidental duplication, and means there are dozens of unnecessary or inactive teams, and data sprawl.
Image: TomTalks
Ensure that every team or group has an owner
Sometimes even the best migration preparation can't factor in the uncontrollable. For example, employees may move around, whether starting a new job at an organization, switching between departments or projects internally - or leaving their current role for a new one.
Keeping track of users is crucial with regard to resource accountability, for example, ownership of teams in Microsoft Teams and each of their associated workloads. After migration, teams should ideally have more than one owner, and Microsoft does include some measures to manage ownerless teams.
An ownerless Team:
Has no assigned owner

Can still be used by its members

Activities are limited

No membership management

No guest management
Groups and related services
When you create a Team, a Microsoft 365 Group is created to manage Team membership. The Group's related services are created at the same time.
Microsoft 365 Groups manage the member of all Teams, Yammer and Exchange based Groups created through Outlook, Planner, Power BI, Stream and SharePoint.
Regularly review external access and link sharing
It's vital to have a complete understanding of how sharing is being used in your organization's Teams by conducting regular access reviews.
Option 1: Verify guest access in Teams. Depending on your file sharing configuration, Teams guest users will most likely have access to their Teams shared documents in just a few clicks. IT admin should always review new teams, guest users and their task title, conversation history etc., to determine what Team data is being shared, where and when.
Option 2. Review external sharing automatically. There is no simple way to review external accesses for every team using Microsoft's out-of-the-box solutions. A third party solution like Collaborate allows you full visibility into who has shared what, and with whom.
Identify and fix potential issues
With a Microsoft Teams migration from one tenant to another, it's important to ensure that all Teams data reaches its destination with all permissions and accesses fully intact. Some factors that could potentially cause issues during migration include:
File sizes

URLs and file names

File extensions

Character limitations

Unique permissions (who has access to all files)

Folders containing over 5,000 items

Orphaned users

Custom solutions

Checked out files
Sharepoint explained
SharePoint is a highly customizable cloud-based content collaboration and management platform that can help your team work remotely, work together, and work smarter. Used by over 200,000 companies globally, SharePoint is a content management platform that encourages collaboration among teams, regardless of where they are in the world.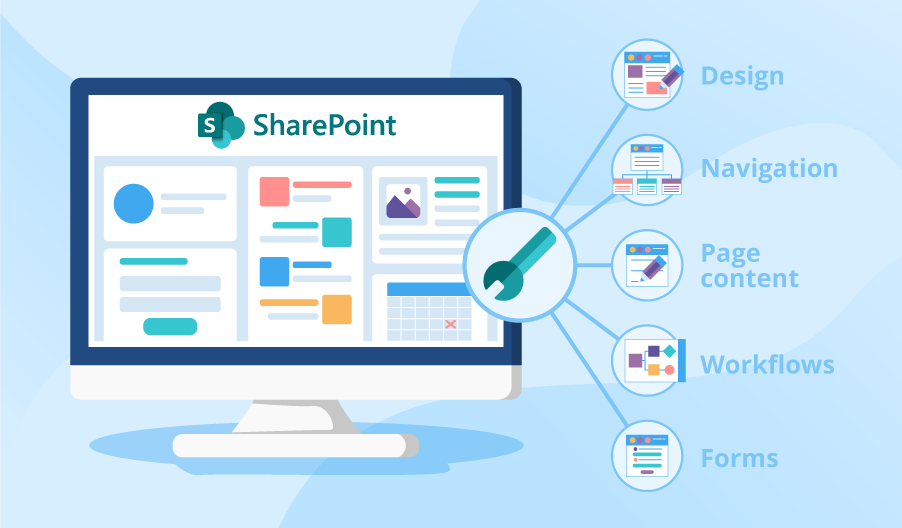 Image source: SCNsoft
How does SharePoint work?
Basically it allows you to manage all of your corporate content (from RFIs to marketing materials to financials and more), build websites and company intranets to keep your users and source teams informed on what's happening, generate business processes to automate some of your more mundane tasks , like workflows, and build customized apps that can help your teams become more productive.
Image: Hypertech Direct
Both Teams and SharePoint team sites are organized by topic, project, organization, or some other focal point for a team of people. Hence, in any given organization, Teams and channels will often follow a similar structure to SharePoint team and project sites
Identify what Teams live in your environment and how they're used so you can remove any that are unused or unneeded prior to migration and avoid group sprawl. This way you can simply and securely consolidate and migrate Office 365 tenants including Teams Exchange Online, OneDrive and other online workloads.
Can I migrate multiple Teams' content to a single Team?
Microsoft Teams migration can be a challenge for many reasons. One is that most Teams data and files are not stored in Teams. Some is stored in SharePoint Online in each team's associated SharePoint site.
When you want to migrate Teams content to a single Team, it's easily done. While mapping the accounts, simply input the same Teams as the destination for different source teams.
Bulk uploads using JSON or CSV File
The SharePoint Migration facility lets you to bulk upload your Teams migration task information by using either a JSON or CSV file. This method helps if you're creating a large number of tasks.
Use any text editor, or an application like Microsoft Excel, to create the CSV file. The first three columns are source values that detail where your data is currently located. The remaining three columns indicate the site, document library, and optional sub-folder where you're migrating your data.
What is the SharePoint Migration Tool?
This easy to use tool helps you to migrate content and files stored from on-premises SharePoint sites to Microsoft Office 365.
Many businesses use SharePoint to organize their data, files and information. There are two options available - SharePoint Server and SharePoint On line.
What are Private Channels?
Teams can have public channels, private, or shared channels. Private channels in Microsoft Teams create focused spaces for collaboration within your teams. Only the users on the team who are owners or members of the private channel can use the channel. Anyone, including guests, can be added as a member of a private channel as long as they are already members of the team.
Image: 365Ninjacat
Uses for a private channel
You might want to use a private channel if you want to limit collaboration such as file shares, meeting chats etc. to those who have a need to know. Or you may want to facilitate communication between a group of people assigned to a specific project, without having to create an additional team to manage.
For example, a private channel is useful in these scenarios:
A group of people in a team want a focused space to collaborate without having to generate a separate team.

A subset of people in a team want a private channel to discuss sensitive information, such as budgets, resourcing, strategic positioning, and so on.
Monitoring your Microsoft Teams environment
Going through a Teams migration has been challenging for many organizations. It has created an even greater need for the support of monitoring and performance tools to support and keep your entire Teams environment functioning seamlessly.
To ensure success, make sure you have real-time performance insights into your Teams environment, deep data analytics, complete UCC visibility, customizable dashboards, flexible deployment options, rapid end-to-end troubleshooting and proactive alerting. This is support that no organization that had undergone a Teams migration can afford to do without.