Digital transformation is the way forward today for large and small enterprises globally, and cloud migration is at the forefront of this transformation.
In 2018, the global Unified Communications (UC) market size was valued at USD $56.33 billion, and is expected to register a CAGR of 16.8% from 2019 to 2025, according to Grand View Research.
Transitioning a Unified Communications (UC) system to the cloud may seem daunting. Organizations have concerns about maturity, reliability, network capabilities, and feature parity, not to mention user experience. But the reality is that cloud technology has come a long way in the last few years. APIs are also gaining new features that enable partners to manage their environment more effectively.
Cloud migration can improve UC operations
Cloud-based architecture and UC solutions can provide easy to manage, consistent communication services across numerous office locations, spanning different geographies.
While migrating to the cloud can seem like a complex process requiring extensive planning and budget outlay, the benefits of cloud-based solutions like Unified Communications as a Service (UCaaS) outweigh the costs. Cloud migration helps organizations reduce overheads, streamline management of UC infrastructure, provide remote access, and improve performance. With key cloud services providers Amazon Web Services (AWS), Microsoft Azure, and Google Cloud Platform, equipment, data and applications no longer need to be housed on-premises and phone numbers no longer need to be obtained from the Telco. Infrastructure as a Service (IaaS)is the new business model.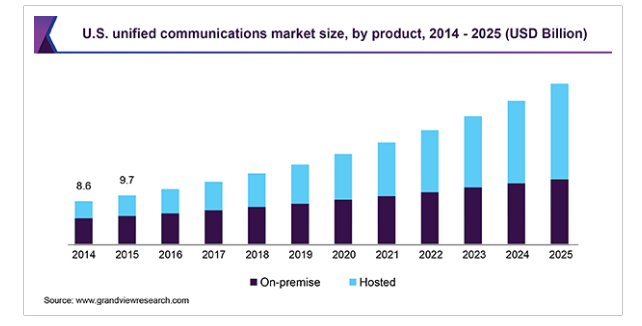 Image source: Grand View Research https://www.grandviewresearch.com/industry-analysis/unified-communication-market
Lift and shift - or a gradual transition?
As your organization makes its transition to the cloud, one of the first considerations is whether to adopt a hybrid or pure cloud solution. Most enterprises with complex environments will choose a hybrid solution over the next few years as they perform a gradual cloud transition. But the whole migration process requires plenty of forethought, planning, cost analysis and testing. The decisions about your cloud migration strategy need to be primarily based around your users, organizational and telephony requirements.
To make things easier, we've compiled a cloud migration checklist to cover some of the main concerns about your migration to the cloud.
Download a PDF copy of the UC Cloud Migration Checklist
Table of Contents
Cloud Migration checklist item 1: Planning
Define Necessary Features/Requirements
What are the requirements of the cloud solution in order to achieve the same or improved productivity for your business?
How do your users use the UC platform today (instant messaging, internal calls, conferences, meetings, video)?
Which features are mandatory for your organization? Is feature parity necessary?
What additional features available from your cloud provider do you wish to implement to deliver new communications and collaboration capabilities?
Why are you considering cloud migration?
To reduce costs within your organization?
To move from a capital expense to an operating expense model?
To provide better SLAs and management capability?
Which areas of your organization are best suited for migration?
What type of cloud environment is in your migration plan?
Will you design a hybrid solution (part on-premises, part cloud) or will you migrate completely to the cloud?
Do you have a large existing capital investment in telephony systems, including IVRs, that would be better suited for a hybrid situation?
Will your existing hardware investments, for example SBCs, be compatible with your cloud solution or will you need to purchase new equipment?
Will you adopt a single solution for all communications and collaboration or a mix of platforms - Microsoft Teams, Cisco Webex, Zoom?
Are all necessary management levels on board with the migration project?
Have you obtained buy-in from senior level, including the CEO and CIO, so that everyone understands the criteria for successful migration?
Have you identified your internal UC teams that will be involved in planning, or do you have a partner, service provider, or system integrator who will help assist you with the transition?
Have you considered performance management?
How will you manage performance for new environment types such as remote working, mobile devices, each different communication application?
Will your softphones, mobile devices or headsets be compatible with your new cloud platform?
Is your network environment robust enough to support the transition to the cloud?
Is there enough traffic on the WAN to support traffic analysis?
How will you keep updated wuth SLAs and penalities/opt out options for non-performance?
Will you manage your migration process gradually, or migrate all at once?
Should you start migration one department at a time, where you can study the data and assess any negative impact on the organization's entire business in the beginning?
Will you use public cloud, private cloud or hybrid cloud services?
What about security and training?
Have you developed a training program to ensure that people within your organization will accept the technology shift and adopt the new capabilities in your cloud solution?
Have you addressed security requirements for cloud as well as any regulatory or governance requirements?
Cloud Migration checklist item 2: Deployment
Once you've passed the planning stage of your cloud migration, and are ready for deployment, the next step is to track adoption, monitor performance, and guide users.
Have you defined your success criteria?
Are you expecting wider transformation initiatives, including business intelligence (BI), advanced analytics and big data projects?
Do you want to boost productivity by giving users (including remote workers) seamless access to business data and applications?
Are you looking to reduce your current burden in managing and maintaining legacy infrastructure?
Do you want to reduce your spend?
Are you looking to improve call and/or video quality?
Are you tracking, training and testing?
Do you have the tools to test and confirm that you're delivering on quality expectations and meeting internal service level requirements?
Are all departments receiving training from your internal IT team?
How will you track adoption and usage patterns in your environment?
Do you have a clear understanding of the features available in your geographic region (e.g. PSTN calling plans and availability)?
How will you track your return on investment (ROI) by moving to the cloud?
Are you giving users excessive features that they do not need?
If your organization is deploying a hybrid environment, is your on-premises equipment (SBC's, video equipment, etc.) operating smoothly with your cloud provider?
Are you communicating with users?
Throughout the migration journey, are you communicating clearly to users about what changes they will experience (e.g. lost/added features)?
From a licensing perspective, did you allocate the right mix of features and functions for each type of user?
Does your plan have realistic expectations that are aligned with your desired outcome?
Cloud Migration checklist item 3: Operation
With planning and initial deployment complete, you'll need to ensure that you are providing ongoing support, refining tools and processes, and gauging progress.
Are your monitoring tools providing adequate data analysis?
Do you have end-to-end visibility to quickly diagnose voice or video quality problems?
Do you have a dependable and efficient method of identifying and correcting failures or enabling features for users?
Are you continuing to refine processes for response time when monitoring and managing your environment?
Are you able to proactively intercept and troubleshoot performance issues and monitor applications and KPIs ?
Do you have the ability to preemptively avoid costly service outages by setting capacity threshold alerts?
If you chose a hybrid environment, do you understand your on-premises infrastructure and how it relates to your cloud providers, so you can monitor performance in real-time?
Are you able to pull analytics that provide an understanding of your usage patterns to ensure you are meeting SLAs?
Are you able to understand your data
Is your cloud service scalable?
Do you have a high level of configurability? Especially at the beginning, it may be that your cloud migration services can be tweaked, or ancillary services can be deployed to make your environment even better.
What is your support model now that your organization has deployed the migration strategy and users have migrated to the cloud?
Are you evaluating the ability to leverage APIs to integrate UC platforms into business process applications?
Do you have enough capacity within the environment to run smoothly?
Now that you have successfully deployed a hybrid environment, is your organization ready to move fully into the cloud?
Can you gauge the success of your cloud migration?
Are you meeting your KPIs?
Are users effectively adopting new cloud features in the environment?
Were you able to successfully and effectively manage costs during migration to the cloud?
Did you realize the return on investment that you expected when you first started the rollout process?
Are you satisfied with the level of service, security and support you've received from your cloud services provider?
How to completely ruin your cloud migration
Now you're armed with a comprehensive cloud migration checklist and have the critical points to consider; tips about scale, storage, usage, workloads, cost, performance management and more. But moving your entire UC infrastructure to the cloud without looking at what could go wrong is a big mistake for many organizations.
Click here for the definitive list of the biggest pitfalls companies fall into that can ruin an otherwise smooth cloud migration.


Download a PDF copy of the UC Cloud Migration Checklist