In every organization, it's the job of Chief Information Officers (CIOs), to analyze the implementation of various technologies, and oversee how they provide benefits to the company or improve business processes.
But saving money and being mindful of budget constraints is also a CIO's job. This means developing cost optimization and cost reduction strategies without disrupting operations. Saving money for the company, as well as driving business growth and business continuity can be tricky, and every cost reduction strategy is a multi-faceted process.
Cost reduction initiatives in any business usually revolve around strategies that identify and prevent waste, such as underutilizing certain technologies, or pinpointing elements that represent low business value within the IT budget.
In this guide, we'll reveal the best cost saving strategies to help with financial management while increasing operational efficiency and providing a competitive advantage.
A closer look at IT cost reduction
IT cost reduction and optimization is a methodology used by CIOs to reduce costs - both capital expenditures and operational costs. If properly executed, these cost cutting initiatives can result in improved profitability and higher returns on tech investments.
Effective cost reduction strategies not only eliminate waste and save money, but can be used to invest in new technology to support business growth. For many organizations, cost reductions may involve some, or several of the following cost cutting measures:
Better utilization of cloud services, for example leveraging software-as-a-service (SaaS) solutions for significant cost savings

Examining software licensing costs

Reducing labor costs and manual processes with monitoring and performance management solutions

Using virtualization to reduce energy and hardware costs

Outsourcing all or part of your IT staff and services

Minimizing the business costs and complexity of data storage

Using open source software
Let's take a look at each of these cost reduction strategies in detail.
1. Better utilization of cloud services
Systems downtime costs an organization dearly. The breakdown of physical hardware, storage, network or security can cost businesses far more than a one-year cloud subscription in only a matter of minutes.
Additionally, expensive hardware such as dedicated servers and desktops can impact an IT budget heavily. Software licenses, and the cost of expensive software and upgrades, storage, network costs and security, all require hours of setup and maintenance which can severely impact efficiency.
Leveraging cloud computing services can cut costs before even factoring in operating costs, and with many highly scalable options available, any business of any size can save money by moving away from traditional on-premises infrastructure to cloud solutions.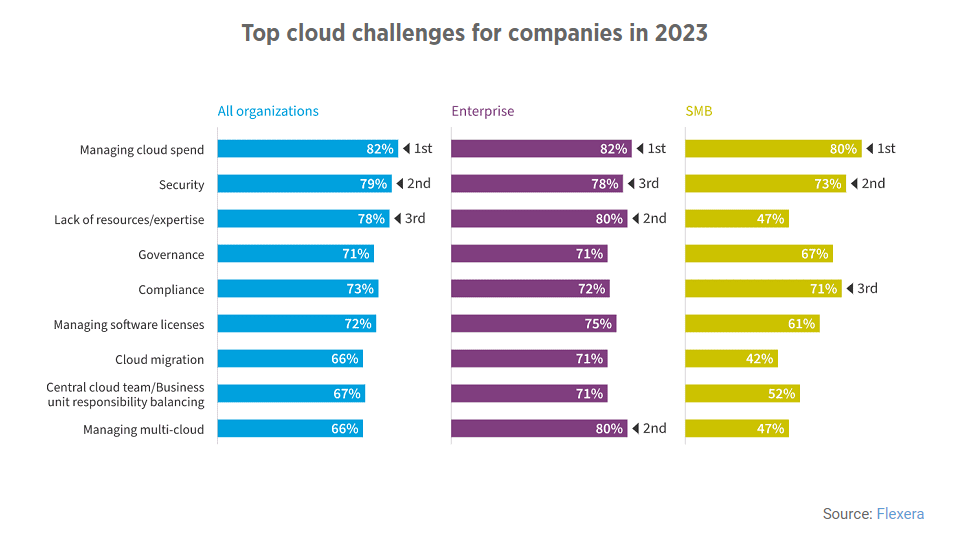 By utilizing SaaS and other cloud technologies, businesses can reduce personnel costs of operation-oriented staff, by not having to maintain or on-premises systems themselves.
According to an AWS study of 35,000 servers, moving a company's IT infrastructure to the cloud can result in an average annual cost savings around 30%.
2. Reduce costs of software licensing
Part of an organization's cost reduction strategy involves close examination of software licenses.
One of the first steps in reducing the cost of software licensing is to conduct a thorough and detailed audit to evaluate and validate the software currently used by your department or business. Often, it's discovered that expensive software is being used for minor tasks, so considering a new solutions makes far better financial sense.
Software Asset Management (SAM) tools can be an invaluable way to reduce software licensing costs, and keep track of everything that's being used, particularly for those businesses with a large software estate.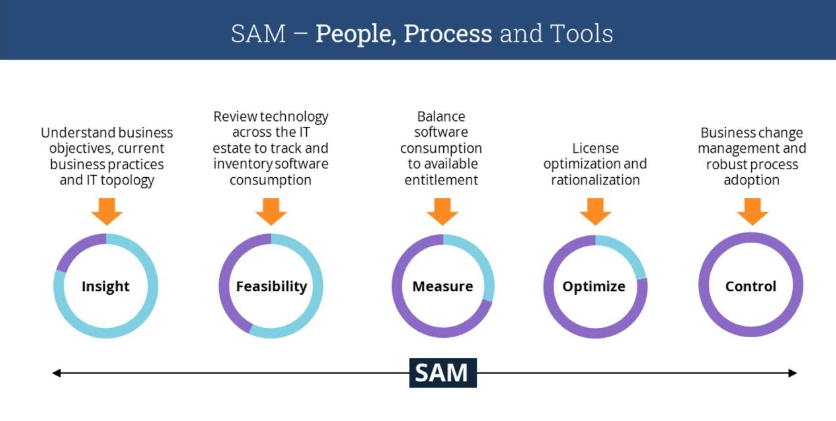 3. Using monitoring and performance management solutions
With the acceleration of digital transformation, IT leaders are discovering ways to cut operating costs by utilizing technologies such as cloud, virtualization, microservices, containers and edge computing.
With today's multi-layered, hybrid IT environments and dynamic applications and services, day to day management of IT infrastructures becomes a complex undertaking, and further out of reach as a manual process.
Monitoring and performance management solutions are essential, because without full-stack, cross-domain visibility and a deep understanding of how applications and infrastructure are connected, it becomes impossible to identify the root cause of problems when they occur.
4. Using virtualization to reduce costs
Not too long ago, each business application used a dedicated server, which was multiplied due to DR servers, and test servers, but often with low utilization rates, increasing infrastructure costs. These days, businesses that still have physical servers should consider partitioning them to allow multiple applications to share the hardware, and cutting costs.
Using containers is an option. For example, Linux containers are portable, lightweight, self-contained runtime environments that can run services on the same box, reducing hardware expenditures significantly.
Virtualization technology can help a business reduce costs of energy and hardware, boost efficiency and create a more agile business model. Most importantly, virtualization provides the technology necessary to make hybrid and remote working possible.
By virtualizing servers, storage, network, or applications, organizations can have access to all the functionalities they need without having to be physically located near the hardware.
Virtualization provides the ability to scale up and down according to business needs, which can save costs of computing resources. It also means a significant drop in energy and cooling expenses, keeping energy consumption down and providing an eco-friendly solution.
5. Outsourcing all or part of your IT staff and services
Many organizations still have their own team of in-house IT specialists. However, hiring and retaining experienced and qualified IT professionals can be costly, while less experienced IT staff may not have up-to-date knowledge of managed service solutions.
Some businesses prefer to employ contractors rather than in-house staff for certain aspects of their IT operations. This can result in savings, although it's important to closely monitor contractor costs to ensure that they don't exceed those of permanent staff.
Many businesses also choose the option of outsourcing all or part of their IT operations to a managed service provider (MSP). This can cut costs and gain better business value as well as ensuring that cyber security, data networks and IT infrastructure are expertly managed.
Outsourcing IT to a Managed Service Provider creates a support agreement structured to suit each organizations budget and requirements. Some MSPs even operate on a month to month 'break and fix' agreement where payment is only required if an issues arises.
6. Minimizing the business costs and complexity of data storage
The International Data Corporation (IDC) predicts that worldwide data creation will reach an incredible 175 zettabytes (ZB) by 2025. For enterprises, this increase in data means additional costs and logistics associated with storage.
To add to this, many worldwide organizations have a hybrid or remote working model in place, creating additional data in home offices, branch offices and primary data centers. This causes increases in the costs of infrastructure services due to the complexities of storage, security and backing up data across thousands of newly created endpoints.
Utilizing cloud storage, MSPs are now using Converged Infrastructure (CI) and Storage Resource Management (SRM) technologies to deal with complex storage settings. These tools can locate duplicate information or cold data taking up extra storage space, as well as allowing data management from a single location.
7. Use open source software
The initial costs of acquiring software, as well as annual maintenance costs can be crippling for a business. Open source software provides access to the source code, allowing businesses to make their own modifications.
Open source flexibility means that code updates are made by developers from various companies so software improvement is faster - and if there are any issues, there many options for assistance, without ties to a single software provider.
Best practices to optimize and reduce IT costs
The best strategy to optimize and reduce IT costs begins with an internal evaluation of current IT costs. This should evolve into further research, analyzing metrics, and adopting some of the applicable initiatives we've outlined above.
The goal of IT cost reduction is to release cash quickly in a way that benefits the profit and loss statement. When faced with the challenge of reducing costs quickly, IT leaders need to carefully examine the areas of spending that can be quickly and efficiently reduced.
Long-term cost optimization on the other hand, is the ongoing evaluation of IT processes to eliminate wastage of resources and reduce spending in the mid to long term.
To reduce spending, it's best to take a determined adopt a 'reduce-don't-freeze' approach, making sure to completely eliminate unnecessary costs in the first place, rather than freezing them, as frozen costs may remain in the balance sheet for some time.
The value of monitoring and performance management
We've already mentioned the importance of monitoring and clear visibility into your entire IT infrastructure. This is even more important when it comes to providing your IT department with the means to cut costs.
Whether an IT infrastructure is on site, hybrid, or using cloud providers and virtual servers, most organizations struggle to see everything that's going on inside their IT environment, making cost evaluation and performance management impossible. .
How IR Collaborate can help
With so many employees using their own devices and applications, it can be difficult for IT teams to get a clear picture of what is happening across the organization.
IR Collaborate enables IT teams to gain valuable insights into the performance and usage of applications, software and hardware. This gives organizations the power of informed decision-making on resource allocation, capacity planning, and future upgrades.