Every enterprise organization wants to streamline their operations, improve efficiency, have robust security capabilities, and have a solid disaster recovery strategy in place. A managed service provider (MSP) is the answer to the growing dilemma of overworked in-house IT departments finding it more and more difficult to deliver effective technical support.
Managed service provider software is a vital element of today's IT infrastructure, and a foolproof solution for keeping up with rapid advancements in technology and the rise of cloud computing.
Managed services have risen in popularity as a way for businesses to streamline operations and improve efficiency.
Managed service providers promote business growth, by managing the complex administrative tasks that cost businesses time and money.
In fact the managed services market size is expected to grow from USD 260.39 billion in 2023 to USD 380.83 billion by 2028. This represents a CAGR of 7.90% during the forecast period (2023-2028).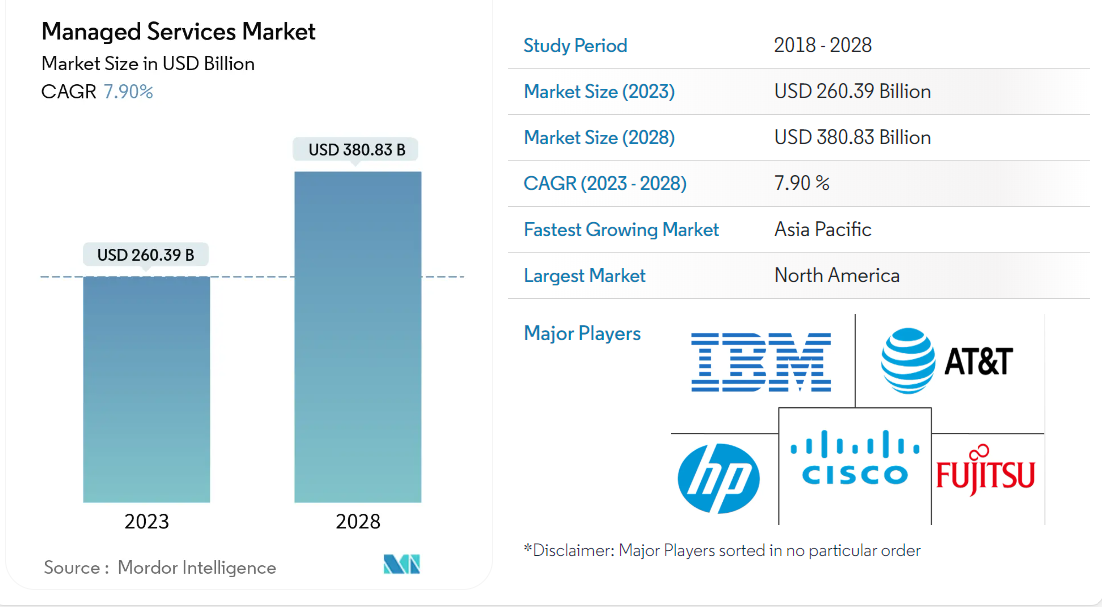 Image source: Mordor Intelligence
In this blog, we'll look at what managed service provider software solutions can do, and how to ensure that service delivery processes can ensure customer satisfaction, delivery on SLAs, with high uptime, a superior quality of service, and the reporting and evidence to back it up.
Are you delivering high-quality services?
Find out how IR Collaborate can help you confidently manage a growing customer base and exceed service expectations
What is managed service provider (MSP) software?
MSP software acts like a virtual assistant for business operations within any number of industries, such as B2B integration, transportation, information services, supply chain management, and utilities.
Managed service providers rely on MSP software to make administering IT services easier. This includes offering high quality product documentation, ease of navigation and ongoing technical support.
MSP software allows managed service providers to offer their clients an array of invaluable services and benefits. Here are some examples of IT services offered by managed service providers:
Cloud computing

Cloud infrastructure management

Software as a service (SaaS)

Infrastructure as a service (IaaS)

XaaS (Everything / Anything as a Service)

Managed wireless and mobile computing

Data analytics
Why do you need a managed service providers software?
MSP software solutions enable managed service providers to offer services including:
Cloud subscription management

Network monitoring

Backup and disaster recovery

Patch management

Remote monitoring and management

Professional services automation (PSA software)

Endpoint management

Contract management

Billing and Invoicing

Asset management

Help desk and ticketing
Managed service providers deliver specific, tailored IT services to their customers based on specific service level agreements (SLAs), and most MSP software providers offer support and training to facilitate the best use of their products.
Today's highly advanced IT service management (ITSM) tools allow managed service providers to maintain service levels from a single location, providing an integrated view of multiple client networks. This alleviates the need to use separate tools for each client.
"Third-party monitoring tools play a significant role in medium term cost optimization and releasing resources for strategic value creation. Utilization and adoption reports, and the detailed data and analytics provided by monitoring tools will help organizations to make the necessary decisions to achieve digital acceleration."
Common features of MSP Software
Managed service provider software enables MSPs to offer service management solutions including:
Automated services
Automation can deliver services that help agents focus on critical issues rather than on routine tasks such as device monitoring and maintenance. Automation also helps businesses scale at a much faster rate without compromising on the quality of the service they deliver.
Remote Access
Remote support features of MSP software can help a managed service provider to have an efficient and seamless channel of communication with clients' mobile devices as well as access to their device information. This allows agents to focus on fixing issues conveniently from the MSP management software interface.
Patch Management
An efficient patch management system in your MSP software will help minimize vulnerabilities by identifying the right patch, and providing data that can help prevent future incidents such as service interruptions caused by outages or performance issues.
Internal collaboration
MSP software can enable smooth communication between your team members, and serves as a vital element in ensuring an effective service to your clients. A collaboration interface helps service desk agents avoid mundane tasks and keeps them informed about any issues that other agents may have.
Advanced Reporting
MSP software can generate a significant amount of data which needs to be analyzed efficiently. MSP software with built-in reporting tools enable performance analytics and delivery across all systems and modules. In other word,capturing the right data in a presentable format. These reports can be used to create interactive dashboards and to accurately monitor KPIs.
Remote Monitoring and management
The cloud-based design features of MSP software allows the management of multiple clients at once. Network monitoring provides instant notifications, and security management features allow users to track issues in real-time and monitor system anomalies.
Alert management
MSP software with alert features is invaluable to help identify issues before they become significant problems. Alert management features can quickly detect anomalies such as software updates, service disruptions and security migrations in connected devices. This can save time and effort, not to mention costs.
Endpoint management
MSP software provides an endpoint management strategy by tracking, monitoring, and managing endpoints such as desktops, laptops, mobile equipment, servers, etc. for multiple customers, so that issues are dealt with even before they can cause any sort of downtime, or damage to the network.
"IR Collaborate for service providers can help deliver deep insights, comprehensive visibility, and customer-specific reports. This adds more value, and helps you confidently meet SLAs, with the evidence to back it up, and improve customer onboarding and management."
Benefits of managed service provider software
Cost savings: Billing, procurement, and delivery can all be consolidated in one system without the expense of purchasing multiple systems.

Less overhead: An increase in speed and accuracy while reducing the need for more team members.

Improved customer satisfaction: Managed service software increases accuracy, provides better billing visibility, and faster delivery.

Increased growth and profitability: An MSP platform can deliver new services and create new markets to accelerate growth and profit.

Better operational efficiency: MSP software with automation helps to streamline and accelerate business processes.
How IR can simplify complexity for Service Providers
IR Collaborate for service providers can help deliver deep insights, comprehensive visibility, and customer-specific reports in one complete solution across hybrid cloud and multi-vendor environments,.
This added value helps you meet SLAs with confidence, and the evidence to back it up, and improve customer onboarding and management.
Multi-tenant support
Leverage secure, API-driven access to multiple clients environments in a single application.
End-to-end insight
Be proactive in service delivery by leveraging real-time insights through end-to-end visibility across hybrid, multi-vendor, multi-tenant ecosystems.
Meet SLAs with ease
Guarantee customer satisfaction and deliver on SLAs, with high uptime, a superior quality of service, and the reporting and evidence to back it up.
Multi-vendor support
Support for Microsoft, Cisco, Zoom and Avaya UC platforms, ServiceNow Service Management platform, and numerous SBC and device vendors.
Improve customer onboarding and management
Faster customer onboarding with streamlined deployment models, better performance visibility and deep insights into your environment.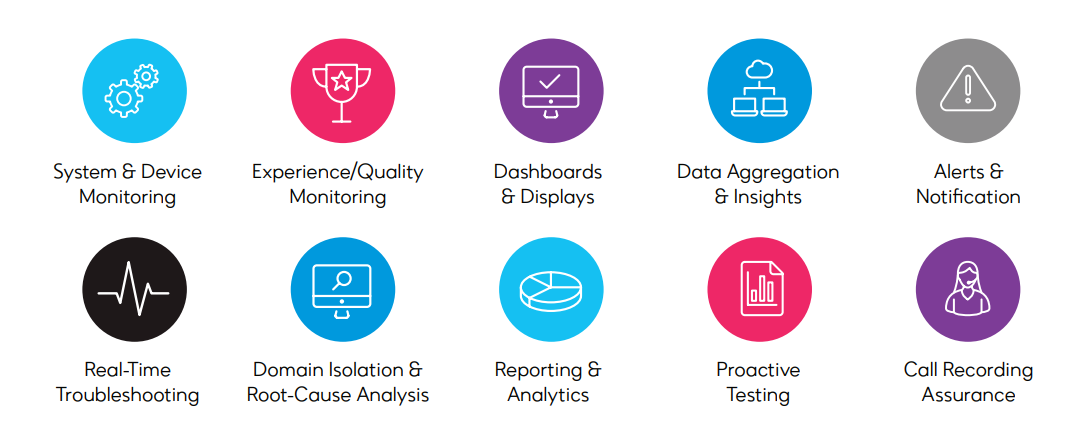 IR Collaborate can help you simplify the complexity of managing multiple tenants and technologies, giving you the comprehensive insight you need to deliver exceptional service and stay ahead of the competition.
Learn more about our support for Service Providers