As the name suggests, a payment gateway is one of the many portals that allows payments through the payment processing system. A payment gateway is a technology that captures and transfers payment data from the customer to the acquirer.
It helps merchants initiate eCommerce, in-app, and Point of Sale (POS) payments for a broad variety of payment methods. A good payment gateway integrates with your current billing, checkout page and shopping cart, and a business's existing accounting solutions.
The term payment gateway encompasses the physical credit or debit card reading devices found in physical retail stores and also the payment processing portals found in online stores. Additionally, bricks-and-mortar payment gateways now accept phone-based payments using QR codes or Near Field Communication (NFC) technology.
In this guide, we'll cover in detail how payment gateways work and why every online merchant needs both a payment gateway and a payment processor for their online payments.
How does a payment gateway work?
A payment gateway is what keeps the payments ecosystem functioning seamlessly, as it enables merchants to accept payments online or transfer funds between consumers and businesses.
If you're an online merchant, it's important to understand at least the basics of how an online payment flows from your customer to your bank account.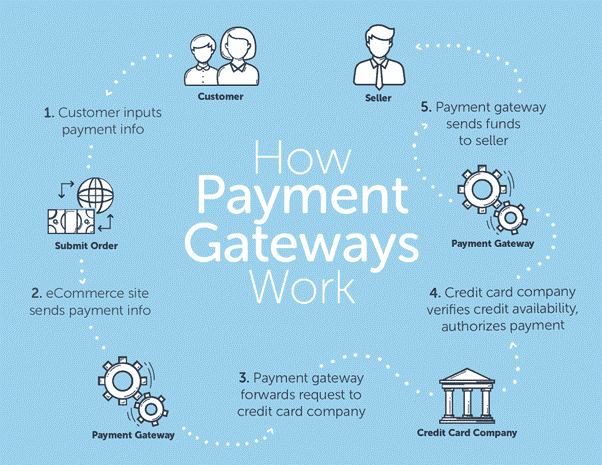 Image: Multichannel Merchant
At a basic level, a payment gateway does the following:
Integrates with the merchant's business bank account
A payment gateway provides a business with one or more ways to integrate online debit and debit card payments and card processing capabilities with the merchant business account.
Records payment details for customer transactions
Via processes provided by a payment gateway provider, the merchant then sends their customer's safely encrypted information to the payment gateway
Routes information to a payment processor or an acquiring bank
The merchant's acquiring bank then takes the next step, carrying out fraud checks, then sending the transaction to the card networks.
Notification of approval or decline
The payment gateway informs the merchant of confirmation or rejection of the payment. If the payment is declined, the merchant may ask for another form of payment.
The benefits of using a payment gateway
The best payment gateway systems, and good payment gateway providers will fit seamlessly into the day to day operations of a business, offering integrated payment by debit and credit cards, and processing payments with ease. Some of the main benefits of payment gateways include:
Speed of the payment process
Fast, efficient online payment gateways are a vital aspect of digital transactions and to receive debit and credit card payments for any merchant account.
One of the traits of online shopping is impulse buying, so it's important to capture the purchase in the moment by ensuring your customers don't experience delays anywhere in the payment process. Speedy transactions when accepting payments could make the difference between a sale and an abandoned shopping cart.
Convenience and confidence
E-commerce is a global market. With the right payment gateway, customers can shop and make payments anytime and anywhere, while merchants can easily accept payments. Technologies like payment gateways allow people to feel increasingly more confident with online purchases, and this gives them the freedom to source the best or cheapest products, regardless of location.
Expanded customer base
The right payment gateways enable shoppers from anywhere in the world to have access to your store. This access to international transactions gives businesses the opportunity to experience potentially limitless growth and expansion of their customer base. Depending on business needs, affiliate marketing partnerships can be an additional feature of many payment gateways to help funnel more leads to your business.
Secure Transactions
With a payment gateway, all payment information is heavily encrypted to ensure that data is protected. This will help your business meet GDPR and industry-standard requirements such as the PCI DSS compliance (Payment Card Industry Data Security Standard). Secure payment transactions protect the customer and an online business from potential fraud.
Image: Avinetworks
The moving parts of a payment gateway
It might look complex, but with a payment gateway, the whole process takes just a few seconds, and as technology continues to evolve, the process becomes even faster.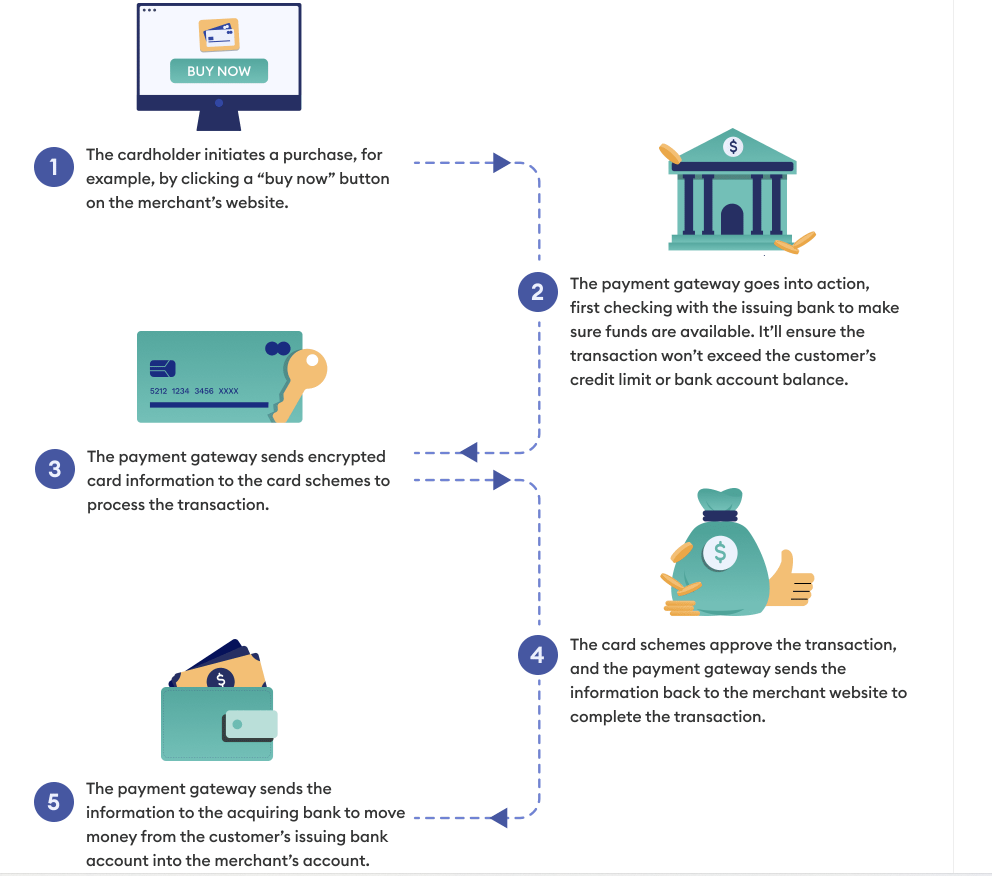 Image: Forbes
A payments gateway ensures a simplified process on the front-end, meaning that customers don't have to go through complicated procedures in an online store to complete transactions. For instance, if the customer is processing the credit card payment online by themselves, they can enter the card details online, or make their payments with Apple Pay, Google Pay, or any digital wallet, and in a few seconds they'll know if their payments have been successful.
Merchant accounts explained
Not to be confused with business bank accounts, a merchant account is a specific bank account required for credit card payments, and online trading for any business owner.
Payment gateways, payment service providers (PSP's), a merchant acquiring bank, payment processors, independent sales organizations (ISOs) or high street banks can provide you with a merchant account.
Once approved, a merchant identification number (MID) is assigned, and this is required to process debit and credit card transactions and to move funds from customer issuing banks to a merchant's business bank account, once payments are authorized and ready to be settled.
Payment gateways vs Payment processors
An online business needs to have a payment gateway in place to accept credit card payments, as well as other alternative payment methods or payment cards that their customers might prefer. When an online purchase is made, the payment gateway transfers the transaction data and approves or declines the payment. However, it does not deal with the processing of the payment itself. This is where the payment processor comes in.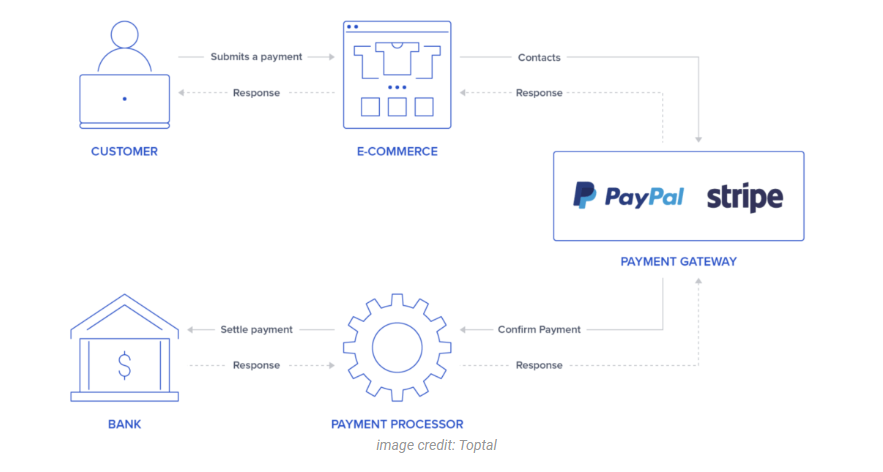 The payment processor interfaces with the customer's card network (e.g, Visa, Mastercard), which then routes the transaction to the issuing bank (the bank that issued the credit card to the customer). The issuing bank verifies that there are funds available in the customer's account to cover the purchase amount.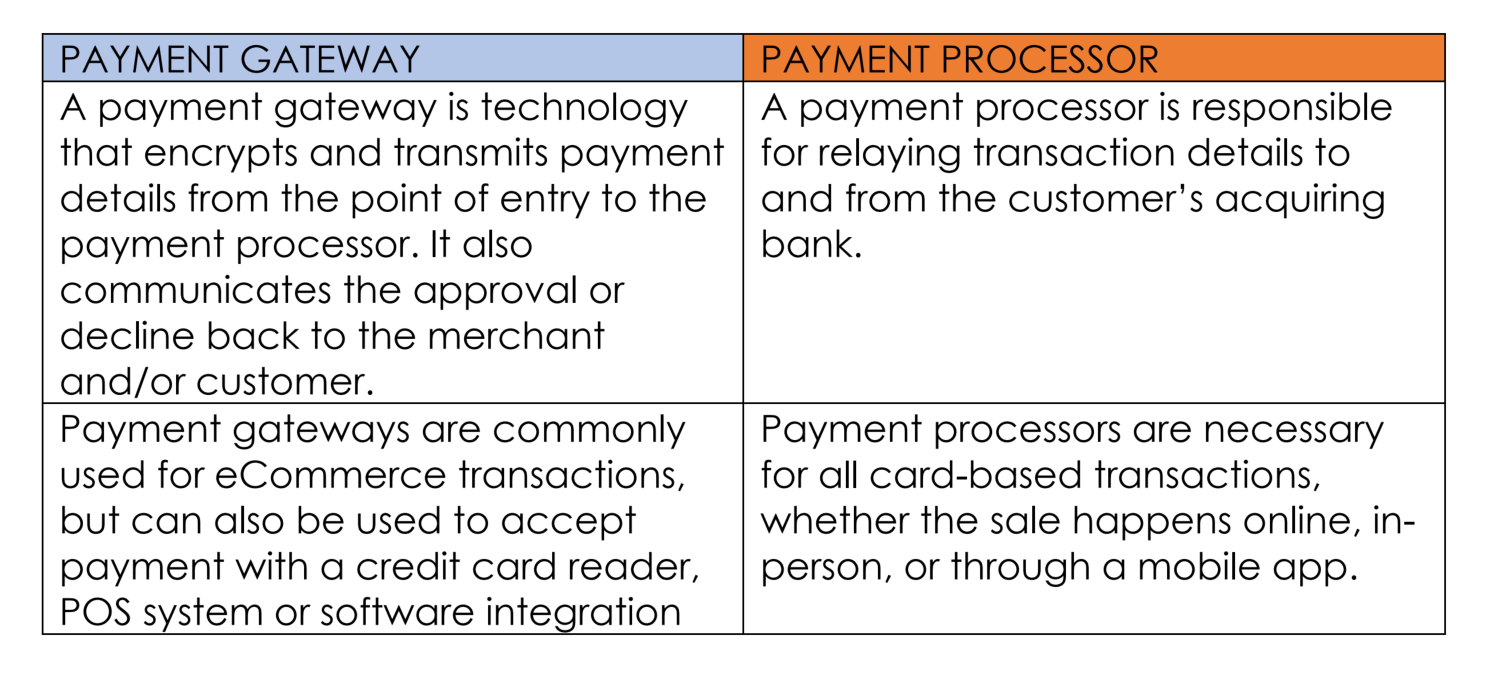 Different types of payment gateways
Depending on the size of a business, different needs budgets and preferences, there are a variety of payment gateway types to choose from. These are some of the most common:
Hosted payment gateways (Redirects)
Hosted payment gateways or 'redirects' normally involve sending customers to another site to process payment. One of the most common examples is PayPal, which is easy to set up and many small businesses rely on this form of payment.
While sometimes described as a payment provider, PayPal provides similar services to both a payment gateway and a payment processor. Large businesses also offer PayPal as an option because of its immense popularity. Since PayPal offers merchants and customers the ability to set up recurring payments, this becomes a good option for some companies.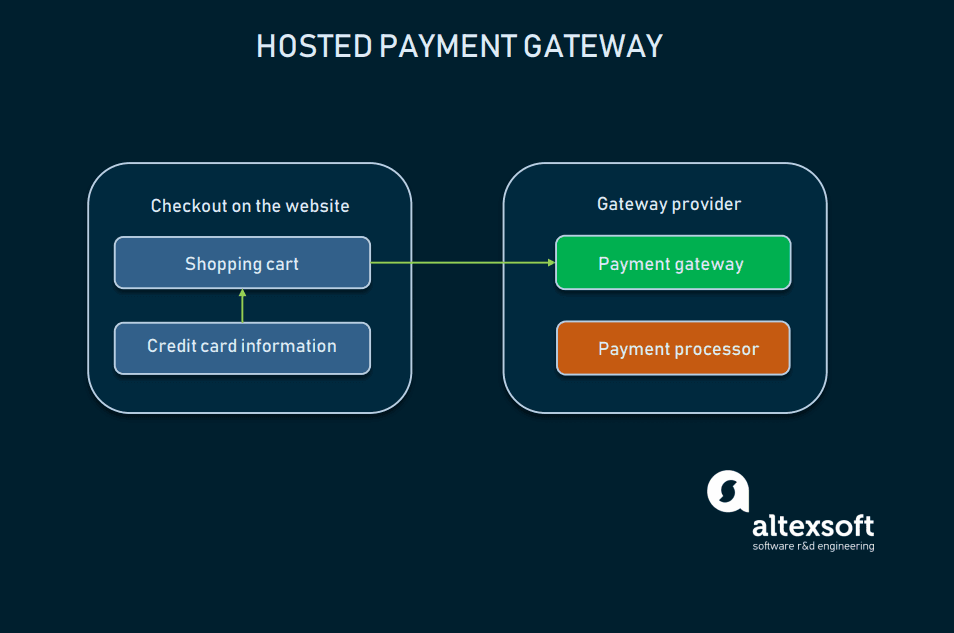 Checkout onsite, payment offsite
In this case, the checkout, or processing is done on the merchant's site but final payment is done on a redirect site such as Stripe. Much like the redirect option, this offers simplicity but limited customization of the user experience.
Customizable onsite payment gateways
Onsite payments are generally for larger enterprises with the resources to handle the added complexity. This essentially means that all payment and processing is done through the company's own server,
The idea of a single gateway seems smart to many new business owners because it simplifies the process. Having multiple gateways actually offers advantages that help make your business more profitable, but could be more costly in the end.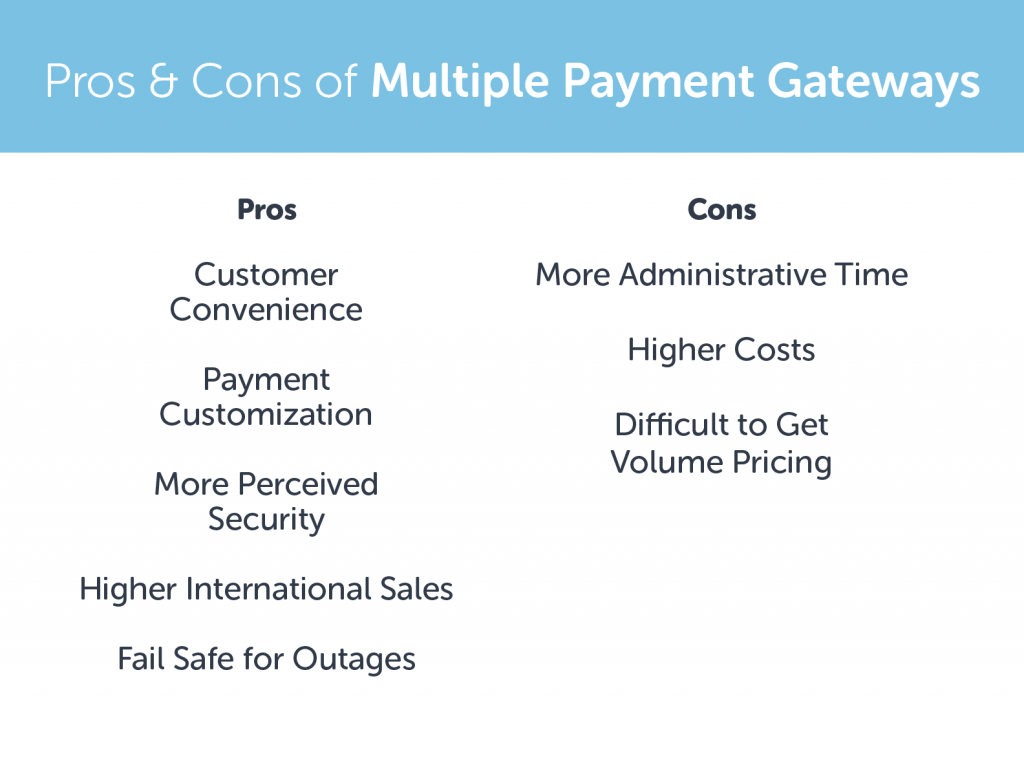 Image: Nexcess
What is a white label gateway?
Some payment gateways offer white label services to online businesses. A white label payment gateway is a payment gateway system that allows a business owner or a brand to process online payments using their official name while using third-party services. In other words, a company puts its logo on the customized solution.
Image: esecurepay
Payment gateway vs Payment Service Provider (PSP)
Payment service providers – also known as merchant service providers – are third parties that help merchants accept credit cards, or receive payments by debit card, or other payment methods like bank transfers, real time payments etc.

Some payment service providers allow you to send card details directly from your customer's browser to the provider, meaning that it never hits your server. This makes the payment process more streamlined for customers without imposing any more requirements on you.
They provide both a merchant account, and a payment gateway, ensuring that businesses can collect and manage their payments in seamlessly and efficiently.
Considering payment gateway options and costs
Costs can vary depending on whether you are a small business, or large enterprise.
For example, some gateways charge monthly fees for bricks-and-mortar stores, while for online stores the monthly and transaction fees are higher. Some may charge a small fee to set up, or additional fees for added services like processing foreign currencies. This handy resource helps you compare the best payment gateways from all over the world.
Payment gateways like Stripe, Square and PayPal process credit and debit transactions annually worth billions of dollars.
The most common, and easiest method of adding a payment gateway to your credit card processing system is to use an integrated approach, where your merchant account and payments gateway are both provided by your merchant services provider.
This method eliminates most compatibility issues and often costs less overall, but could be limited to whatever services your provider offers.
Image: UCP Inc
The importance of analytics
The payments industry is increasingly driven by information and data. Financial institutions, payment processors, credit card issuer, retailers and acquirers have realized that gaining better insights into customer behavior provides a deeper understanding of sales and customer spending patterns.
Analytics also helps to reveal payments trends and anomalies. Without transaction data and analytics to get clear visibility into the payments environment, a business wouldn't be able to identify transaction performance issues, anomalies with a POS terminal, or detect fraud.
The benefits of IR Transact as part of your payments solutions
IR Transact, built on the powerful Prognosis platform, simplifies the complexity of managing modern payments ecosystems, bringing real-time visibility and access to your entire payments environment. Transact can integrate with payments gateways to reveal unparalleled insights into transactions to help streamline the payments experience.
Insights into the way each different channel is performing to improve conversion rates and deepen engagement with customers.

Better understanding of the ROI of each software application and device in use, a plus break down of the revenues and costs of different digital transactions

Analytics on customer product use, transaction types and amounts

Better regulatory compliance by identifying suspicious transaction behavior and alerting to specific response code errors.