In a large enterprise setting, there are likely to be hundreds or perhaps even thousands of network components through which network traffic flows constantly.
Enterprise networks are a complex mix of Local Area Networks (LANs,) which connect to Wide Area Networks (WANs) and cloud services, connecting thousands of devices, applications and people to each other and to the internet.
These network connections are vital to every organization so that they can exchange and share data, communicate from any location in the world, from any device and efficiently carry out business processes.
If a network is the beating heart of an organization, it's not surprising that enterprise network management systems are the vital arteries that maintain a network's health, and keep their enterprise operations working as they should.
In this guide, we'll explain in detail the importance of enterprise network monitoring, the pitfalls of network downtime, and how organizations can protect their network infrastructure and maintain maximum network performance at all times. We'll also discuss some of the upcoming developments, and what enterprises can expect in the near future of network management systems.
What is enterprise network management?
Essentially, enterprise network management is the process of building, managing and maintaining an enterprise organization's network infrastructure. Network management includes overseeing:
Hardware and software components

Configuration management

Network security management

Performance management

Access management

Data integration

Fault management

Capacity planning

Network analytics
With the advent of remote and hybrid working, network management is not only a crucial part of business operations, but it has become more complex. Within each element of a network's infrastructure are a host of other intricate components that traditional network monitoring tools may no longer be equipped to handle.
This network complexity is ever increasing with the rise of edge computing, cloud computing services, and the Internet of Things (IoT), so network managers need to be constantly on top of their organization's evolving network operations and infrastructure.
Why is network management important?
Without the proper network monitoring systems in place, large enterprises have no way of improving network performance and availability. They have no way of planning efficiently for future expansion, or controlling security. IT teams can't readily identify or resolve problems in real time.
Let's take a more in-depth look at the importance of enterprise network management systems in today's modern networks.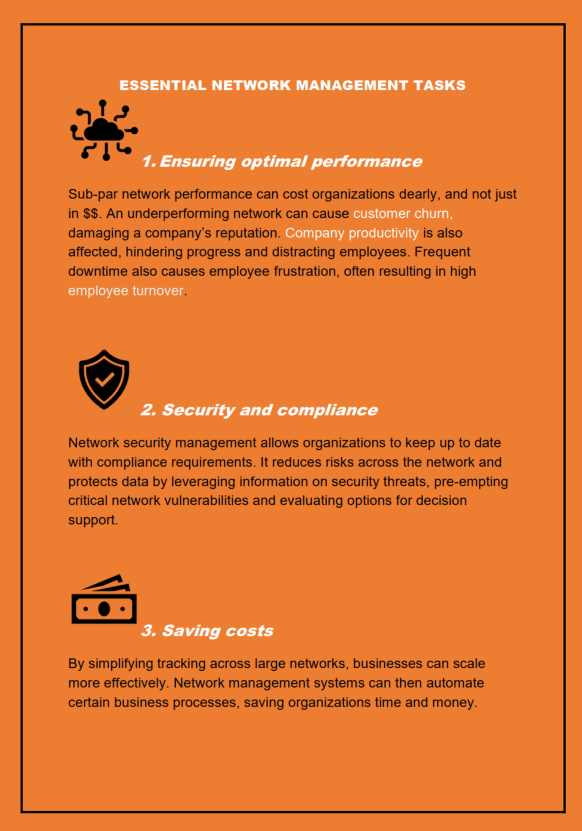 Optimal performance
With a distributed workforce consisting of dispersed employees, and possibly hundreds of network devices, a dynamic business environment can't afford to have their essential networks under-performing. Optimal performance promotes increased productivity and usability, and the efficient exchange of data, and this is achieved by managing network latency, traffic volume, network bandwidth, and traffic direction.
In the digital age, we depend on fast, reliable, secure network data transfer with 24/7 availability. Every network infrastructure device is part of a link to efficient communication, collaboration and security.

Sub-optimal and outdated network elements can limit available bandwidth, increase latency and impact network performance.

An entire network can become overwhelmed if there are sudden surges or spikes in traffic.
There are potentially hundreds of performance issues capable of deteriorating the end-user experience, so the ability for network teams to analyze performance data is crucial.
Security & compliance
With the ever-present threat of security risks, managing a network's security is a huge priority for network administrators.
A network consisting of physical and virtual firewalls requires network management solutions that can give network managers a high level of visibility into network behavior.
These solutions should also allow IT teams to:
Automate device configurations

Adhere to compliance requirements and implement global policies

Easily view firewall traffic

Generate reports when needed

Provide a single, clear management interface for physical and virtual systems.
Inconsistencies with network configurations can make the network vulnerable to sophisticated threats and regulatory noncompliance.
Cost savings
Efficient network management within an IT infrastructure directly translates to lower costs including software, hardware, business operations, services, and network maintenance.
Cloud-based management systems offer scalability, flexibility, and cost-efficiency eliminating the expenses that come with on-premises infrastructure and the hardware and maintenance costs associated with traditional network management systems.
Additionally, centralized access to network management tools enables efficient remote network administration and reduces physical travel costs.
A cloud-based IT management infrastructure also allows network managers to create a seamless environment enabling device interoperability, streamlined business processes, efficient data transfer, and handling.
By making tracking activity across large networks easier, businesses can scale more effectively. Network management systems can also automate business activities, saving companies time and money.
Best practices for network management
Modern enterprise networks are not just made up of a host of PCs and servers. Today's modern network includes an ever-expanding variety of new technologies, machine learning systems and new tools, and the rise of network automation.
Part of network management for many organizations includes the integration of smart devices like building security and climate controls, cameras and monitors, even vending machines. A State of the Internet of Things (IoT) report by research company IoT Analytics predicts 25 billion connected IoT devices by 2025.
Let's look at what we consider to be 5 of the most important network management best practices and some future trends in network management.
1. Understanding a network's infrastructure
Effective network management starts with a clear understanding of the network. Network managers need to have a clear picture of each element of its structure by mapping its topology and identifying the network type and devices used to build it.
Network managers need to familiarize themselves with the Open Systems Interconnection model OSI model, which provides a framework for understanding how data flows through a network.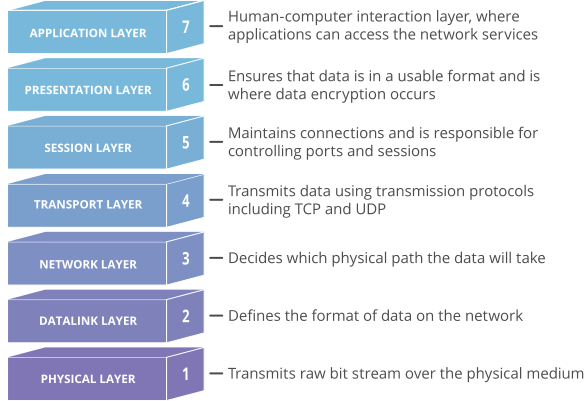 Image source: Cyberhoot
The more information that network managers have in hand, the better their position to develop a management plan that meets the business's specific needs, and make informed decisions about capacity planning.
For this reason, one of the best practices in network management is to identify the most critical infrastructure elements and give them priority attention. This means ensuring they are properly configured, monitored, and maintained.
2. Understanding security and compliance requirements
Network managers are responsible for managing network protection and security. This includes company policies, business processes, and practices for monitoring network health, detecting vulnerabilities, and preventing unauthorized access.
Compliance is another vital network management area to avoid costly fines and other regulatory sanctions. A thorough understanding of the requirements is essential, so network managers need to keep on top of compliance requirements. Depending on location and industry, this includes laws such as HIPAA, PCI DSS, GDPR, etc.
3. Maintaining staff training and education
It stands to reason that the better trained your employees are, the better they will be at their jobs. But regular upskilling and training keeps staff more confident and motivated, and it's this extra efficiency that helps boost an organization's bottom line.
With people on your teams from diverse backgrounds with unique personalities and skillsets, training ensures that everyone is on equal footing, and all ideas are valued.
Additionally, employees need to be regularly informed and updated with basic information on security measures, such as password protection and avoiding phishing, scams and cyber breaches.
By ensuring staff are updated on all aspects of network management, administrators can help create optimal business performance.
4. Monitoring the network
Monitoring keeps an enterprise network performing at optimal capacity. By implementing monitoring and performance solutions, network managers can determine baselines for normal network behavior. Monitoring also enables IT teams to identify potential problems by tracking data from multiple users and devices.
IT leaders rely on real time monitoring for multiple functions including reporting, traffic management, advanced analytics, problem resolution, performance data, uptime, and event monitoring. Using network monitoring tools also provides auditing, root cause analysis and fault management.
The goal of a performance monitoring tool is to enable networks to run at optimal performance. When problems do occur, network monitoring provides quick notification of what's gone wrong, and where, with the potential to proactively prevent problems recurring in the future.
5. Creating a disaster recovery plan
An important element of network management best practices that can often be overlooked is disaster recover. As we are well aware after the COVID crisis, a well-crafted disaster recovery plan can mean the difference between seamless business continuity and the collapse of an organization.
Identifying the hazards (fire, earthquake, flood, power outages, cyber attacks, internal security breaches and pandemics to name a few) allows network managers to create an effective disaster recovery plan and develop strategies to mitigate their effects.
Measures could include backing up data, decommissioning redundant systems, developing evacuation procedures, restoring alternative access to critical applications, and connectivity options.
What to expect for enterprise network management
Enterprise network management is constantly evolving, along with the technology that is shaping the networks themselves. Cloud migration, security challenges, hybrid and remote working models have reshaped the way a service provider delivers their services, and the network elements that drive business operations today.
How modern network architecture is changing
Employees need to be able to connect to the network from both inside and outside the office, making a traditional centralized networking infrastructure no longer efficient.
Today, many hardware devices are now available as software or as cloud services, cutting costs, increasing efficiency and enabling scalability.
Image source: Cloudflare
Secure Access Service Edge (SASE)
Secure Access Service Edge, or SASE, is a cloud-based IT model that combines software-defined networking, or Networking as a Service (NaaS) with Network Security as a Service (NSaaS). This provides better network control and visibility into the users, traffic, and data accessing a corporate network.
Networks built with SASE are more flexible and have the ability to scale more easily, with efficient connectivity from any device, to globally distributed employees and offices.
Image source: Cloudflare
Zero Trust Architecture (ZTA)
The security strategy of Zero Trust systems in enterprise networking is based on the principle of "never trust, always verify". It was designed as an approach to network security issues, that protects an organization by eliminating implicit trust and continuously validating every stage of a digital interaction.
Its goal is to protect modern network environments and enable secure digital transformation by using strong authentication methods, and leveraging network segmentation.
Zero Trust also requires consideration of encryption of data, securing email, and verifying the hygiene of assets and endpoints before they connect to applications.
Automation & AIOps
According to Gartner, "AIOps combines big data and machine learning to automate IT operations".
It refers to platforms that leverage machine learning (ML) and analytics to automate IT operations. AIOps harnesses big data from operational appliances and has the unique ability to detect and respond to issues instantaneously.
AIOps also works alongside ITOps, DevOps, and SRE (Site Reliability Engineering) Teams using automated systems to help execute tasks more quickly and efficiently with fewer manual processes. As a result, it prevents network roadblocks, manages processes, and helps achieve continuous services.
For more information, read our comprehensive guide
Managing UCC Complexity in Complex Times
How IR can help with Network Management Solutions
Our powerful suite of monitoring and network management solutions enables complete end-to-end visibility across multiple vendor technologies, apps, and networks.
This allows advanced analytics and enables a drill-down of network quality, allowing IT to rapidly identify and resolve incidents before they become widespread productivity-impacting events.
Critically, IR's Collaborate solution delivers the comprehensive ability to manage performance that extends across both cloud and on-premises solutions, giving visibility into complex hybrid environments.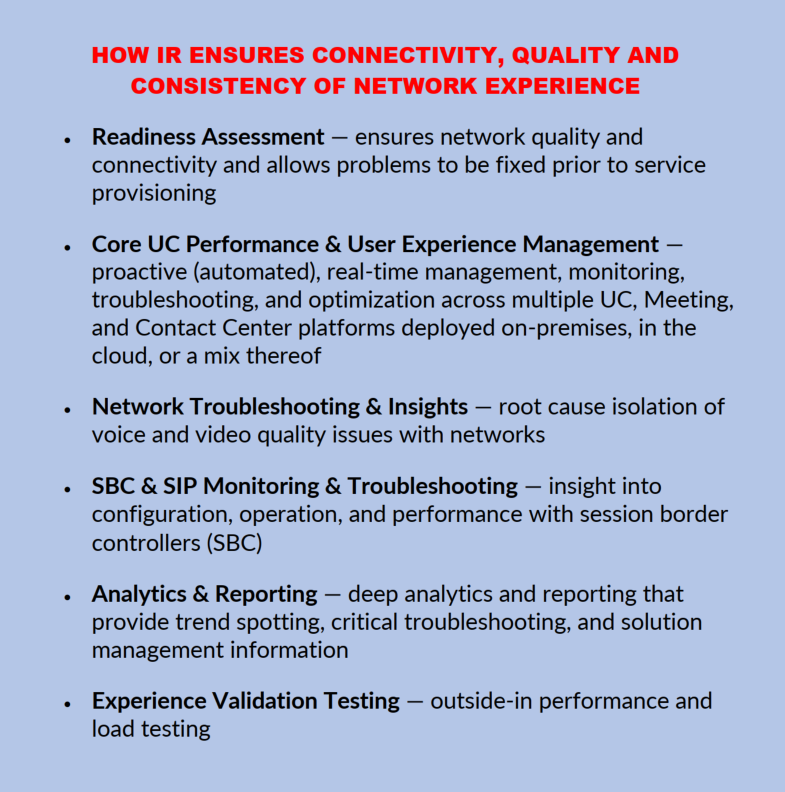 Watch our webinar
Steps to Manage a Highly Distributed and Collaborative Enterprise