The business world globally is embracing cloud technology and adopting cloud as part of their digital transformation strategies.
There's no doubt that within a cloud environment, businesses have almost unlimited potential to thrive. Cloud platforms allow businesses to increase operational efficiency, reduce costs, improve agility, and achieve business continuity.
But for enterprises to successfully leverage cloud capabilities, they need a good cloud migration strategy, and this begins with migrating their existing computing architectures to the cloud, modernizing cloud-based architectures, or even a combination of both.
Since the pandemic, and the economic upheaval it created, cloud migration has accelerated, and is now undergoing an irreversible growth trajectory. The estimated value of the global cloud computing market will see a figure of $1,240.9 billion by 2027 (at a compound annual growth rate of 17.9% since 2022).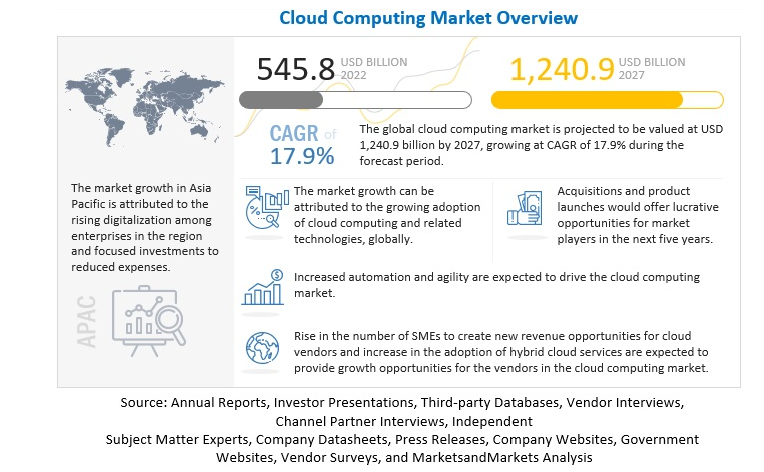 Today, it's not a matter of 'if' businesses will go through a cloud migration process - it's a matter of 'it needs to happen now'. Integration is a strategic component of every digital transformation process that involves cloud adoption.
In this guide, we'll take you through the key cloud migration strategies, the different types of cloud-based platforms, and best practices for modernizing your existing infrastructure as you move your digital assets to a cloud infrastructure.
Creating a Robust Cloud Migration Strategy
Cloud migrations can be massive undertakings, so a well-planned cloud migration strategy is important for cloud fluency. When businesses start to migrate from on-premise and hybrid systems to cloud technology, there's a lot to consider. Large enterprises in particular can often struggle with cloud adoption because of the interconnectedness of many of the elements that need to change, and the sheer complexity of re-designing, or retiring legacy systems.
Cloud strategy is intrinsically driven by an organization's business vision, their goals, and budget, so every business will undergo a different migration process.
Here are some of the key steps in a cloud migration strategy that need to be considered by all stakeholders before going ahead.
1. Define the business purpose for your cloud migration process
Part of a cloud migration strategy involves enterprises carefully deciding what their business goals and priorities are, then developing them based on those priorities. Do you wish to:
Accelerate time-to-market to gain a more competitive business advantage

Minimize downtime, outages, and performance glitches

Reduce the costs of updating, replacing and maintaining old legacy software

Reduce the overhead costs of maintaining and operating physical data centers

Increase flexibility and business agility

2. Decide what type of cloud migration deployment models you need
Each organization will need to assess their business needs when considering which type of cloud deployment model(s) they choose.
Image source: AVI Networks
Public Cloud - Public cloud providers allow quick access to computing resources, usually with a pay-per-use cost structure.

Private Cloud - Provides the greatest level of control over your resources and data. Because your organization purchases, maintains and installs the hardware, this involves substantial cloud costs, but produces the most cost-efficient solution over the long term. A private cloud is hosted in your data center and maintained by your IT team.

Hybrid Cloud - A hybrid cloud environment combines private and public cloud elements by enabling data and applications to be shared between them. This allows organizations to scale seamlessly between their own infrastructure and the public cloud.

Multicloud - Different types of workloads often have different requirements, so a combination of services from different cloud service providers, including their own cloud resources can be a good approach. Multicloud provides flexibility over different price points, service offerings, capabilities, and geographic locations.
3. Determine the cloud service infrastructures you will likely use
This includes infrastructure, platforms, or software that are hosted by third-party providers.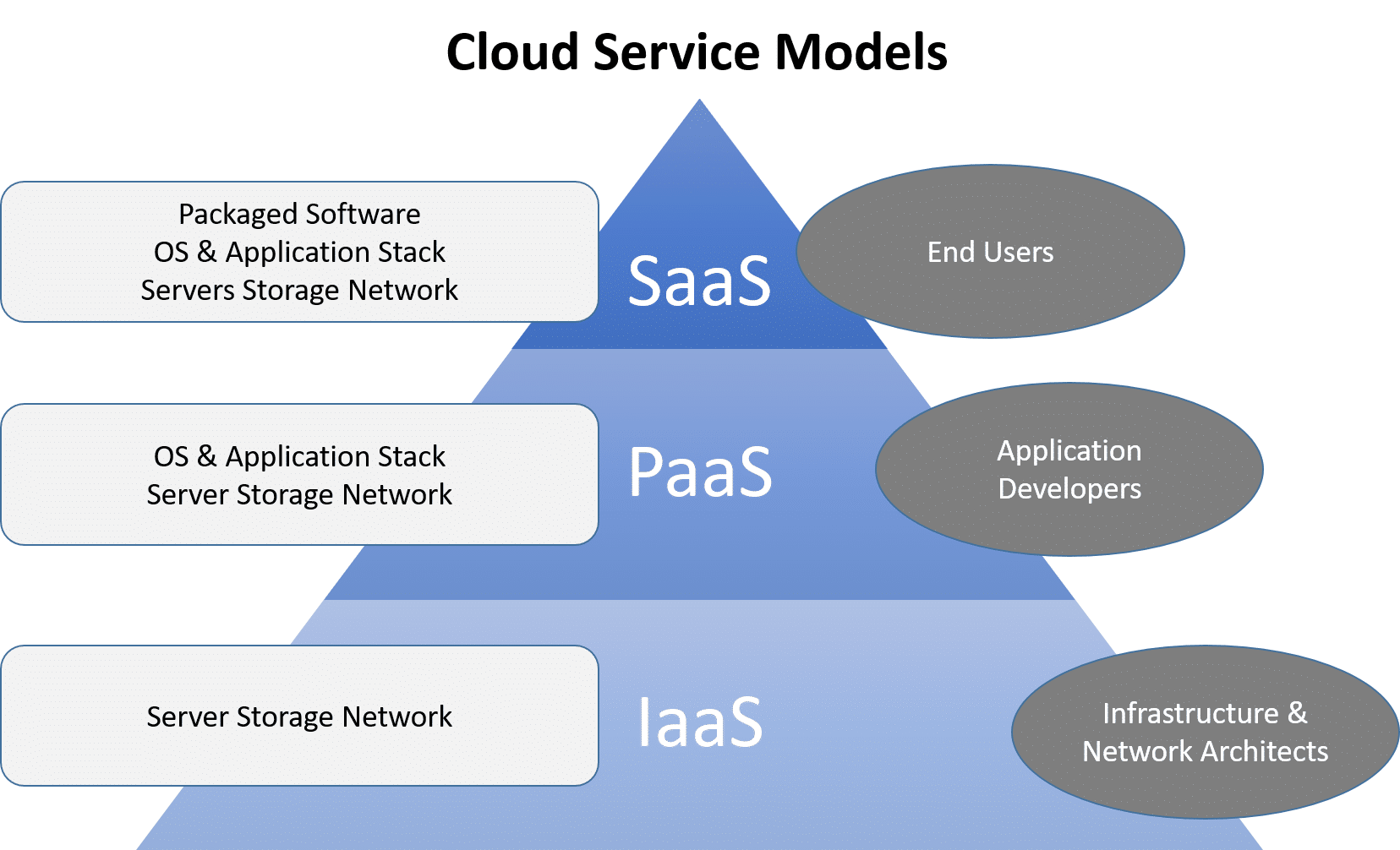 Image source: Uniprint
There are multiple cloud services, and almost everything you need in the business world is available 'as-a-service'. But the three main types are:
IaaS (Infrastructure as a Service) - A cloud based infrastructure provides scalability, is customizable and is a way for businesses to access additional resources to develop their own projects without having a local infrastructure. Can be included in a public, private or hybrid cloud model, where cloud providers host physical hardware in data centers.

PaaS (Platform-as-a-Service) - allows developers and teams to build applications and software without having to maintain it. While the core architecture remains the same, PaaS applications can support a wide variety of programming languages, and deliver more flexibility than an application hosted on a local infrastructure.

SaaS (Software as a Service) - A SaaS platform provides on-demand software, or hosted software, and is run on SaaS cloud providers servers. The cloud provider manages access to the application, including security, availability, and performance.
4.Choose a cloud provider
Choosing the right cloud providers is a critical aspect of a successful cloud migration strategy. Whether migrating workloads and infrastructure onto Google Cloud Platform, Amazon Web Services (AWS), Microsoft Azure, or leveraging a multi-cloud environment, you'll need to consider what cloud providers offer. Most cloud providers offer managed services that can reduce your operational overheads and simplify the process of maintenance, including upgrades.
When creating your migration strategy, as well as considering your key performance indicators and cloud vendor, make sure that you're clear about your cloud adoption needs:
Support - Can you manage the new environment with existing in-house IT skills? Will you need 24/7 support? Is sufficient monitoring included?

Deployment and migration - Does the provider conduct testing? Exactly what migration services are included by default?

Availability and HA - How much uptime do you expect from the provider? How many of your applications require high-availability?

Security and regulatory compliance - Is your data required to be held within a particular geographic area? Do you need to comply with specific industry regulations or standards?

Data center location and security - What security measures does the provider include by default? Where are data centers located and are they secure enough?

Budget - What are your performance expectations from your cloud environment, and how much will it cost? Will the new environment require integrating new talent to your IT team?
The Benefits of Migrating to the Cloud
Cloud benefits are plentiful, and a good cloud adoption framework can be transformative for all types of enterprises. Here are some of the areas where your business can reap the benefits: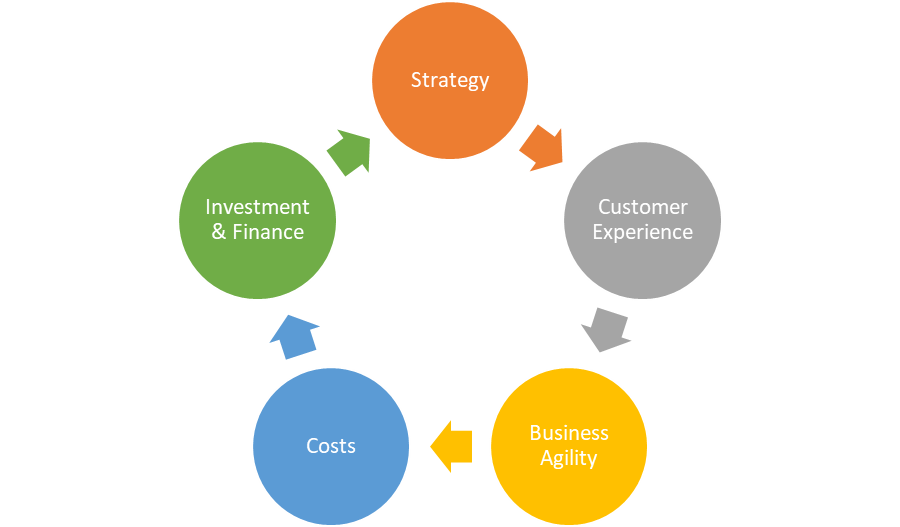 Strategy
Cloud migration can improve TTM (Time To Market), one of most crucial product development key performance indicators or metrics.

Cloud native platforms can provide a high degree of agility, flexibility, scalability, and security
Investment and finance
Cloud computing can improve ROI

Reduce the cost of new opportunities

Potentially keep capital costs down
Customer Experience
Cloud native platforms allow unique insights into customer behavior, allowing better customer engagement

The ability to analyze the right kinds of data to allow better marketing opportunities
Cost
A cloud first strategy can reduce the cost of IT ownership

Allows for increased automation to streamline operations and save on capital investment
Agility
Platforms and applications with cloud native features can improve business agility

Improve reliability and accelerate the introduction of new capabilities
The Challenges of Cloud Migration Planning
Some of the strategies covered so far can get businesses started on their cloud migration journey. AWS, Microsoft, and Google all provide a cloud adoption framework, which creates a baseline for organizations to use when mapping out their cloud migration journey. A cloud migration framework shows a structured path to the cloud and includes both technical and organizational aspects.
In their Cloud Fluency Guide, DeLoitte have set out some typical challenges that businesses can face before they begin their cloud migration journey, confirming the need for a well planned adoption framework.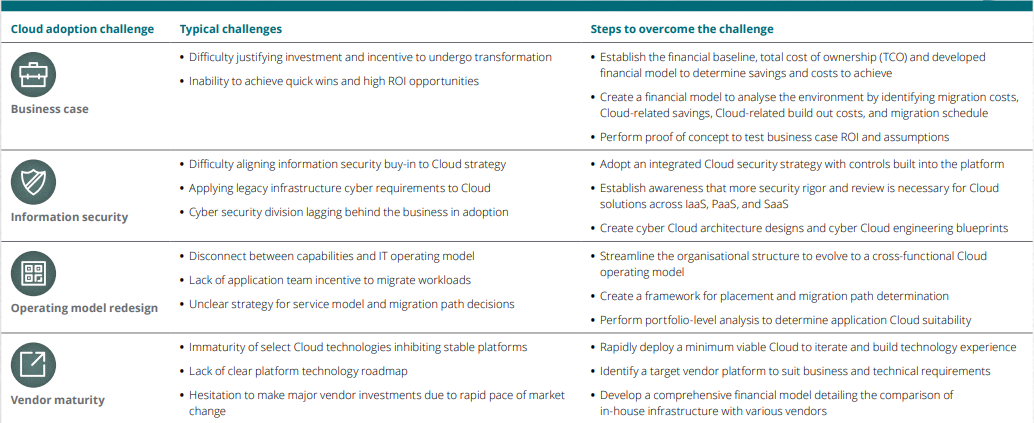 Image source: DeLoitte
Cloud migration challenges for IT teams
The significance of the cloud and its impact on IT teams is becoming a driver of a fundamental change in the role of technology leaders within businesses.
Today, CIOs are no longer purely support and IT Ops focused. Instead, they're becoming more involved in business operations, and as co‑creators, are driving business strategy and enabling change within their organizations.

Image source: DeLoitte
The Challenges of Cloud Sprawl
Cloud sprawl can be another common cloud migration issue, meaning that an organization is unable to gain complete centralized visibility and control of all its cloud infrastructure and ecosystem.
For example, your business may be trying to manage on-premises infrastructure, physical servers and existing applications, while trying to migrate, and at the same time juggling a possible multi cloud strategy, or even providers. This scenario makes it impossible to have full accountability of all the resources in use.
To alleviate this, conduct an IT function audit before implementing your migration strategy. This way, you can clearly understand the existing business processes, and determine what it will look like after the migration. After demolishing the silos, it's important to implement visible accountability through monitoring and performance management dashboards so that you manage your cloud environment and costs in one place.
"On the AWS management console, we had to go into specific log groups to avail some of the AWS CloudWatch logs. Even with some of the dashboarding capability within AWS, it was hard to get a single pane of glass across multiple accounts. A single pane of glass for incident and problem management is critical". Shruthi Anantharam, Senior DevSecOps, Tokio Marine HCC
How IR Can Help With your Cloud Migration Strategy
We've mentioned the importance of monitoring and clear visibility into your entire IT infrastructure. But this is even more crucial when you migrate to the cloud.

Most cloud providers will offer some form of security analytics or monitoring throughout their cloud environments, but what if your organizations is using more than one cloud?
If your IT environment is multi-faceted, with public and private clouds, on-premises as well as cloud infrastructure, then you need to access controls to your entire ecosystem.
Gaining full visibility will enable you to unlock even greater potential from your cloud environment.

By using IR Collaborate, you can gain complete control over the performance of your cloud-based assets.
This gives you the tools to make better decisions about resources and cost optimization.

You'll have the means to capture the right data and analyze it properly.

You can enhance your security and protect sensitive data through real-time threat monitoring and response, resulting in quicker and more secure cloud computing.

You'll have the means to test voice, video, web, and collaboration components of your ecosystem.

You'll have end-to-end, multi-vendor visibility from a single viewpoint.



Find out how our solutions can help you. Book a demo