In today's work-from-anywhere culture, it's vital that your communication devices are working properly. A malfunctioning audio device or headset can derail an important meeting, waste time and affect customer service and productivity.
According to a review by the New York Times product testing department Wirecutter, the Jabra headset ranks at the top. The Jabra Evolve range has been found to be the best in class, with the Jabra Evolve 2 65 and the Jabra Evolve 2 30 rating as the best wireless and wired versions of the Jabra headsets respectively.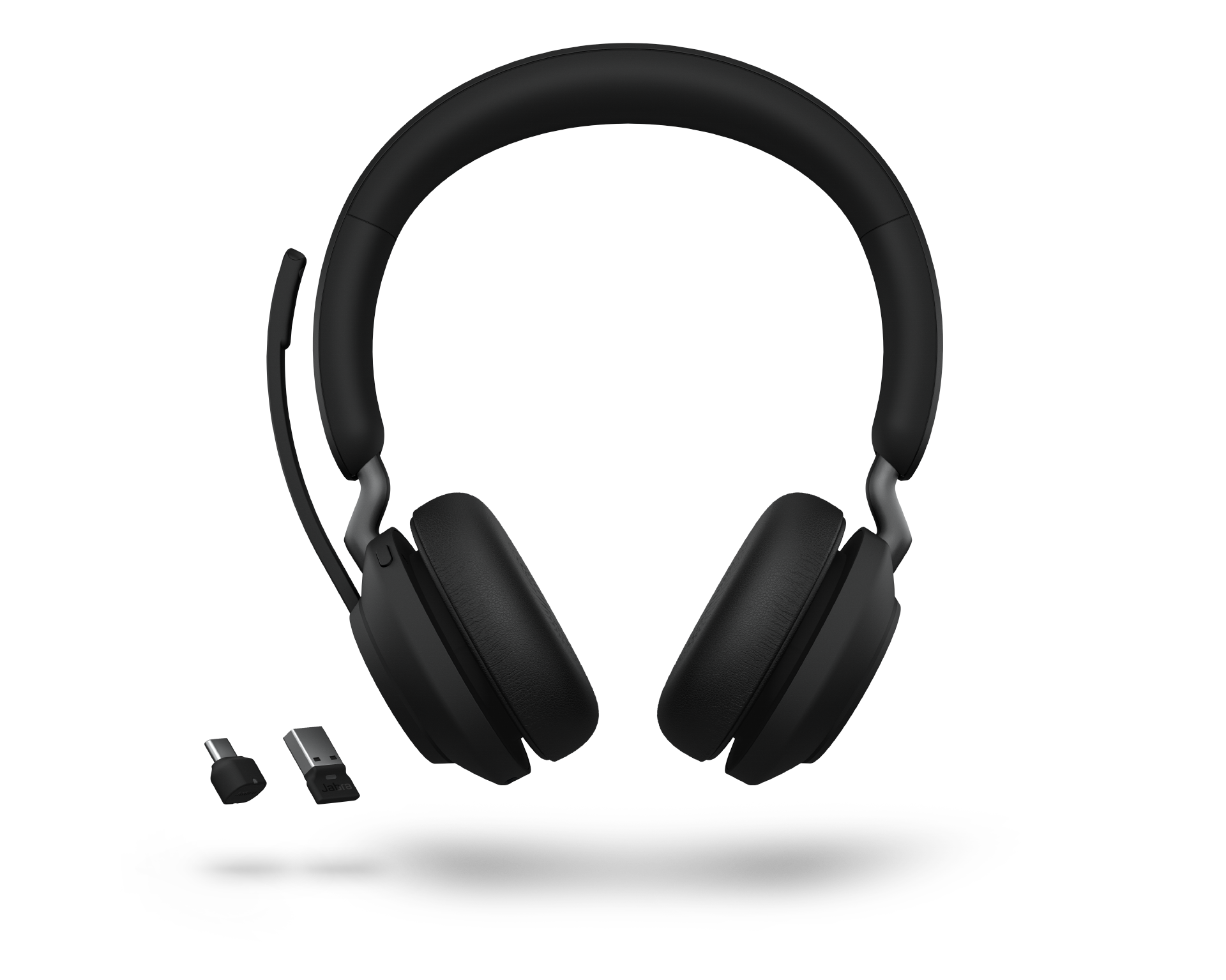 But no device is infallible, and there's nothing more frustrating when you find your Jabra headset not working when you're in the middle of an important meeting or voice chat.
In this guide, we'll aim to give you the best troubleshooting tips and fixes for your headset which will cover the popular Jabra Evolve series, when, or if it decides to stop co-operating.
For more information on getting your Jabra headset up and running, read our guide to Jabra Bluetooth Pairing
Wired or wireless Jabra device?
One of the most frequently asked questions for Jabra is 'Which is better, a Jabra wireless headset or a wired headset?' Here are some points to consider, which might also affect the troubleshooting processes when you find your Jabra headset not working.
Most people appreciate the freedom of movement with wireless headphones, and no wires or cables. Wired headphones on the other hand generally provide better quality (high fidelity) sound, and are less prone to connectivity problems.
Price point is another consideration, as wireless technology (for any audio device) tends to be more expensive than wired devices. Battery life is also something you need to think about with wireless headsets, so it's important to look for models that have power-saving features.
You'll need to keep an eye on the cables on your wired headsets. Broken wire or over-stretched cables are one of the key reasons why most wired headphones break.
Compatibility is also something to consider, particularly if you have an older Bluetooth-enabled computer or mobile device. You need to make sure your wireless Jabra headphones or headset can connect.
What is Jabra Xpress?
Before we start on the troubleshooting side of things, it's worth mentioning Jabra Xpress. This is a web based Jabra support solution that lets you deploy software, firmware and settings for an infinite number of USB Jabra headsets 100% remotely.
There are two key benefits of using Jabra Xpress; for new device installation and deployment on a larger scale, and for updating and managing existing headsets and audio devices
Registration in Jabra Xpress
To get started, go to the webpage xpress.jabra.com.
Click on Register
In the Login dialogue window, click Register to setup your user profile:
Once registered you can log in using these credentials. Keep login details secure, because if for some reason you 'forgot password details', there is no option to submit 'forgot password' requests. Jabra suggests creating two admin users the first time you log in, or contact Jabra support for an alternative solution.
Jabra headset audio not working
There could be a variety of possible reasons why your Jabra headset is not functioning the way it should.
It could be hardware issues, software issues, physical connections and more. These troubleshooting steps cover most of the most common audio issues, and even if you're not a tech enthusiast, they'll work in most cases. If not, you can contact Jabra support, and choose the Jabra service you need, depending on your device.
Windows Audio Troubleshooter
As the following fixes for your Jabra device pertain to Windows 10, a good place to start is with Windows Audio Troubleshooter, which can diagnose and fix a variety of common sound problems.
Type "audio troubleshooter" into the Windows 10 search box

Select Find and fix audio playback problems.

When the troubleshooter appears, simply follow the on-screen prompts.
Sound Settings
Check your sound settings to make sure your audio devices aren't muted and haven't been disabled.
Right-click the Speakers icon on the taskbar, and then select Open Volume mixer

Check the volume controls for your devices. Make sure none of them are muted. (a red circle with a line through it next to the volume control). In that case, select the volume control to unmute.

Check your device properties to make sure that your devices have not been disabled by mistake. Select Start > Settings > System > Sound

Select your audio device, and then select Device properties. Be sure to select Device properties for both the output and input devices.

Right-click any empty space and tick Show Disabled Devices . If your Jabra headset is disabled, right-click it and click Enable

Make sure the Disable check box is cleared for the output and input devices.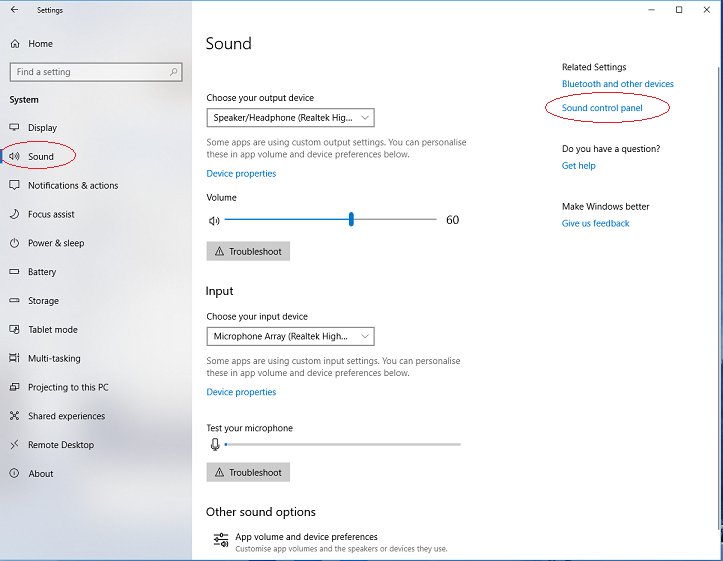 Check Audio Drivers
Audio not working can be caused by outdated or malfunctioning drivers. If the audio driver on your computer is corrupted, faulty or outdated, your headset may not connect to the PC and will not work correctly. You may find the mic is malfunctioning or there's no sound at all.
In this case, you should run a scan and install the latest correct audio driver.

If that doesn't work, try uninstalling the audio driver (it will reinstall automatically).

If this fails, try using the generic audio driver that comes with Windows.

If you're having audio issues after installing updates, try rolling back your audio driver.

If you still can't make your Jabra headset work, try to contact support, to see if Jabra support staff can help resolve the issue.
Set your Jabra headset as default device
If you're connecting a wired audio device using a USB port or HDMI, you may need to set that device as the default.
In the Windows search bar type control panel, then select it from the results.

Select Hardware and Sound from the Control Panel, and then select Sound

On the Playback tab, right-click the listing for your audio device, select Set as Default Device, and then select OK.
Check cables, sound ports, jacks, speaker, volume and headphones
Make sure all cords and cables are plugged in, and/or check your speaker and headphone connections for loose cords or cables.

If you have multiple 5mm jacks to plug into, for example on a surround sound system, check that cords and cables are each plugged into the correct jack.

Make sure power is turned on and check the volume level.

Check the mute setting, and try turning up all the volume controls. Some speakers and apps have their own volume controls, so check them all.

Try connecting your speaker and headphones to a different USB port.

It's possible that your speakers won't work when your headphones are plugged in. Unplug your headphones and check if this is the case.

Right-click the speaker icon at the lower-right corner of the taskbar and select Open Volume mixer. Hold and drag each slider to turn up the volume.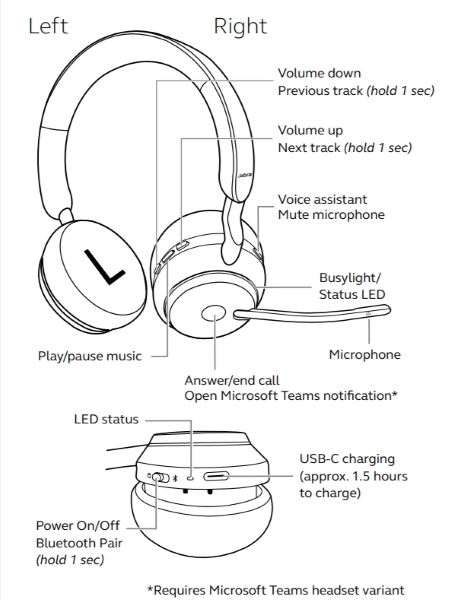 What to do if these steps don't work
You may be experiencing connectivity issues if using a wireless Jabra headset. Check that your device's Bluetooth is switched on and that the headphone is paired. A low battery level on Bluetooth headsets is another frequent cause of connectivity issues. For more specifics on Jabra Bluetooth pairing, read our guide.
Also, make sure that all the previously paired Bluetooth devices are disconnected, as they connect automatically every time you turn on your headphones.
If you still find your Jabra headset not working despite trying everything, then try contacting Jabra support and ask them to send contact support instructions.
What is Jabra Direct?
Jabra Direct is a desktop software solution designed to create full integration of your softphone and headset connectivity via a user friendly interface. The seamless integration between device and the softphone allows enhanced mobility benefits and the ability to multitask while on a call.
Jabra Direct has two core functions:
Readiness status – of your device and softphone via a dashboard

Headset personalization via settings, firmware updates and call control
With regard to your Jabra headset not working, there may be other related frequently asked questions, so if it's not covered here, then Jabra technical support can help.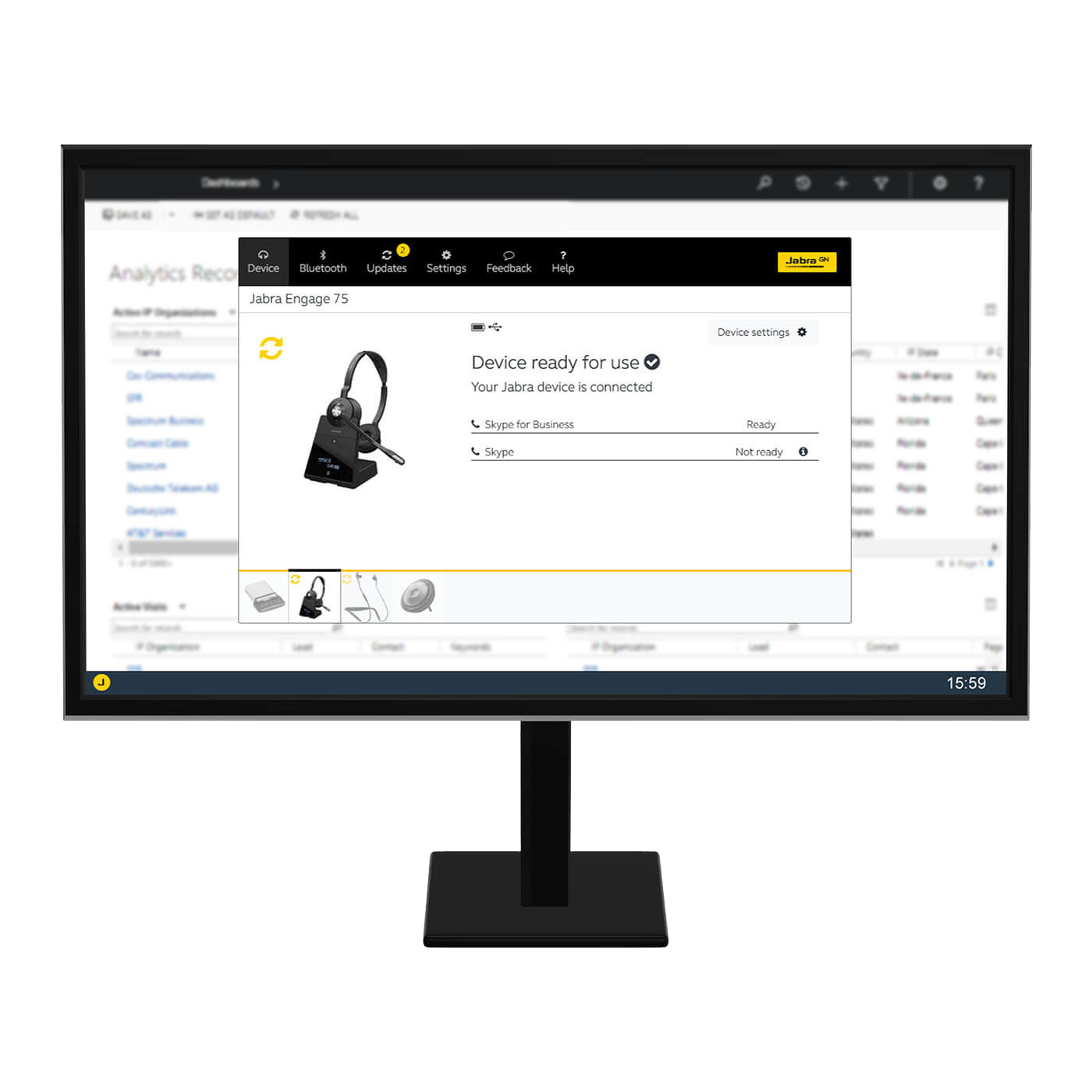 How to stay connected with monitoring, troubleshooting and performance management
The flexibility of hybrid working means that businesses today have dozens, if not hundreds of endpoint users, and multiple devices in their UCC arsenal, many of which are BYOD. Keeping track of them all, and ensuring they're working properly at the same time is impossible unless you have a third party monitoring solution.
IR Collaborate gives you the ability to keep track of which applications and devices are being used by which employee, and the ones that may be causing system glitches. IT teams can track apps and devices within your network, pinpoint their locations, and even determine data usage.
Full visibility and endpoint accountability can even enable teams to prevent problems before they happen, which is invaluable to maintain uptime and maximum productivity.
Lack of visibility into device issues affects every end user, with a knock-on effect that negatively impacts different groups and teams within your organization.
For more on troubleshooting common Unified Communication problems, try these guides: