The only certain thing in the business world is that nothing is for certain. One moment, your UC infrastructure is sound, data management is under control, critical systems are operating as they should - then disaster strikes.
In today's constantly evolving business landscape where there's zero tolerance for outages and downtime, a simple human error, a cyber attack, a natural disaster - or a global pandemic - could see your business grinding to a halt.
Learn more about disaster recovery and how to protect your technology ecosystem from cyber issues with our testing guide.
According to a 2021 report by IBM security, the average total cost of a data breach increased over the preceding twelve months, by nearly 10% to $4.24 million, the highest ever recorded. And costs were even higher when remote working was presumed to be a factor in causing the breach, increasing to $4.96 million.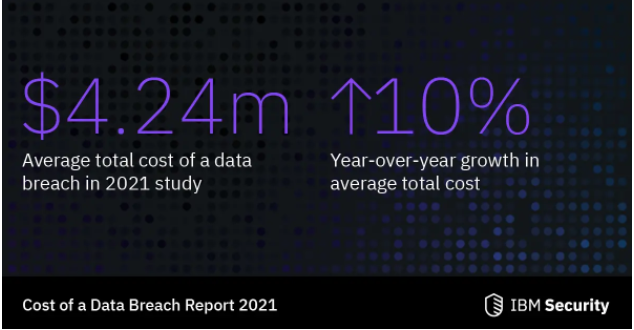 Image source: IBM
No matter what the disaster, it can disrupt a business's carefully laid plans and projections to a point of complete chaos. Supply chains may be disrupted, employees might be unable to get to work, and vital facilities or equipment could be damaged.
Success in business is frequently attributed to the proactive decisions made at the management level, but it involves much more than that. Just as often, success or failure is determined by how business owners and company executives handle situations that are out of their control.
What's this guide about?
So how do you ensure business continuity and disaster recovery when the unforeseen happens? In this guide, we'll talk about Disaster Recovery (DR). Topics will cover:
What is disaster recovery, and why it's necessary for every organization
The elements of a successful disaster recovery plan
The different types of disaster recovery
How disaster recovery plans can facilitate rapid recovery and ensure business continuity and resilience.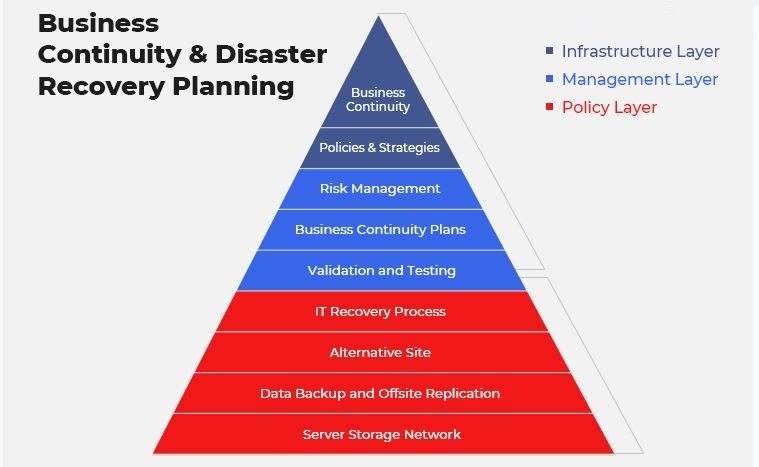 Image source: Temok
What exactly is a disaster recovery plan?
Disaster recovery is an organization's method of regaining access and functionality to its IT infrastructure after events like natural disasters, power outages, cyber attacks, or even business disruptions related to the COVID-19 pandemic.
Depending on the business affected, a variety of solutions can be part of a disaster recovery plan. As DR is one aspect of business continuity, planning for disasters, whether natural or man-made, should be just as high a priority for businesses as having a proactive growth plan for the future.
Disaster Recovery plans are typically part of a more extensive initiative which is commonly known as Business Continuity Planning (BCP). After a thorough review of business processes, procedures and planning, disaster recovery plans should be well rehearsed so everyone within the organization is familiar with their role should the unforeseen occur.
Why is a disaster recovery plan necessary?
Disaster recovery operations are different for every industry, but with the advent of remote and hybrid working and the rapid evolution of technology, organizations worldwide need a basic set of protocols for the following reasons:
The dependency on computer networks and electronic delivery systems increases the odds of everyday businesses being disrupted by failure of one of their core systems.
A formal process to deal with potential accidents, disasters, data breaches or outages is needed and in some industries, required.
Everyone wants to lower the potential costs of dealing with a disaster.
Because of the speed at which technology is changing, there's an increased chance that knowledge gaps can lead to inadequate IT security precautions.
An effective system to backup and recover essential business data is vital in case of network shutdown.
Avoiding the potential failure of a business and the collapse of its IT infrastructure in the face of an unforeseen, catastrophic event.
How does disaster recovery work?
Disaster recovery relies on replicating data and computer processing in an off-premises location not affected by the disaster. When physical servers go down and data loss is threatened because of a natural disaster, equipment failure or cyber attack, a business needs to recover lost data from an alternative location where the data is backed up.
Ideally, an organization can transfer its computer processing to that remote location as well in order to ensure data protection and continue operations.
Steps to creating a disaster recovery plan
Organizations can follow certain pre-determined guidelines when creating a DR plan, like listing an inventory of hardware and software ranked in order of priority. A list stating who is responsible for what, and the identification of backup employees. Additionally, businesses should review and test their DR plan regularly to ensure that it works.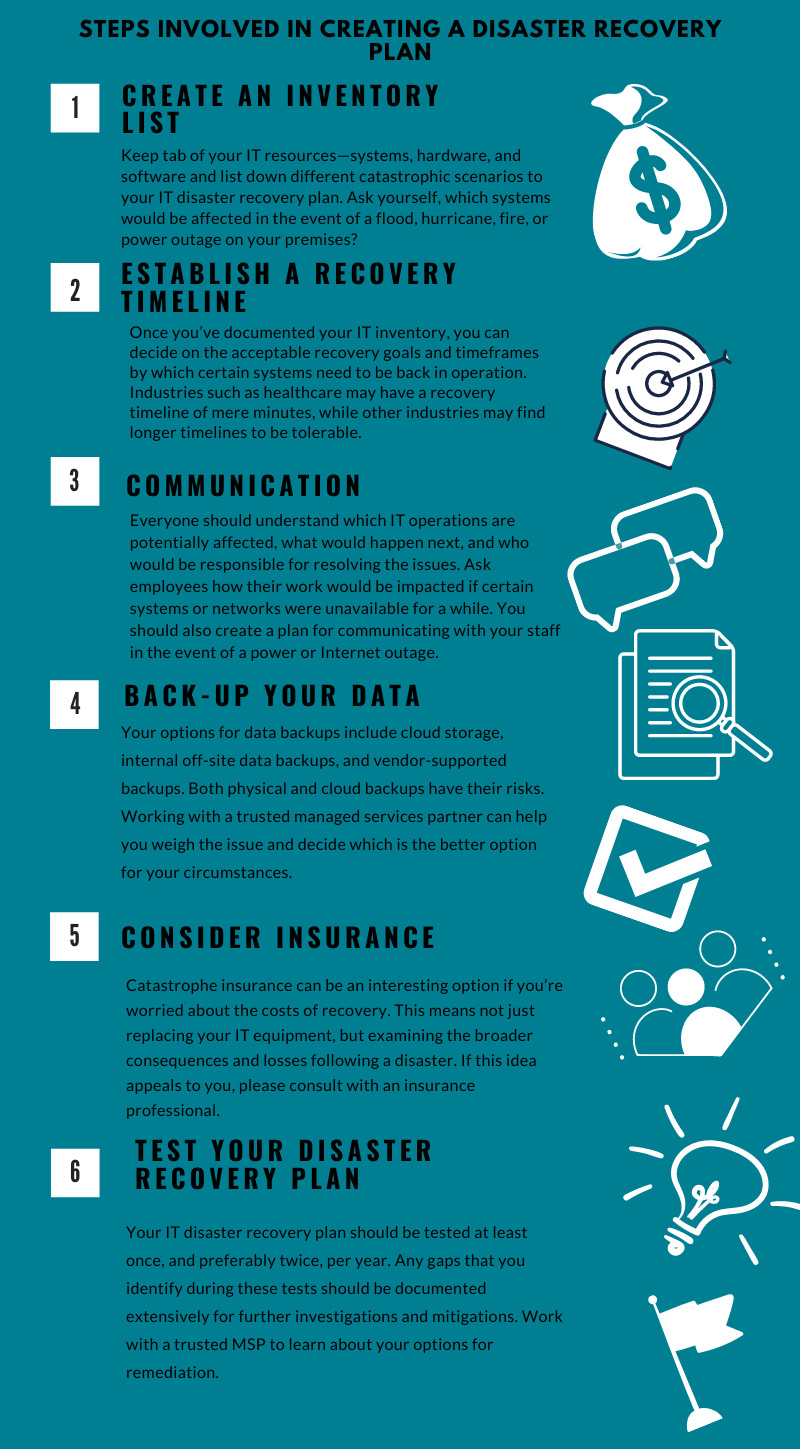 Image source: TRG International
What are the different types of disaster recovery?
Organizations can implement a variety of disaster recovery methods, or combine several, depending on the nature of the disaster, the type of organization, its infrastructure, and its own disaster recovery plan:
Back-up
Backup solutions are the simplest type of DR and entail storing data at an off site data center, or on a removable drive. However, just backing up data provides only minimal business continuity help, as the IT infrastructure itself is not backed up.
Cold Site
In these types of DR solutions, an organization sets up a basic infrastructure in an alternative facility that provides a place for employees to work after a natural disaster or fire. It can help with business continuity, allowing a company's operations to continue, but doesn't provide data management, data protection, or recovery. Cold site solutions should be combined with other methods of disaster recovery.
Hot Site
Hot site solutions facilitate data management by maintaining up-to-date copies of data at all times. Hot sites are time-consuming to set up and more expensive than cold sites, but they can dramatically reduce down time, which can save costs in the long run.
Back Up as a Service (BaaS)
Backup as a service (BaaS) is a solution for data management that involves purchasing backup and recovery services from an online data backup provider. Instead of performing backup with a centralized, on-premises IT department, Backup as a Service solutions connect systems to a private, public or hybrid cloud managed by the outside provider.
Datacenter disaster recovery
The physical elements of a data center can protect data and contribute to faster disaster recovery and efficient data management in certain types of disasters. For instance, fire suppression tools will help data and computer equipment survive a fire. A backup power source will help businesses sail through power outages without grinding operations to a halt. Of course, none of these physical DR solutions will help in the event of a cyber attack.
Virtualization
Organizations can back up certain operations and data or even a working replica of their entire computing environment on off-site virtual servers and virtual machines that are unaffected by physical disasters.
Using virtualization as part of disaster recovery solutions also allows businesses to automate some disaster recovery processes, bringing everything back online faster. For virtualization to be an effective disaster recovery tool, frequent transfer of data and workloads is essential, as is good communication within the IT team about how many virtual machines are operating within an organization.
Point-in-time copies
Point-in-time copies, or point-in-time snapshots, make a copy of the entire database at a given time. Data can be restored from this back-up, but only if the copy is stored off site or on virtual machines that are unaffected by the disaster.
Instant recovery
Instant recovery is similar to point-in-time copies, except that instead of copying data from your database, instant recovery takes a snapshot of an entire virtual machine.
Disaster Recovery as a Service (DRaaS)
With the rapid increase of cloud services, comes a variety of IT solutions that are available as a service instead of being purchased. One of the most important ones is Disaster Recovery as a Service or DRaaS.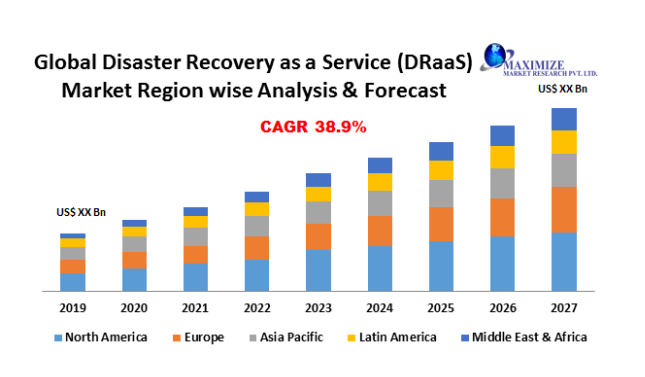 Image source: Maximize Market Research
DRaaS is a disaster recovery solution that refers to the IT services offered by a third-party managed service provider who deals with the process of enterprise backup of data in the cloud via the internet. Data is stored in a secure data center that can only be accessed through proper login and authentication.
DRaaS solutions are important for data protection, data backup and management in the event of a disaster. They are an innovative and less costly way to back up critical data and quickly recover critical systems after a disaster. Disaster recovery services do this by leveraging cloud‐based resources that provide less expensive infrastructure than on-premise systems due to the ability to scale and share cloud resources.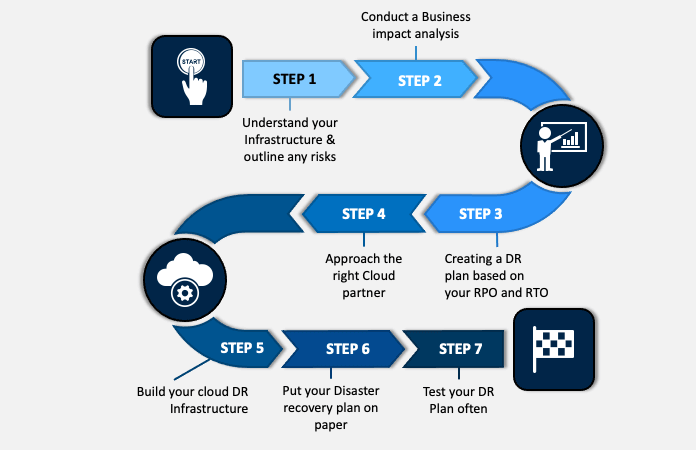 To meet the growing demand for software resilience, DraaS providers have brought simplification and reduced costs to organization.
With Disaster Recovery as a Servic, an organization can implement a high‐performing disaster recovery solution for its critical systems and reduce the complexity of the disaster recovery process. Like other as-a-service providers, DRaaS providers take care of the back‐end complexity for their customers and provide a simple user interface for setting up and managing a disaster recovery solution.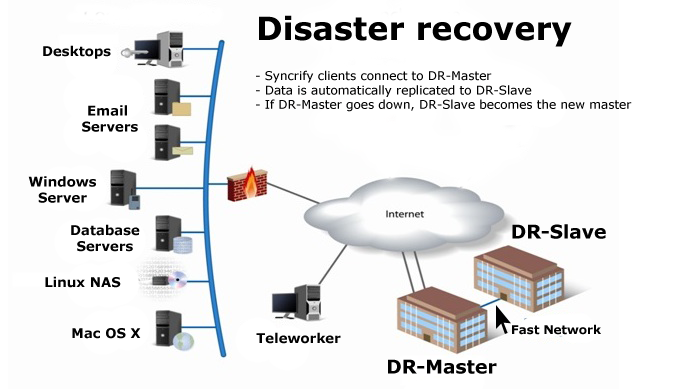 Image source: Arise Server
DRaaS benefits
A DRaaS solution represents the next generation of rapid system data recovery and always‐on availability, helping organizations avoid downtime and business disruption without the high costs associated with traditional hot sites.
The low cost and simplicity of Disaster Recovery as a Service makes it available to an entirely new class of organizations. The ability to recover applications in the cloud, if and when needed, slashes the cost and complexity of recovery capabilities.
Organizations previously unsure about implementing DR solutions can now enjoy capabilities that were once reserved for large enterprises.
DRaaS and virtualization
Virtualization is the technology that permits multiple operating system instances to run on each physical server. The power of virtualization has contributed significantly to the power of Disaster Recovery as a Service.
Some DRaaS solutions have the ability to provide advanced, imaged‐based virtual machine (VM) replication, which can be used to send VM images to a cloud service provider. Service providers can provide virtual cloud hosts; recovering your server is as easy as booting those hosts from the images sent from your primary site.
Best disaster recovery solutions include agentless components, meaning there is no software present within individual virtual machines. Instead, a module is installed in the virtual environment, which intercepts local disk traffic and sends it to your cloud service provider, where another module receives the traffic and keeps your server VM's and databases up to date, usually within minutes.
Which DRaaS service is best?
Managed DRaaS
In a fully managed Disaster Recovery as a Service model, a third party takes over all responsibility for disaster recovery, including critical applications. Choosing this option requires an organization to stay in close contact with their DRaaS provider to ensure that it stays up to date on all infrastructure, application and services changes. If you lack the expertise or time to manage your own disaster recovery, a fully managed option may be the best.
Assisted DRaaS
If you prefer to maintain responsibility for some aspects of your disaster recovery solution, or if you have unique or customized applications that might be challenging for a third party to take over, assisted DRaaS might be a better option. In this model, the service provider offers its expertise for optimizing disaster recovery procedures, but the customer is responsible for implementing some or all of the DR plan.
Self-service DRaaS
The least expensive option is self-service DRaaS, where the customer is responsible for the planning, testing and management of disaster recovery, and the customer hosts its own infrastructure backup on virtual machines in a remote location. Careful planning and testing are required to make sure that processing can fail over to the virtual servers instantly in the event of a disaster. This option is best for those who have experienced disaster recovery experts on staff.
A monitoring and performance management solution should be part of every DR plan
Having third party monitoring tools in place is part of every organization's best disaster recovery solution. Monitoring solutions can actually help to avoid certain disasters or at least reduce their severity by picking up anomalies within a system, and identifying potential issues.
IR Collaborate provides the insights an organization needs to make proactive business decisions, formulate effective DR plans, and create an efficient production environment.
Comprehensive monitoring, surveillance, alerting, and reporting helps you meet and manage your SLAs by ensuring your systems and applications are running at peak performance.
Gather real time intelligence across a wide range of data points and criteria
Customizable dashboards provide deep visibility that can help identify problems in real time. This allows you to take immediate action to solve issues before they impact the broader business.