Meetings and conferences are part and parcel of corporate business. The pandemic has had a major influence on the way we conduct meetings, and has certainly increased the number. According to insights from Bain & Company, a global consultancy firm, around 15% of an organization's collective time is spent in conference rooms, and that percentage is growing.
While innovative conference room equipment and video conferencing technology has made communication easier, the problem is that real collaboration is often limited. It was revealed that up to 80% of the interactions reviewed took place within departments, not across business or functions - and that meetings were frequently attended by the wrong people.
In this blog, we'll look at how optimizing your conference room AV setup can help you get the most out of your conference room equipment, allowing employees and meeting participants more feel engaged and more productive.
What is AV and why is it essential for your conference room?
AV stands for Audio Visual, and refers to the vast range of digital audio and video devices for communication and collaboration. Audio Visual equipment is essential in today's corporate world is used in many different settings, including meetings, presentations, video conferences and much more.
Video conferencing technologies provide a great deal of value to any company, and this is particularly true since the global adoption of hybrid working. Thanks to constantly developing technology, AV equipment makes it possible for a conference room to be anywhere, and virtual meetings to be held at any time, with any number of participants.
Download our ultimate guide to future-proofing the hybrid workplace here
Video conferencing software has the power to enable brainstorming sessions, screen sharing, meeting room analytics, interactive whiteboard capabilities and so much more, enabling remote workers to have the same meeting experience as those in the office.
AV technology is helping to enable hot-desking, flex-time, and all manner of remote and hybrid work. But employees still need access to clear communication. It's extremely important that organizations spend the time to correctly set up and configure the main components of a conference room.
Camera and video equipment needs to work properly for everyone, wireless connections need to be stable, software and hardware like video display screens, sound bars and microphone systems should be fully supported. Those team members who work remotely should have the means to collaborate seamlessly with those working from a fixed station within an office.
The right conference room AV equipment can change and enrich workplace culture, bringing added value to enterprise organizations through:
Collaboration
Modern AV technology has made a world of difference to conference room collaboration. Large conference rooms were once the norm, and would meet the need for gathering staff and invited participants together. Today's conference rooms are no longer confined to one primary static space within an office building with fixed hardware and devices.
Now, the phrase 'huddle room' is a common part of office vernacular, defining smaller collaboration spaces most often used for informal, on-the-fly meetings with a combination of smaller teams of office-based and remote participants.
The right conference room equipment will better the performance of staff and business through improved efficiencies and enhanced collaboration.
Flexibility
Big strides in technology and high expectations from end-users, particularly since the advent of hybrid working, have led to innovation and more intuitive design in tech-intensive AV equipment This has enabled greater workplace flexibility then ever before.
Employees can now BYOD (Bring Your Own Devices) such as laptops, mobile phones and tablets, laser pointers etc. to meeting rooms, and use a variety of multimedia to convey their key points. More and more, conference room equipment used in the office is becoming compatible with users' own devices, easier to install, easier to work with, and actually a pleasure to interact with.
Employees who have the freedom to use their preferred form of communication in meetings are more likely to be motivated and communicate more effectively, so it's important that high-quality meeting room AV equipment can support employees' goals.
Getting the most from your AV equipment
The right video conferencing technology can turn your meeting room into a conduit that enables a seamless connection between employees, colleagues, customers and everyone essential to an organization's success.
There are a number of components to meeting room equipment that enable relationship-building on a deeper level video or audio alone. These components, when properly configured and optimized, act as a cost-saving tool by reducing travel expenses, and enabling virtual meetings with participants at the other end of the globe, at any time of day.
To get the most out of your collaborative efforts and maximize your efficiency, there are a few key pieces of conference room audio visual technology critical to success.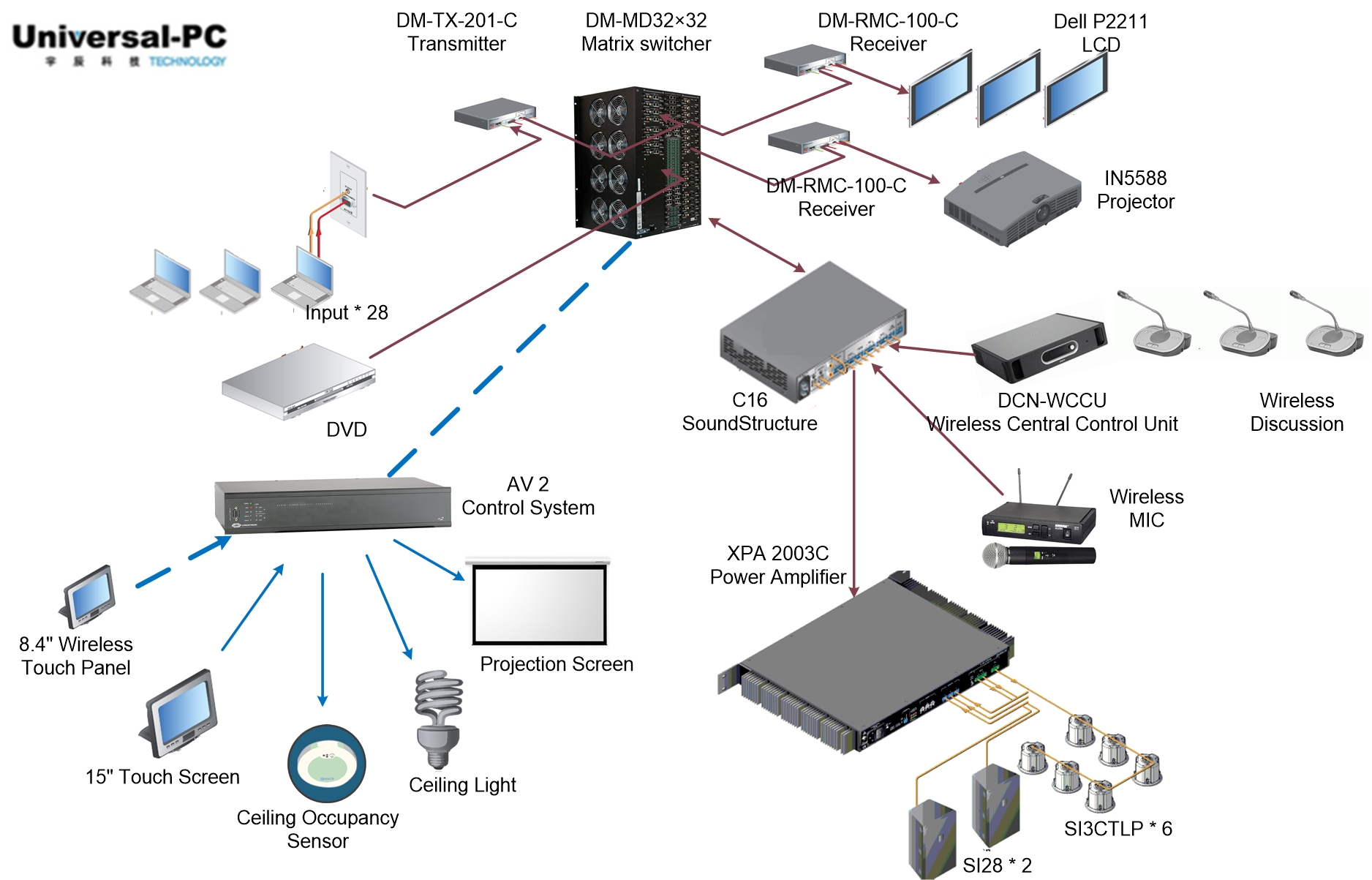 Image source: Universal PC
Displays and screens
Displays are the 'visual' part of conference room audio visual, and your screen is one of your main collaboration tools. The display enables you to see colleagues in other locations, view presentations, and screen share from laptops, tablets and smartphones.
Companies like Samsung, Sharp, and NEC have all developed state-of-the-art displays to fit a variety of needs. 4K UHD is now the standard in display technology, but a display alone doesn't necessarily mean a 4K UHD image. The bandwidth and content can all impact image quality.
Single displays are a go-to choice for many small conference rooms. Dual displays are a popular option, especially for companies that have a high meeting frequency. These dual, or even tri, displays allow screen sharing and video conferencing.
With a single display you'll likely have 'picture in picture view' capability. This means you get to choose between seeing the content that's being shared or the other people on the video call (also called the far side) in the large view. Content is often chosen for the large-screen since it typically drives the meeting's conversation. Whichever isn't in the large view is shown in a small square at the bottom of the screen, which can reduce one of the main benefits of video conferencing- seeing people.
Image source: MyTech
Dual displays offer a solution to the picture in picture view. Meeting attendees see both the content being presented and the other video participants, each on their own full-screen. Instead of choosing between content and people, you can see both clearly. This helps collaboration by enabling participants to see nuances like facial expressions during the presentation.
Sound
A sound bar (or soundbar) is a type of loudspeaker with a very wide and low enclosure, like a long narrow rectangle. Acoustically, the best sound results are achieved by having the sound bar mounted below display devices.
There are multiple speakers inside a soundbar cabinet, and some come with built-in sub-woofer, generating a high-quality audio with a surround-sound effect. Soundbars are a cost-effective alternative to stereo sound systems that can drastically improve the audio quality in your conference room.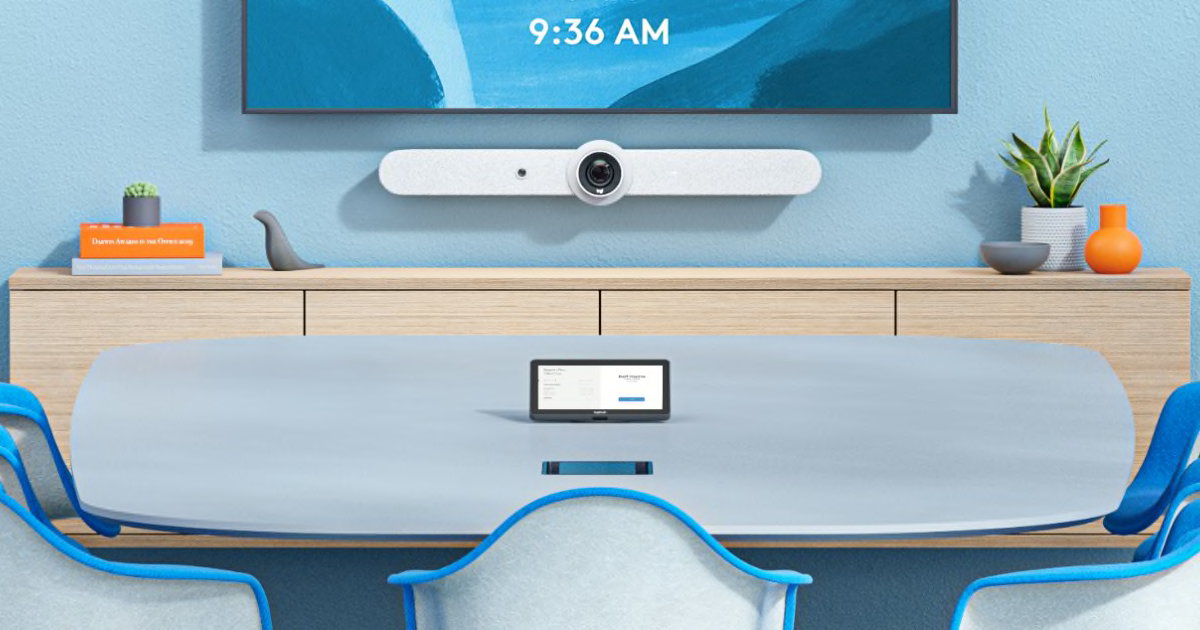 Image source: Logitech
Microphones and speakers are an important consideration for effective, high quality video conferencing. These can be either in-ceiling or on-table.
Low quality microphones and speakers will have a significant impact on the overall conferencing experience. The right set up can reduce echo, feedback and other noises for conference participants.
Camera
One of the most important pieces of equipment in a conference room set up is the camera. This can range from a small camera in a huddle room to something more sophisticated in larger spaces.
Depending on your furniture configuration, you might consider a camera with a 180 degree viewing angle. As huddle rooms are small collaboration spaces, the table and chairs are often pushed close to the display and camera. If the camera's viewing angle is too narrow then those sitting closest to the display will be left out of the field of view.
Pan-tilt-zoom cameras are common in larger conference rooms. A variety of manufacturers offer these types of cameras. The type of video conferencing platforms your organization uses may dictate the type of camera needed.
Control panel
A control panel is important to AV conferencing success, as it acts as your control center for the whole conference room audio visual system.
The user interface on the control panel is critical. It should be easy for users to get in the conference room and connect to video calls or launch presentations and allow transition from a screen-sharing presentation to video conferencing, all with a single touch.
Image source: Ultimate Technologies Group
Interactive presentation technology
It's thought that around 65% of people are visual learners, so an interactive whiteboard can be a valuable tool to add to your conference room equipment. Interactive display allow participants to write directly on the board in various colors, annotating over web pages or documents.
In addition, video conferencing platforms like Zoom enable users to whiteboard while on the call and share to other participants in real-time or after the conference has completed. This can be helpful if your employees present over video conferencing and can create a more engaging experience for the others on the call.
Image sourced: Perk-it
Monitoring and troubleshooting your AV equipment
Proactive monitoring and management are essential to ensure Quality of Service, and optimize user experience. Without monitoring, organizations are essentially 'flying blind' with their entire UC environment.
The failure of just one component of your communication equipment can lead to poor quality connection and downtime, as well as a bad experience for users, which directly impacts your bottom line.
How IR Collaborate can help
IR Collaborate performance management solutions comes fully integrated with fault management, configuration monitoring, asset management, customizable portals, and much more. In a complex unified communications ecosystem with disparate devices, multiple locations, and multi-vendor platforms we help you avoid, manage and quickly find and resolve performance issues in real-time – across your entire UC environment.
You can deploy our versatile solutions in the cloud, on-premises or as a hybrid model to suite your UC needs. Find out more . Get a demo