It's easy to point to various industries and highlight the changes and improvements technology brings. But since the global pandemic's catastrophic impact on the healthcare industry, practitioners, healthcare professionals, CEOs and consumers have come to realize that technology is changing future healthcare trends.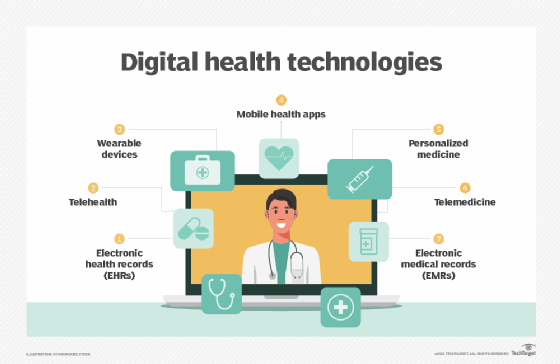 Image source: Tech Target
Technology and health equity
While cloud technology has accelerated the development of video conferencing and telepresence in almost every industry, it has been mission-critical in healthcare services.
From establishing a virtual front door to full-blown telehealth solutions, technology has quickly moved to the forefront of how health services are managed - and transformed the entire healthcare system of many countries.
This blog will look at some of the major trends influencing the healthcare industry and how digital transformation is playing its part in helping to achieve health equity and better patient care. We'll examine the core tenets of preparing for and embracing these trends and the steps that you can take to stay competitive.
Download a copy of our research report for an in-depth look at Hospitals and Health Systems in a Hybrid World
The demand for hybrid healthcare, including virtual care is resulting in an increase in medical professionals adopting digital health plans and value based care models. One thing that is abundantly clear since the pandemic took center stage, is that the healthcare industry and health professionals have been catapulted into a new era of smart technology and continued innovation in patient care.

Image source: Johns Hopkins
Trend #1: The rise of telemedicine
"During the tragedy of the pandemic, telehealth offered a bridge to care, and now offers a chance to reinvent virtual and hybrid virtual/in-person care models, with a goal of improved healthcare access, outcomes, and affordability."

McKinsey
Telemedicine is one of the most significant developments in the future of healthcare in the U.S. and beyond. The use of telemedicine, or virtual care, has increased steadily over the years, with more than 76% of all U.S. hospitals now having a telemedicine program.
COVID-19 was certainly a catalyst, but as the demand for virtual care continues to grow and the latest technology drives costs down, telehealth is making healthcare delivery affordable to more providers and increasing access to more patients.
According to research by McKinsey, telehealth programs have increased 38 times from the pre-COVID-19 baseline.
Why Telemedicine is the future of healthcare
The main factors influencing this surge in telemedicine usage figures are:
Increased consumer willingness to use telehealth.

Increased provider willingness to use telehealth.

Regulatory changes enabling greater access and reimbursement.
As a result of the enforced isolation caused by the pandemic, telehealth offered a bridge to health management. With face-to-face consultations and traditional methods of patient care on hold, healthcare providers were faced with the logistics of how to deliver virtual healthcare.
Now, due to the rapid adoption of advanced technologies, telehealth offers more opportunities for healthcare innovation, by reimagining healthcare models.
The potential for for improved healthcare access, more personalized healthcare, improved patient outcomes, and affordability has grown exponentially. Moving forward, population health management is now possible thanks to the digital collection and careful analysis of patient data.
Trend #2: Consumer-grade patient experience
Consumers are taking charge of their own healthcare decisions, and as such, health systems are aligning digital health investments to their overall business strategy.
The key to managing the changing healthcare environment ultimately hinges on hospitals and health systems clearly understanding their patients' expectations and preferences.
Digital innovation and patient expectation
Digital innovations such as the Internet of Things (IoT), Big Data, Artificial Intelligence (AI), and Machine Learning (ML), have created not only a new outlook for care delivery, but for customer experience.

Image source: Leeway Hertz
These innovations can massively improve the customer experience of healthcare providers, resulting in higher customer satisfaction index and more profits. Digital health has changed patient expectations.
Patients expect better care, delivered more conveniently with faster, more frictionless technology.

Patients want their experiences with healthcare providers to be as easy as their interactions with non-healthcare brands in their lives.

Patients' experience in the retail arena and other customer-centric service industries is now the experience they want to be carried over into the healthcare arena.
In this new era of consumer-driven care, patients and members are enticed by numerous options, ease of use, and convenience.

For example, rather than visiting their primary care provider, they may visit a nearby CVS pharmacy for a cold, have their medicine delivered by Amazon, or choose a care-at-home option for a physical check-up.
Today, 40 to 60% of consumers want a broader set of digital health solutions, such as a 'digital front door' or lower-cost virtual-first health plan.
Healthcare organizations that concentrate on making it easier for patients and members to engage with them will retain their current patients, attract new ones, and realize better overall performance.

Image source: Orion health
Trend #3: Accelerated digital transformation
"We are in a radically changing world marked by rapidly evolving healthcare consumer expectations, location-agnostic care needs, and a rise in new ecosystem partnerships that are accelerating the industry several years forward."
Digital transformation and the adoption of smart technology within the healthcare industry is not a new concept, but the pandemic accelerated it in many areas.
According to a 2021 report by Accenture, 81% of healthcare executives say the pace of their digital transformation has accelerated, 93% are innovating with a sense of urgency, and 87% report their business and technology strategies are becoming inseparable.
Health systems and hospitals now operate within a multi-vendor, multi-channel environment, adopting new technologies and strategies at an unprecedented pace, with higher agility and arguably lower thresholds for downtime.
But the acceleration of digital transformation within the healthcare industry has also left organizations with numerous challenges to both their current and future efforts to transform including:
Hybrid Integration:
With the rise of telemedicine, virtual front doors, and hybrid care models, there is now a need for better integration between hybrid/virtual components and in-person workflows, particularly critical for hybrid care strategies combining virtual and in-person channels.
Data Integration:
With the quick adoption of digital technologies and point solutions, hospitals and health systems are now struggling with the need for better data integration across their multi-vendor, multi-channel environments.
Future-proofing Tech Stack:
With the importance of technology for the future of healthcare, organizations must now strategically create their operations infrastructure. According to Accenture, "There are more technology choices than ever and the selections that an organization makes can define its value proposition today and tomorrow."
Security and Safety:
The market for healthcare data security increased by 15.6 % from 2020 to 2021. The spread of the COVID-19 pandemic and the subsequent adoption of telehealth services increased the need for cyber security services and solutions. As a result of growing threats of data breaches and compromised patient information, security had become a major priority.
The phishing incidences in the healthcare industry exploded during the pandemic. In 2022, the market witnessed an increase of 17.1% from 2021. Increasing investments in healthcare cyber security by various healthcare organizations and government initiatives is estimated to upsurge the market.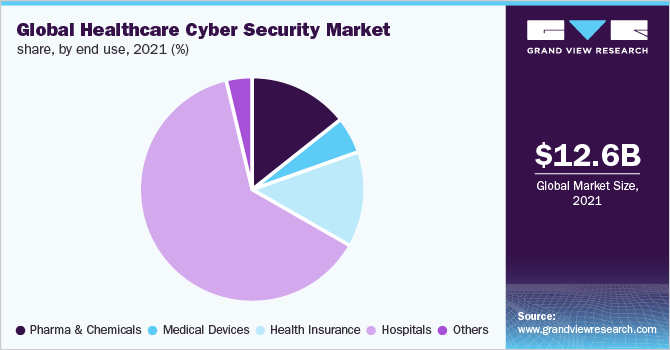 Image source: Grandview Research
New digital players in the healthcare industry
Latest research that studied the digital transformation of 1,830 healthcare organizations identified 8 new roles within the healthcare system.

Image source: Techment
With digital transformation well underway, incumbent healthcare institutions are seeing big tech companies like Alphabet, Amazon, Apple, and Microsoft target consumers to stray from traditional healthcare players through consumer-first, tech-focused approaches. As technology improves, it's driving increased competition among these new digital players, and creating a fundamental shift away from treatment-focused care delivery.
Optimizing operational cornerstones: Digital communication and collaboration
"A patient's journey is not just in the hospital. There is a "before" and an "after" (or a "not at all") and what we need to do is be able to stitch that together, making sure we are caring and understanding the context and then where we can leverage those digital tools to be there for them."

Chief digital officer, large regional health system (Deloitte)
92% of healthcare technology leaders agree that the technological advances and changing patient expectations accelerating digital transformation in healthcare are improving patient experiences.
Despite these top trends for the healthcare industry, operational cornerstones continue to be a challenge – namely efficient and effective communication and collaboration.
Research suggests a hefty economic burden on hospitals and healthcare facilities due to communication tools and modalities that simply don't work as they should. It also indicates that ineffective communication among health care professionals is one of the leading causes (80%) of medical errors and patient harm.
$12 billion in the U.S.
U.S. hospitals waste over $12 billion annually because of communication inefficiency among care providers.
$4 million per 500-bed hospital
A 500-bed hospital loses over $4 million per year from communication inefficiencies.
In this new era of telemedicine, communications systems between healthcare providers and patients are complex and diverse, creating a complex environment that's ripe for failure. Outdated and disconnected communication systems can lead to huge problems with productivity and performance and damage the efficacy of care. New business models need to become a core part of digital transformation objectives.
The importance of Communication and Collaboration systems in healthcare
Optimizing the communication and collaboration environment in healthcare will have enormous benefits globally. The healthcare industry will be better equipped for infectious disease management and preventative healthcare.
Ensuring efficiency
Unified Communications (UC) brings technology together into one easily visible environment. This enables hospitals and health systems to optimize the collaboration that connects their people and patients.
Creating a better patient experience
Optimized UC empowers healthcare professionals not only to ensure ongoing, connected communications but also to monitor, identify, troubleshoot, and quickly resolve any issues before they become patient-facing.
Improving data integration and management
When all communication and data solutions are connected in the same environment, it's easier to make decisions on preventive healthcare based on that aligned information. Healthcare providers can gain insights into key trends like peak call times for appointments or peaks and spikes in potential healthcare issues.
Facilitating more effective collaboration
Unified Communication is no longer about connecting voice calls and video calls. These solutions also come with access to enhanced communication tools that allow professionals around the globe to collaborate more effectively.
Serving as a solid basis for transformation
There's no question that enterprises would not exist without an effective communication and collaboration strategy, primarily involving gathering, exchanging, analyzing, and distributing information. Creating a solid communication and collaboration strategy today will enable healthcare operations to more easily and efficiently embrace new technologies.
The rise of mobile healthcare
The pandemic has accelerated a growing desire among providers and even some medical technology manufacturers to acquire or get into the Ambulatory Surgery Center (ASC) business. One of the biggest drivers of this shift was the reluctance of patients to present at hospitals due to fears of contracting COVID-19.
Technology advancement has allowed a growing range of procedures to be performed safely on an outpatient basis. ASCs offer a convenient, cost effective and high-quality way for these procedures to be administered across the nation.
Ambulatory surgery centers (ASCs) have transformed the outpatient experience for millions of Americans by providing a more convenient alternative to hospital-based outpatient procedures—and done so with a strong track record of quality care and positive patient outcomes.
Technology and Non-Emergency Medical Transportation
Non-Emergency Medical Transportation (NEMT) is one area of healthcare where cutting-edge technology is being incorporated to deliver a better patient experience and help improve bottom lines for the managed healthcare organization.
Ridesharing apps like Lyft and Uber have grown incredibly popular with consumers in recent years thanks to the fact that they are often less expensive than taxis and can pick people up from their homes at a moment's notice.
Ride-share platforms are well equipped to take care of their medical transportation needs. According to a recent survey, 29% of Lyft users have used the platform to coordinate transportation to their medical appointments. Additionally, 28% stated that the ride-sharing app was essential to getting to their appointments on time and that they wouldn't be able to make those sessions without it.
Predictive Analytics in healthcare
Through the implementation of artificial intelligence, predictive analytics in healthcare has served as a critical component of advancing care and improving outcomes.
With the assistance of predictive analytics, physician practices have changed, in that the medical decision-making process is better equipped to evaluate big data efficiently. By integrating predictive analytics into the healthcare system, providers have seen benefits in care delivery for both themselves and patients.
Performance management for the future of healthcare
Finding and solving communication and collaboration issues can be time-consuming and difficult. And performance management – monitoring, optimizing, and troubleshooting – is the insurance that ensures healthcare systems and hospital operations are up and running, identifying the root cause of problems and effectively managing risk.
In the highly complex healthcare industry, effective, seamless communication is vital to ensure quality care, safety, patient outcomes, and improve operational efficiencies.
Just as humans need health check-ups, healthcare providers must ensure that their technology is healthy and optimized for long-term high performance. After all, lives depend on it.