With digital money now rapidly moving into banking, it was only a matter of time before cryptocurrency started to emerge from the shadows, and show signs of reshaping the way people borrow, transact and save.
This new quantum financial system is set to revolutionize the way you think about money and how you use it, as financial institutions worldwide redefine how bank systems operate.
As Bitcoin and thousands of other cryptocurrencies move into the payment industry, we're seeing the creation of an alternative world of financial services, impacting immediate payments, cross border payments and high value payments, as well as the transmission of data, and the global financial messaging mechanism.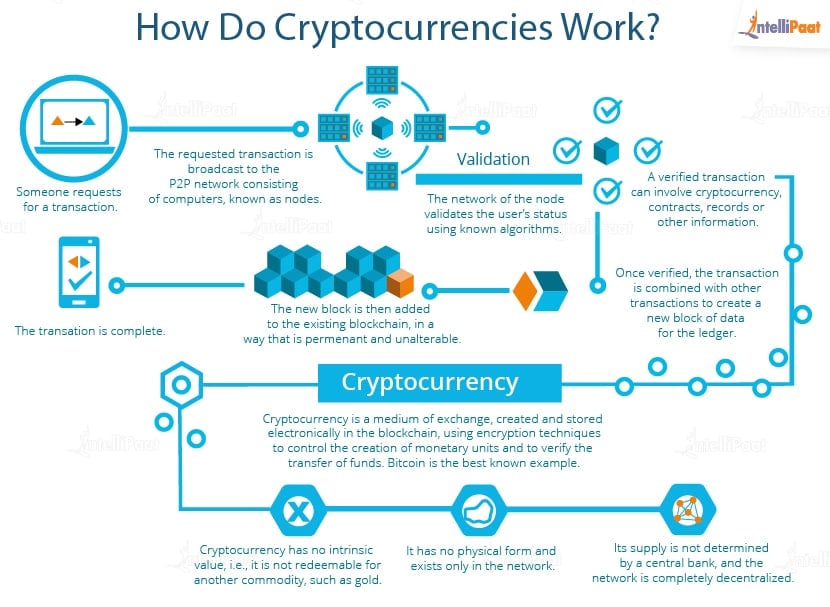 Image source: Intellipaat
ISO 20022: A brief overview
ISO 20022 is an international financial messaging standard used for transmitting electronic messages between financial institutions.
To find out everything you need to know about ISO 20022, and the changes taking place in November 20022, read our comprehensive guide.
In short, ISO 20022 provides a common platform for electronic data interchange, including sending payments messages and exchanging payments data. It's based on Distributive Ledger Technology (DLT) and uses a central dictionary, a standard modelling methodology, and a series of Extensible Markup Language (XML protocol) and Abstract Syntax Notation (ASN.1 protocol).
ISO 20022 is a more modern and robust standard than conventional legacy formats, providing quicker speeds for real-time payments, daily liquidity management, fraud detection and prevention, and compliance checks.
Banks and financial institutions are preparing to transition their linked payment systems from using SWIFT messages to the newer, more structured and data-rich ISO 20022 financial messaging system by utilizing blockchain technology.
By November 2023, the U.S. Federal Reserve will fully transition to ISO 20022, although the MT/ISO 15022 messaging system will continue to be partially used until 2025.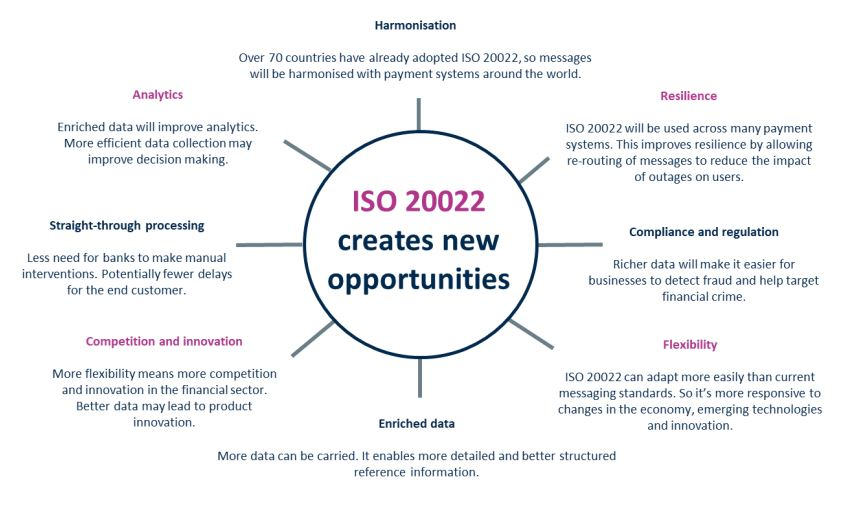 Image source: Bank of England
How is ISO 20022 impacting banks and crypto in 2022?
Financial institutions and the banking sector rely on the ISO fiat currency code 4217 to identify currencies for global transactions. The US dollar, for example is assigned USD, or the British Pound, GBP.
Image source: Phemex
In recent years, Central Bank Digital Currencies (CDBCs) have begun gaining momentum, and up until now, ISO has largely ignored cryptocurrencies, so with the lack of ISO codes, cryptos use unofficial ISO codes. For example XBT is used for Bitcoin.
However, as the worldwide regulatory framework comes into effect, and the payment communication standard switches to the new ISO 20022, cryptocurrencies could be assigned ISO codes as long as they are compliant with ISO 20022.
This means that centralized banks could universally adopt cryptocurrency, enabling crypto cross border payments.
ISO also assigns International Securities Identification Number (ISIN) codes to securities including stocks and bonds.
The role of ISO 20022 in crypto
ISO 20022 standardized cryptocurrency identifiers will change the way crypto is used.
While the main purpose of ISO 20022 is to transform legacy banking methods and services, it will also have a significant effect on the cryptocurrency space as well. This means that ISO 20022 compliant coins and cryptocurrencies will be more prolific and gain an increased adoption rate. In turn, crypto investors and traders will reap the benefits.
An ISO code that has been issued for a crypto, such as Bitcoin (XBT), Solana (SOL) or Ethereum (ETH), means that the cryptocurrency will enter the database tables of top financial services like Visa and MasterCard.
While ISO has been created to standardize bank communication, data transmission and messaging interfaces, it could also cause some conflicts.
For example, the unofficial ISO code for Bitcoin is XBT. The X signifies that there is no specific country associated with the asset, in the same way as the codes for gold (XAU) and silver (XAG). But the BT which represents Bitcoin could create a conflict because it already officially stands for Bhutan in ISO 4217.
Below are some more examples of how cryptocurrency codes could clash with current ISO 4217 currency identifiers:

Image source: Phemex
What would make a cryptocurrency ISO-compliant?
For cryptocurrencies to be regarded as legitimate currencies by ISO, they need to comply with new standards in global financial systems. Additionally, they must carry an ISO code that doesn't conflict with existing codes.
Within the blockchain world, centralized bank services are often criticized for being slow to take up technological advances, and using outdated legacy systems. But with the new payment communication standard update, certain cryptocurrencies could become ISO-compliant and chosen by banks for crypto payments.
This means the use of technology that reflects today's financial activities is being embraced more readily by financial institutions and banks worldwide.
To be compliant, a cryptocurrency blockchain would have to satisfy all the current SWIFT communication requirements. This includes the ability to transmit customer data on the blockchain, increasing security and safety for customers.
If major cryptocurrencies like Bitcoin and Ethereum are provided with their unique ISO values, it will result in a massive change in the way that traditional fiat and cryptocurrencies will work in the financial space.
Which cryptocurrencies are currently compliant?
As the new ISO 20022 standard becomes official, it's anticipated that the cryptocurrencies compliant with this versatile standard and are part of the network will increase enormously in value.
At this point, Ripple's XRP (XRP) is the only cryptocurrency player officially part of the ISO 20022 financial industry messaging scheme. Another compatible and compliant cryptocurrency is Stellar Lumens (XLM).
Ripple is currently the second-largest fintech company in the US, behind Stripe. Ripple's XRP as well as Stellar Lumens' XLM are both designed to move money quickly, and at very low cost.
Below is the list of cryptocurrencies that are currently ISO 20022 compliant (as of September 2022):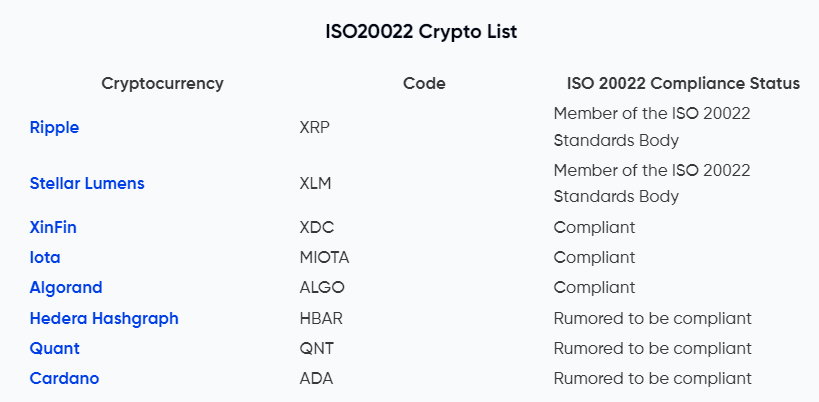 Image source: Phemex
Data science and cryptocurrency
Success in the future cryptocurrency market depends on constantly growing technology, and the use of new techniques and tools for industry insights, that can put a competitive strain on world financial institutions.
Data science is being used to predict the performance of many cryptocurrencies, and involves extracting knowledge from larger volumes of data.
As the crypto market continues to grow, its potential for profit is vast in the world of payments. Data science can forecast and predict the future prices of cryptocurrency, and determine what causes the price fluctuations.
The benefits of accepting cryptocurrency payments
The cryptocurrency payments space has a number of advantages over traditional fiat financial systems.
Decentralization
As cryptocurrency isn't owned by a single individual or government it's in effect a democratization of money management.
Speed and potentials cost savings
Cryptocurrency transactions are confirmed and added to the blockchain in minutes, eliminating the need for middlemen. In the case of cross border payments for instance, it can significantly reduce banking expenses as a crypto payment is a fast digital transaction.
Safety and security
Because crypto is a fully decentralized peer-to-peer electronic payment method implemented by cryptography, cryptocurrencies are not regulated. This can potentially carry more risk with transactions and losses for investors. But the security and fraud risks are vastly reduced because users can only access, store, and safeguard data from institutions that have the necessary credentials.
Image source: Euromoney
Analytics and third-party monitoring solutions
In the world of payments, real-time payments analytics are crucial to measure growth and make decisions throughout the payments chain, and across each different platform. Even more so, now that cryptocurrency and ISO 20022 migration is imminent.
An outboard, or third-party monitoring solution like IR Transact is non-intrusive, but integrates seamlessly into any existing enterprise environment.
Real time visibility provided by our payment monitoring solutions allows you to collect data from all silos across the payments network, filter, correlate and analyze this information and view it in a single application.
It's more important than ever with ISO 20022 migration to turn information and data components into intelligence and assure the safe, efficient operation of your payments systems in the future.
Download the IR guide to managing your changing payments environment