The world's most influential 4-day technology trade show, CES 2023 ended on January 8th. This year, the theme of the event was Human Security For All (HS4A), with the aim of communicating the critical role of technology in all aspects of human security, to people around the world.
Hosted by the Consumer Technology Association (CTA), the line-up showcased some innovative new health technology, and over the duration conducted several conference sessions exploring topics related to digital wellness. Topics of particular interest included personalized healthcare equipment, access to healthcare, safety and mobility, the role of artificial intelligence in healthcare and much more.
Featured topics at CES 2023

Image source: CES
CES 2023 welcomed over 3,200 exhibitors, nearly 1,000 more than last year, and a total attendance of over 115,000, featuring a dedicated Digital Health Studio area where exhibitors were able to showcase innovative products in the health technology space.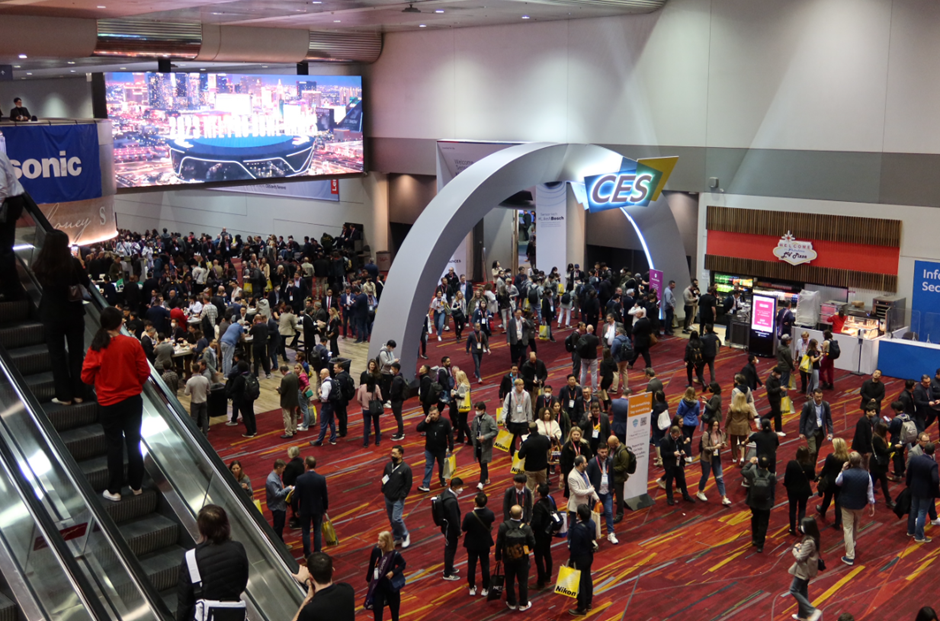 The focus on healthcare technology and digital health
"Technology is allowing (global citizens) to take control of their health…We're creating a future that will bring you and your loved ones care that's more precise, more personal…a future where people can proactively manage their health."

Robert Ford, CEO of Abbott
Since the pandemic, advancements in healthcare technology have accelerated, with a proliferation of digital health tools that have changed the way healthcare professionals and healthcare workers deliver their services.
Artificial intelligence: Helping healthcare providers with medical diagnosis
Artificial Intelligence (AI) is one of the fastest growing digital health trends and is re-inventing modern healthcare, using machines that can predict, understand, learn, and diagnose.
The near future of healthcare services is poised for massive change, due to artificial intelligence. AI simplifies the lives of patients, medical professionals, medical students and hospital administrators by carrying out those tasks that are typically done by humans, but in less time and at a fraction of the cost.
According to information from US Government institute, PubMed, each year, around 400,000 hospital patients suffer preventable harm, with around 100,000 deaths due to faulty diagnostic processes.
Incomplete or inaccurate medical histories and ballooning caseloads can cause human error that could have negative consequences, or even deadly ones. With AI and associated healthcare technologies, healthcare data is immune to those variables. It's been known for some time that AI can predict and diagnose chronic illness and disease faster than most medical professionals.
Future healthcare technology
Events like CES 2023 highlight the future of healthcare technology and the healthcare system globally, by showcasing ever-developing and innovative healthcare technology.
"The innovations unveiled [at the show] will drive economic growth and change in meaningful ways to improve our lives and create a better future for the next generation." Gary Shapiro, president and CEO of the CTA
Since the pandemic, remote patient monitoring has become widely accepted as a way to enhance the collection of patient data. As one of the fastest growing digital health trends, it includes wearable technology with increasingly impressive capabilities, from remote monitoring of vitals to remote echocardiograms.
Let's take a look at three of the new technologies revealed at CES 2023, set to populate the healthcare market in the near future.
AeviceMD
Singaporean medical technology firm Aevice Health showcased their latest development, AeviceMD. This smart wearable stethoscope, powered by AI, has a lightweight sensor which continuously and passively analyzes chest sounds, measures and logs respiratory rate and heart rate.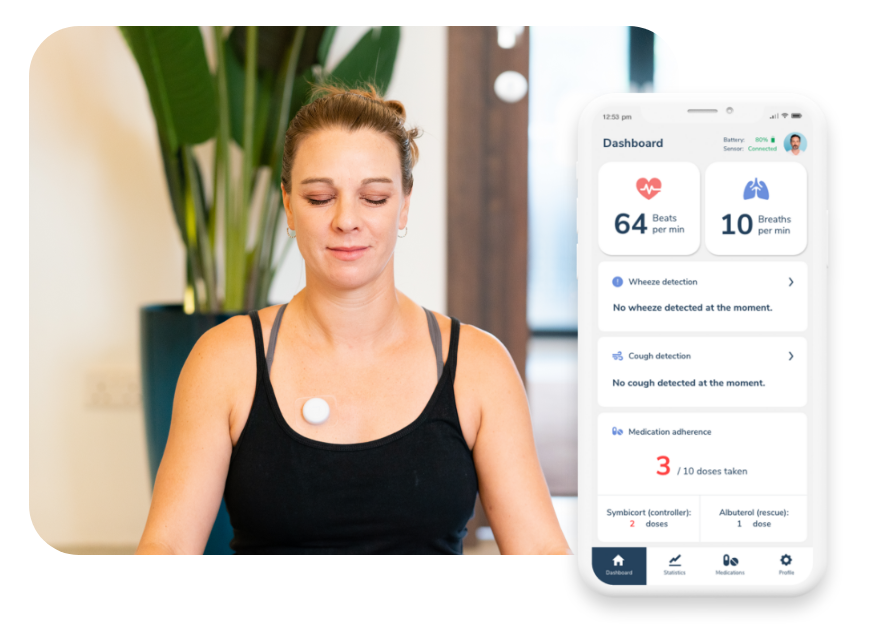 Image source: Aevice Health
It also detects and analyzes abnormal lung sounds like wheeze, to determine if the sounds are indicative of diseases like asthma and COPD. The device could be a huge innovation in patient care, as it potentially allows for early health interventions and personalized medical care from the comfort of their homes.
alphabeats
At CES 2023, health technology company, alphabeats was honored for its alphabeats device, a portable, headband-style wearable that monitors brain activity to help athletes enter a flow state. The device is equipped with EEG sensors and uses music-based biofeedback to trigger the brain into producing higher alpha brainwave activity. The company claims that regular use of the device can result in noticeable improvements in mental function over time.
Image source: alphabeats
Withings U-Scan
The Withings U-Scan is a small hockey puck-sized device that attaches to a toilet bowl to analyze urine samples. Urinalysis is used in clinics to measure various compounds that pass through urine and can diagnose urinary tract infections.
The device uses replaceable cartridges to measure different aspects of your health, and can detect ovulation, test vitamin levels, assess hydration levels, and provide insight into general levels of nutrition. Through an app, the U-scan can also help interpret test results and even recommend nutritional and dietary adjustments if lacking certain vitamins.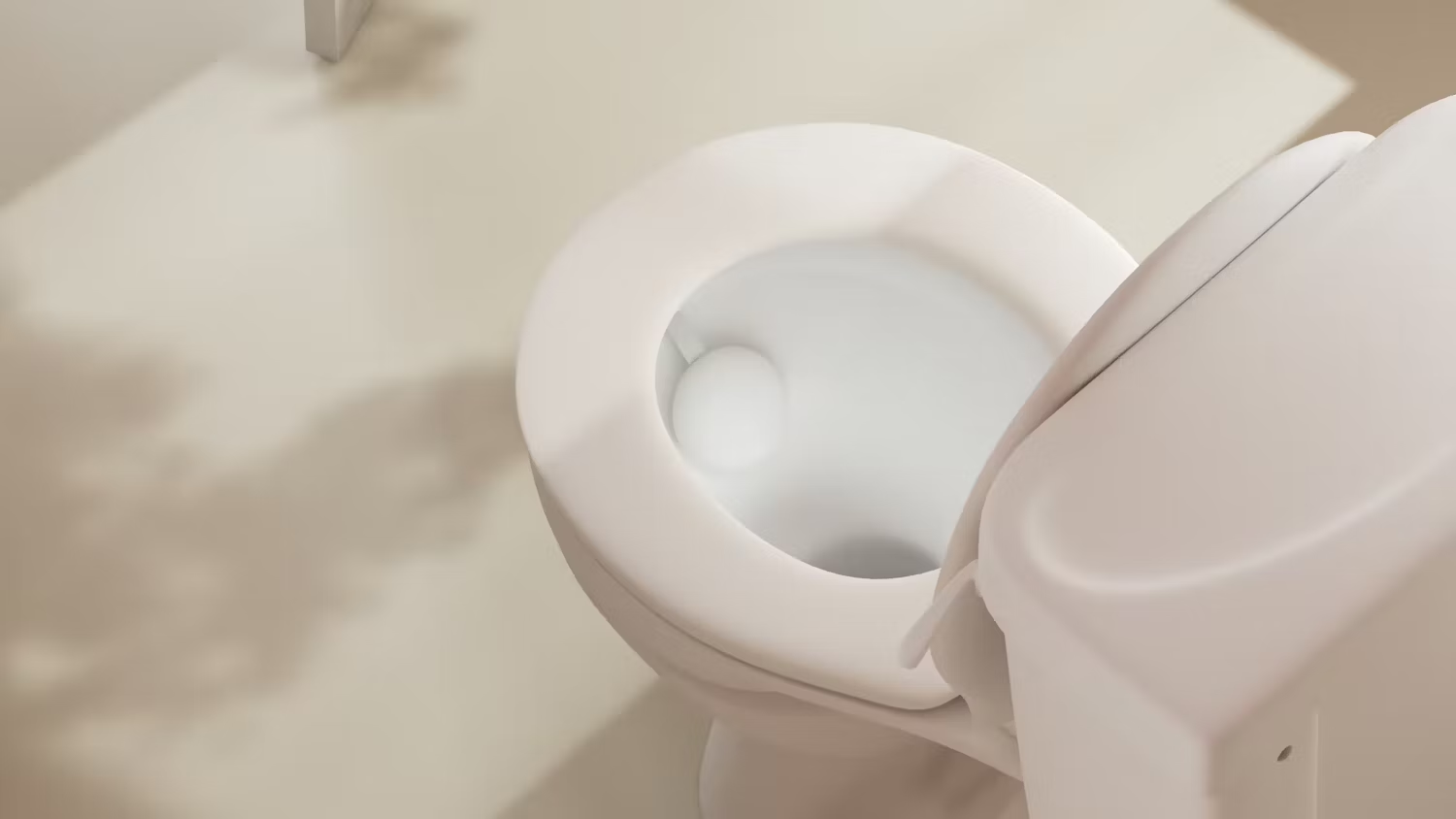 Image source: Withings
Healthcare professionals and patients: Equity through technology
There's no doubt that digital transformation has been the starting point for the recent rapid advances in the future of healthcare, and a boon for the healthcare industry as a whole.
The future of technology in healthcare is all about dissolving disparities by sharing a common language between healthcare providers and patients to ensure a better understanding of our health. Individuals are now able to achieve health equity by the digitization, decentralization, and democratization of medical services.
Data Sharing
Through better management of patient data, patients and doctors can now have an equal stake in treatment, diagnosis, and ongoing care.
Digital communication allows the control of medical care to shift from what was once solely in the hands of a doctor to an equal platform shared with a patient. Technology has enabled better data security when accessing a patient's medical history and the ability to update medical records.
Individually, more patients are becoming connected to an ever-expanding network of apps, devices, and services, giving them more options and ways to manage their health actively.
How patient data is improving healthcare today
From pharmaceutical industry trailblazers to the development of surgical robotics, to virtual healthcare, technology improves deep learning through the collection and analysis of data.
AI, Machine Learning (ML) and Natural Language Processing (NLP) are becoming critical components of healthcare, helping informed decision-making through predictive analytics. Machine learning, with its ability to draw from enormous data sets, is continuing to evolve, putting health professionals in better decision-making positions than ever before.
Wearable and implantable technology for better healthcare
It's not physically possible for doctors to monitor each individual patient all day, every day.
Mobile health technologies like wearable devices, implantables, wellness apps, fitness trackers and biometrics are offering faster, more accurate and efficient ways to obtain clinical data. Not only can this reduce costs and improve patient outcomes, but this technology can improve quality of life for more patients.
We've already seen some of the newest innovations in the future of healthcare technology that can transfer data to a remote center, direct patients to take specific actions for their medical conditions, or automatically perform a function based on what the sensors are reading.
For example, insulin could be automatically administered if blood glucose is running high. Or blood pressure can be automatically and continuously monitored.
Through the valuable information provided by this type of advanced technology the process of managing our health becomes more personal and impactful.
The role of digital technology in better mental health
During and after the onset of COVID, mental health clinicians discovered a surge in depression, anxiety, stress, and burnout. This meant the rapid adoption of virtual-care services to children, adolescents, and their families, as healthcare organizations that rely on in-person therapy became untenable.
Through virtual care platforms, what were once future technologies, are now a reality:
Emotion-based algorithms and virtual assistants to deliver psychological support, information, and resources

Digital consumer experience technologies to manage and monitor health information between caregiver and patient

Diagnostic support screening tools, both self-guided and assisted, to gather data for psychological assessment
How will these technologies change healthcare in the next 10 years?
While it's impossible to accurately predict what will happen within the medical service a decade into the future, according to NEJM Catalyst, within 10 years, patient care will move from the hospital into the community and the home. They base this theory on three trends:
Hospital-at-home programs are increasing in popularity, because they improve outcomes for a considerably lower cost and higher patient satisfaction.

Personalized medicine will increasingly enable patients to predict and prevent acute complication of chronic disease, and potentially prevent many hospitalizations.

Advances in digital health will encourage the growth of telemedicine, allowing hospital-level care in the home.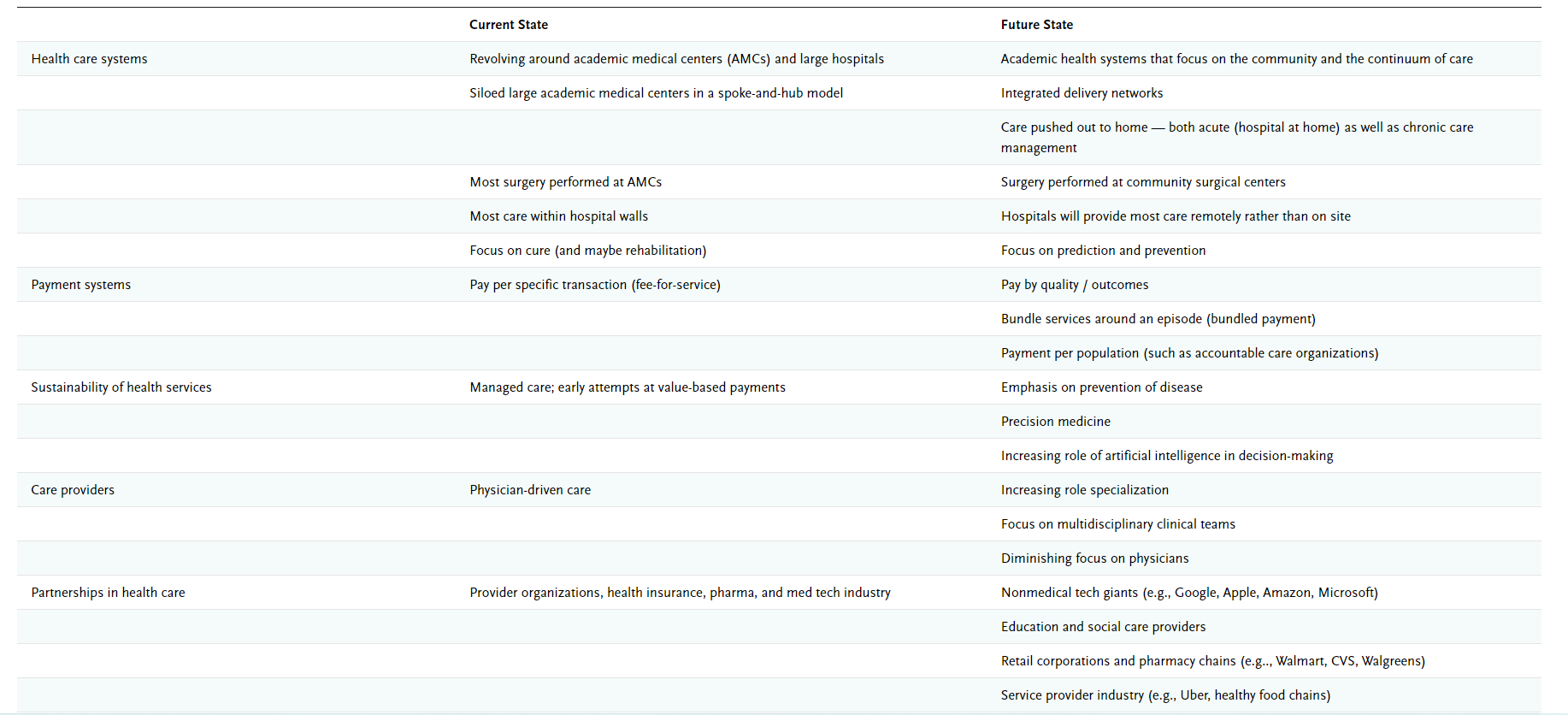 Image source: NEJM
Human-powered health driven by technology
Powered by data and cutting-edge science and technological innovation, the proliferation of mobile apps, augmented reality and cloud computing, today's healthcare is human-powered health, driven by technological innovation.
To improve the human experience, the medical industry must optimize the collaboration that connects their people and their patients. This means benefits today and will prepare the healthcare sector for seamless digital transformation in the future.
"The fundamental promise of technology is that it allows us to live a better life. This is where health and technology come together with incredible power. The future of health and technology is a future where healthcare consumers, and all of us are less confused and more certain. We're less hesitant and more empowered. Less self-conscious, more capable and confident. Cutting-edge science is paving the way for new treatments that we could barely imagine just a few years ago. (It means) improved health for individuals and for society"

Robert Ford, CEO, Abbott
Monitoring your technology has never been more critical
As new technology becomes increasingly embedded in health systems and services, it's imperative that all components of the ecosystem are themselves healthy and optimized for long-term high performance.
Performance management, internally, as well as patient-facing, is vital not only for optimizing currently adopted solutions, but for preparing and positioning hospitals and health systems to be able to embrace new technologies in the future.
For example, communication systems between patients and providers and within hospital staff are becoming more complex and diverse. Even the slightest breakdown in communication and collaboration can have a major impact for hospital and health system operations, efficiencies, and patient outcomes.
Just as humans need health check-ups, medical professionals must ensure that their technology is healthy and optimized for long-term high performance.
Performance management is not just about monitoring and troubleshooting your technology and systems. Organizations need full visibility into the entire network and communication ecosystem, immediate access to files such as patient records, data sharing, and real-time analytics and alerts. If you can see all this from a single pane of glass, it empowers your operations to take full advantage of your technological investments.
Supporting some of the largest health and hospital systems, IR Collaborate can provide real-time insights into the key health indicators of your entire network, and address problems before they become seriously disruptive.