Remote work is now a way of life, and employees in many organizations, both public and private, have adopted a full or partial remote working model.
With its many configurations, this hybrid working culture has offered a better work life balance for remote employees, but as the global remote workforce adapts to this way of doing things, challenges are emerging.
With little to no preparation or lead time, businesses were thrust into a situation beyond their control. Faced with the prospect of operations griding to a halt, most organizations had to quickly formulate disaster recovery plans, using existing technology and whatever means available to deploy remote work models and achieve business continuity.
But with no playbook, or precedent on how to train remote employees who would now be predominantly working from home, companies began to rethink their corporate training practices.
The spotlight has now shifted to the tasks faced by businesses to develop the essential remote employee training programs they need in this new workplace.
What is remote training?
Both initial and ongoing training has always been a normal and necessary workplace practice, even in the traditional workplace. Before the global shift to hybrid and remote work, training programs were a typical element of an employee's inauguration, essential to provide knowledge, skills, confidence and efficiency in their job.
But when the pandemic struck, with almost no time to prepare, many employees were left flying blind, with little or no knowledge of new communication platforms, complex network requirements, new devices, applications and workplace procedures. Remote training in today's working environment is more crucial for professional development than ever before
Today, with a widespread focus on effective employee engagement, learning and development, most organizations have remote training programs in place for their remote teams.
The most effective way to deliver remote training is by conducting virtual training classes, online courses, podcasts, webinars, and utilizing other eLearning tools. This can be done synchronously or asynchronously.
Synchronous training
In this type of training, all learners are participating simultaneously, either online or offline usually in the form of an instructor-led class. With a pre-determined timeslot, this type of training requires a facilitator to plan sessions in advance, and give learners the opportunity to books slots to attend virtually.
Asynchronous training
This type of remote training gives learners the opportunity to access learning content in their own time, or as a self-paced model. There is no requirement to be in the same online learning space at the same time to study and complete the training. This can also be conducted as virtual instructor led training (VLT).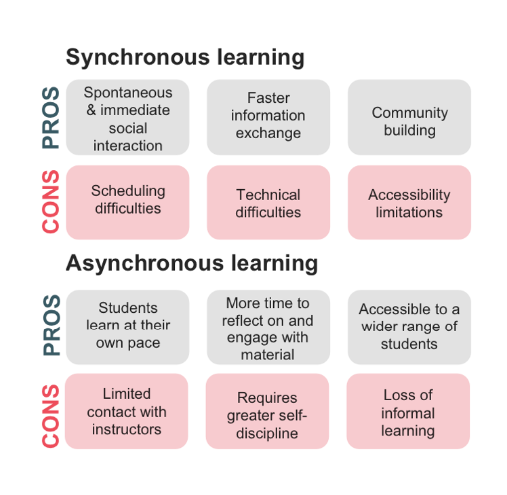 Image source: Stanford University
Another type of training that can benefit remote employees is blended learning, which uses elements from both the synchronous and asynchronous models and combines them to create a custom solution. Blended solutions are flexible, and could incorporate, for example, training online and a virtual training platform scheduled through a Learning Management System (LMS).
The benefits of remote training
One of the more obvious benefits of remote training, whether synchronous, asynchronous or blended, is that it offers flexible learning opportunities, regardless of time zones and locations, and can allow learning access at any time, from anywhere. Remote learning, self paced or structured is the future of remote work training.
Effective remote training will benefit not only remote employees, but will extend throughout the company.
Continuity of learning and development
For both employers and employees, it's crucial to ensure that remote employees can continue to improve and develop their skills and knowledge in the same way that this would happen with in-person training. A good remote training program ensures that remote employees are never left behind, or excluded altogether by ensuring continuous learning & development.
Boosting employee productivity
Remote training can help to motivate and inspire, keeping employees engaged and helping with knowledge retention. As all remote employees have different learning styles, with the relevant training materials and personalized learning experiences, you can help build skills and knowledge and ultimately, increase overall satisfaction and productivity.
The other advantage is that remote workers can revisit the training as often as they want, and in various formats to review concepts and information.
Affordability
Many organizations are realizing the cost savings with remote learning. On-site, in-person, and on-demand training sessions can be expensive, with the potential travel costs of transporting employees to a set location, as well as loss of output during training sessions.
Remote training minimizes or potentially eliminates these costs, and gives remote employees added flexibility without interrupting their natural productivity flow. Traditional instructor-led training sessions usually require putting regular tasks aside to take time out for training.
Scalability
The man difference between traditional training methods and remote training is that once you've created relevant eLearning materials, they can easily be scaled to roll out to as many employees and in as many locations, languages and skill-levels as required. Switching from in-person classroom training to learning through training software provides a great opportunity to modify and adjust your learning and development program to fit the requirements of your remote team better.
Work-life balance and employee retention
An important aspect of offering plenty of opportunities to train remote employees is a boost to their self worth within the company. Remote training allows them not only the convenience of a better work-life balance, but to take advantage of ongoing learning and development within their own role as well as in the wider organization.
With increased levels of satisfaction, and the freedom to learn wherever and whenever they want, remote employees are more likely to feel an important part of the team, more motivated, and perform better. Ultimately, this means they will want to remain within your organization.
Measuring training effectiveness
Training remote employees means that every aspect of their online training is open to analysis.
Remote training software allows those who create training materials to measure training effectiveness and track the performance of individual employees throughout their training program. This is not always possible with traditional in house corporate training methods.
Image source: ITpreneurs
Common challenges to remote training
As more and more organizations look at different training formats for delivering training, it's time to consider the challenges of training employees remotely, both for employees and employers.
Engagement issues
Without actual in-person or face-to-face contact with an instructor or peers, training remote employees can be frustrating for both the course trainer and the remote learners. When learning via audio or video recording material, remote training can sometimes be perceived as impersonal, and the lack of social engagement can be negative for many people.
Communication issues and technical challenges
Communication issues such as not being able to get immediate feedback (on both sides) can make it difficult to train remote employees, particularly with training asynchronously. Also, technical issues can occur such as network outages or device failure and there may not always be the peer-to-peer interaction or support that comes with in-person training.
Distractions
It can be more challenging to train remote employees in an out-of-office setting, due to a higher chance of distractions while trying to finish a training session, especially when working from home.
But despite these challenges, organizations have continued to work on and improve strategies for training remote employees and eliminate these disadvantages.
Image source: Zavvy
Lets look at some best practices that can get your remote team efficiently trained.
Best practices for remote worker training
Launching a remote training program, or developing a remote training tool can take a lot of dedication from employers. But as we've already shown, the benefits of effective remote training can be well worth it for for the company as a whole.
Use a variety of training formats and file types
The best approach for training remote employees is to combine different training methods, for example synchronous training sessions with on-demand learning, Q & A sessions with an instructor, or making your remote training self paced. You can use specific file types or a combination of several, such as:
Audio and video

Downloadable guides and worksheets

Checklists

Presentations

Webinars or remote training led by a virtual instructor

Practical exercises and projects
For example, combining live instructor-led lectures with flexible, online self-paced learning can help employees apply their newly acquired knowledge and skills.
Provide remote training that is mobile-friendly
The very nature of remote work means that remote employees may not always be working from one location, and won't always have easy access to their their laptop or computer. This is why it's important to ensure your training program is mobile-friendly and accessible any time, and from any location.
Use gamification in your training and feedback process
Gamification is becoming a popular way to increase interactivity, incentive and engagement in employee training, while providing motivation, positive reinforcement, and an element of healthy competition and fun.
Several remote training software solutions come with gamification features, such as competing for points, earning badges, and striving for rankings on a leaderboard system. Gamification features also include the provision for certification which employees can share online when they complete a course.
Remote work is now firmly established in our global working culture. The CEO of Facebook stated that he expects 50% of their workforce to be working remotely by 2030.
How IR can help make remote work environments more efficient
Collaboration spaces have become essential components of modern workplaces.
Hybrid and remote work has increased the need for more flexible collaborative spaces outside the typical meeting and conference room, which can facilitate remote training, communication and better collaboration.
Collaboration Space Management, part of IR's suite of collaboration solutions enables proactive monitoring and remote management of all conferencing-enabled spaces from a single solution. This includes the platforms and devices, to create a seamless, cohesive experience for all unified communication, including training remote employees.

For more information, watch our solutions in action