The global Payments-as-a-Service (PaaS) market size is estimated to grow from $56.2 billion in 2020, to $164.3 billion by 2026, according to a research report from Markets and Markets.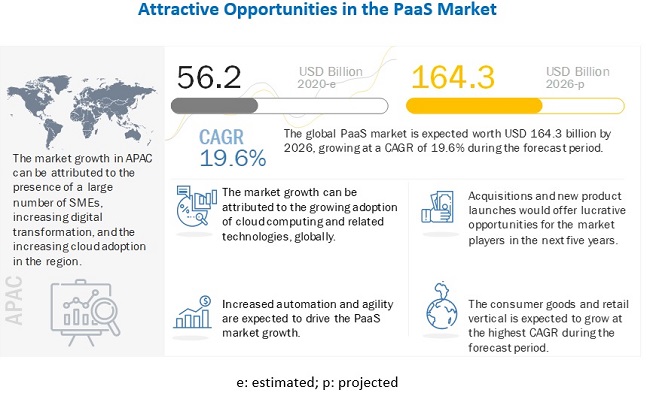 Since the onset of the pandemic, the world has seen a massive digital acceleration and a rapid increase in the demand for quick money transfer methods. This demand for cloud-based payment processing methods has seen payment providers facing pressure to transform legacy payment infrastructure, and keep up with rising payment volumes.
What is Payments-as-a-Service (PaaS)?
The payments industry is currently undergoing an increased level of disruption from non-banking players who specialize in value-added services in the payments ecosystem.
This new generation of players is allowing financial institutions (FIs) and other non-bank players to expand and meet customers' expectations by offering payment products and services without incurring high upfront investments.
Payments-as-a-Service refers to these third-party specialists offering and managing international PaaS solutions and software systems for B2C and B2B companies.
Payments-as-a-Service allows financial institutions to process higher volumes of transactions more quickly and at lower cost. PaaS companies are skilled and experienced in the payment processing arena, so this gives companies the freedom to focus on customer demands and market needs.
Payments-as-a-Service providers also take care of regulatory compliance and risk management, as well as offering fast, efficient and hassle-free services. They use dynamic payment system platforms that keep on top of new payment rails, allowing for updates and changes as the market shifts.
Read about how instant payments are transforming the U.S. landscape here
What are the advantages of Payments-as-a-Service technology?
The increasing popularity of PaaS is due to two basic factors.
Its cost effectiveness, allowing organizations access to state-of-the-art resources without a hefty price tag. The costs involved with building robust payment environments on premises are often prohibitive, but with PaaS managing your payments ecosystem, there's a clear path for accelerating software development.

PaaS platforms allow organizations to focus on what they specialize in without worrying about updates to their payments platform or managing their digital payments basic infrastructure.
Other advantages include:
Cost effectiveness
PaaS services are a viable option for companies looking to reduce their current operating costs, develop an application for the first time, or those with limited resources.
PaaS providers handle all servers, storage, networking, virtualization, middleware, the operating system, and the runtime. Therefore, organizations are only left to provide the data and applications. Without the need to purchase hardware or pay expenses during downtime, companies can see significant savings.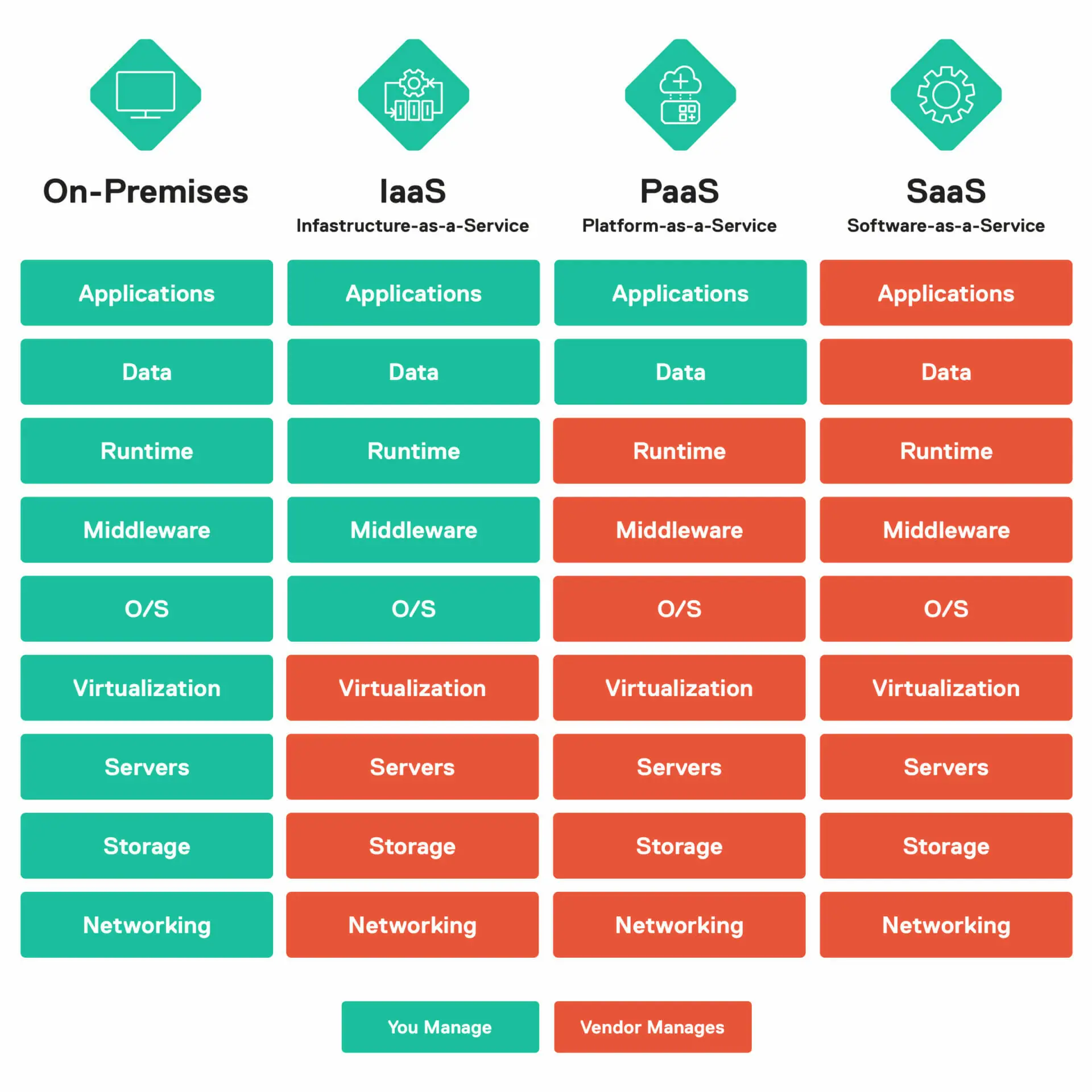 Image source: Spryker
Time savings and rapid Time-to-Market
A PaaS provider sets up and maintains the core payments stack, allowing businesses to focus on core revenue streams and improving their payment experience.
Also, PaaS is used to build applications more quickly than would be possible if developers had to build, configure, and provision their own PaaS platform and back-end infrastructure. With PaaS, developers gain instant access to a complete software development environment including sample code and pre-built components.
Opportunity for scalability
The ability to rapidly add capacity in peak times and scale down as needed is a clear benefit of using PaaS payment service providers. The reusable code inside PaaS platforms not only facilitates ease of app development and deployment but also increases the opportunity for scalability. This allows businesses to scale and modify their product or processes easily and efficiently.
Future-Proofing
With every Payment as a Service platform, new features, capabilities and bug fixes are instigated automatically in the cloud. That way, organizations can focus on core business initiatives rather than maintaining underlying IT infrastructure.
Payment services experts constantly perform all the necessary component updates and security patches to run automatically. This ensures that your application is operating on the latest stack, saving your time and resources. In addition, professional automatic updates minimizes risks of incompatibility and security gaps.
Platform Support
With the rapid growth of hybrid working, it's crucial for a business to develop apps that support a wide range of devices and operating systems. PaaS developers and payment players make sure that their apps are supported by different platform types by using specific tools designed for this purpose, so PaaS ensures compatibility.
Increased security and PCI compliance
PaaS providers invest heavily in security technology and expertise. PCI compliance standards and regulatory compliance directives require every merchant account to have stringent security measures in place to protect sensitive financial account information. A distinct advantage of using PaaS is that it already comes equipped with PCI compliance.
Cost-Effective Development
Financial institutions and payment providers no longer need to build applications from scratch, reducing the costs normally associated with development.
PaaS services are a viable option for companies looking to reduce their current operating costs, develop a Payment as a Service application for the first time, or those with limited resources. It could also lead to other financial benefits leading to a lower total cost of expenses, enabling increased free cash flow. As financial institutions navigate the current environment and capital investment is constantly under scrutiny, this is particularly important.
Who benefits most from using PaaS?
PaaS solutions can broadly be divided into two models; product technology implementation and operations.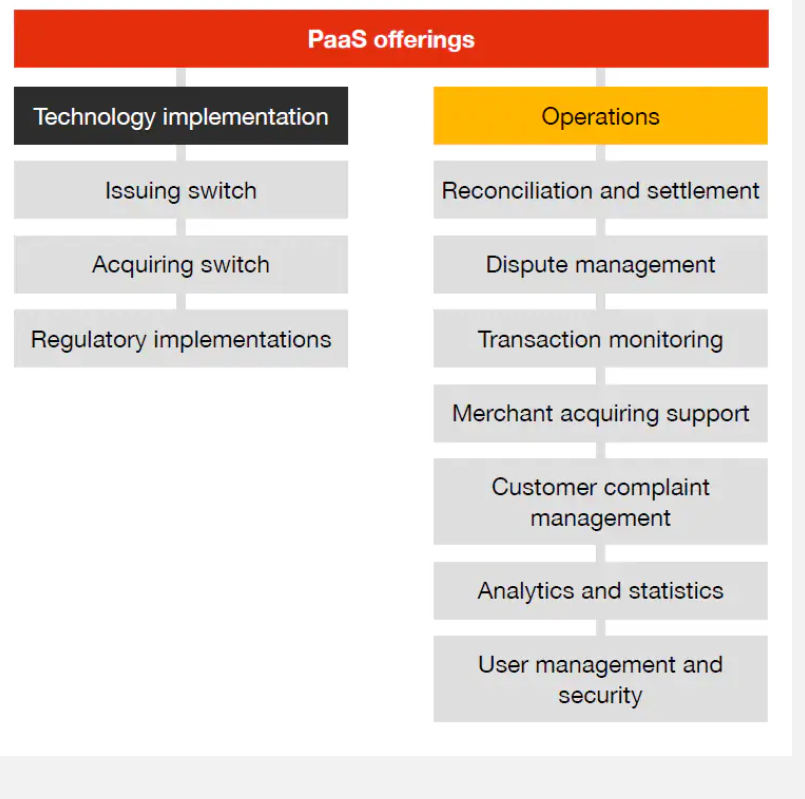 Image source: PwC
These offerings can benefit everyone looking for payment solutions, from banks to Fintechs.
Small / Mid-sized Credit Unions and Regional banks: These smaller organizations often lack the capability to build effective payment systems on their own. The need still exists to stay up-to-date with payment options, but outsourcing to PaaS relieves constraints with resources and upfront investment.

Large national banks: Building an in-house payment infrastructure is possible with larger institutions, but there is the added complexity of adapting to legacy banking core. Leveraging a PaaS platform can target certain functions and payment options with API connectivity to alleviate legacy implementation concerns.

Fintechs and Neobanks: Known to work with agile tech providers, these types of payments startups are among the early adopters of PaaS. Limited capital means prioritizing for low (total) cost solutions makes the most sense. PaaS platforms feature plug-and-play, developer-friendly APIs with compliance oversight, and these are the critical needs being met.
The flexibility of PaaS means there's a model to suit any company (from bank to fintech) with a payment provider. Size, volume, and existing architecture can all vary widely, but the value drivers from Payments-as-a-Service all have a strong impact on delivering the best in a fast, cost-effective program.
Image source: Medium
Why PaaS is the future
Payments is an integral part of financial services. The greatest gains from payments technology comes from enabling speed, access, and lowering the cost of money movement between local and international users.
As new payment rails emerge and gain adoption, user demand at the fintech/neobank/traditional bank level increases. Companies that take custody or manage the flow of funds must able to to provide the latest payment options as part of their user experience.
Payments-as-a-Service a delivers a one-stop solution for all organizations in a low-weight, agile program that optimizes for speed and cost. The burden is no longer on user-facing platforms to build out their own systems and develop relationships with payment networks or banks.
PaaS performance management challenges
While PaaS brings a lot of simplification for developers, it also brings its own new performance management challenges:
Limited monitoring capabilities. PaaS providers do offer some monitoring capabilities out of the box, however this is only as good as the coverage it offers, and you need to have practices that align with those capabilities.

PaaS may be used for some of your application chain, but not all of it. In some cases, you may be able to run all of your applications in a given PaaS environment, but in most cases, your application chain will go beyond different PaaS platforms, Content Delivery Networks (CDNs) Software as a Service (SaaS) workloads, links to legacy systems, or 3rd party applications.

Monitoring your end-to-end applications requires the ability to cover not only a given PaaS environment but the overall chain as a whole and the end user experience it provides.

Old performance methods simply do not work. All the performance measurement methods that require access to the system may be obsolete in these environments. Many performance monitoring and management methods are also not suitable for dynamic environments, for example synthetic testing with manual configuration.
How IR Transact can help
IR Transact enables merchant acquirers and banking service providers to manage rising transaction volumes, shift to cashless payments, and facilitate the introduction of new technologies.
In a PaaS environment, it offers real-time visibility into transactions with performance reports and analytics, regardless of the vendor.
Customizable, built-in dashboards and modules enable users to troubleshoot transaction drops or anomalies, view revenue drivers, and address problems instantly.
IR Transact also allows users to set up adjustable, customized, dynamic thresholds and alerts in real time, as well as reports that render visual representations of payments hub performance.

Find out how you can monitor and analyze payment transactions with IR Transact Request a demo